Spring Garden Update: Bush Cherries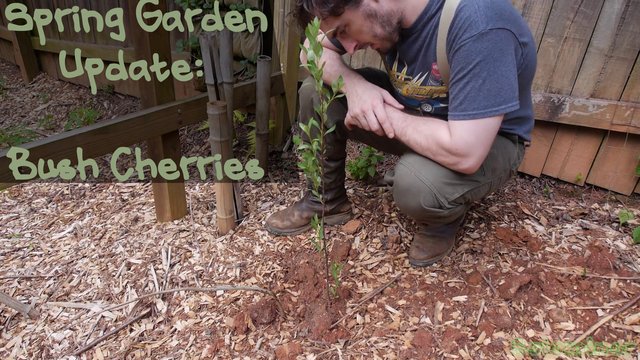 In my previous garden update post I showed off four Cherry trees, in this video we look at a smaller version of Cherry called "Bush Cherries". These plants reach a height of around six feet and bush out the sides real good. The Bush Cherries are smaller than tree cherries but have a higher sugar content in their compact size. The cultivars I purchased are called Hansen Bush Cherries. I got them from Starkbros online, they are out of stock at the moment but ill include a link if someones is interested. Another kind of Bush Cherry is called Nanking. The Hansen Bush Cherries tend to produce cherries on the stems of the tree, while Nanking will produce them more on the branches of the tree.
I planted two of them to help each other with pollination, they are about twenty five feet from each other. One of them produced flowers this year but no fruit came from them. Interestingly one of my Cherry trees did the same and had some flowers but no fruit. I think planting them shocked them and they aborted any growth of those fruits since the trees and bushes need to save energy after being transplanted. I hope our summers are not too hard on these Bush Cherries. They tend to grow in colder climates. So far they have been doing okay but with summer right around the corner we shall see if they get too upset from the bright sun. Maybe they need a little shade, we will see. Since the making of this video I have added more mulch so will help them hold in moisture better during the hot summer days.
Excited to see how these Bush Cherries do compared to the four Cherry trees I have. Like I said earlier these Bush Cherries should be smaller but will hopefully pack more of a sweet punch in them than the others.
I think it between these Bush Cherries and the Black Cherries from the Black Tartarian Cherry tree I should have quite the choice to make on which one is sweeter.
Link to the Cherry bushes I bought:
https://www.starkbros.com/products/fruit-trees/cherry-trees/hansens-bush-cherry
Plant profile
History on the the creator of this Bush Cherry
https://davesgarden.com/guides/articles/n-e-hanson-the-man-behind-the-purple-leaf-sand-cherry
---
Addresses below to help me buy better camera equipment and support me to travel to locations to do photo and video and overall great blogs in new places. I would be happy to list some of the contributors in my posts for donations that help me along the way.
| Coin | Address |
| --- | --- |
| BTC: | bc1qhfmvd2gywg4fvrgy2kkkkyqta0g86whkt7j8r7 |
| LTC: | ltc1qdyzm5cwgt8e2373prx67yye6y9ewk0l8jf3ys9 |
| DASH: | XkSqR5DxQL3wy4kNbjqDbgbMYNih3a7ZcM |
| ETH: | 0x045f409dAe14338669730078201888636B047DC3 |
| DOGE: | DSoekC21AKSZHAcV9vqR8yYefrh8XcX92Z |
| ZEN: | znW9mh62WDSCeBXxnVLCETMx59Ho446HJgq |