IT'S OFFICIAL! :>) It Gives Me Great Pleasure To Announce...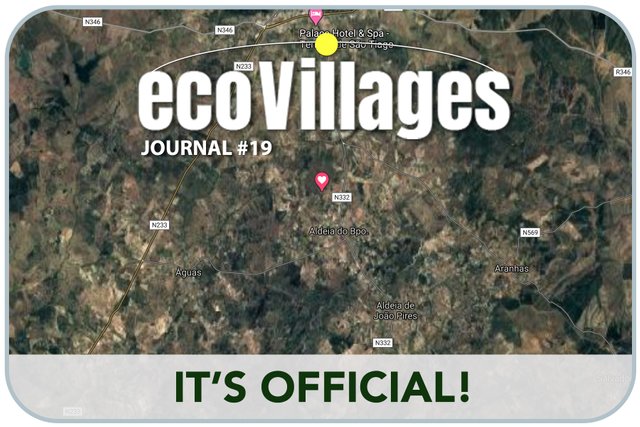 Despite the odds, and with all the extra challenges and hurdles due to corona, I am so happy to be able to say that we have now completed the new land purchase in Portugal for the beginning of ecoVillages! Thanks to several angels, and a bit of luck, we got the deal done in about three weeks. That's is pretty quick really, even when things are working normally. As many people keep reminding me, what is meant to happen will happen.
I have a ticked booked back to Portugal in 4 days time.. i don't yet have a residency visa, so i MAY have quite some explaining to do at customs! Lets see how it goes.. i have a feeling it will be OK, and my story is certainly unusual enough to warrant some leeway. I'm certainly not going to Portugal as a Tourist that much is for sure! So, I HOPE to write my next update from Portugal on Monday.. Fingers crossed!
So priority one on the land is.. Water! It looks like very fertile and green land, at least around winter time, and most locals work with springs and bore-wells. We have a douser on hand, and once i get there i cannot wait to see if we tap water or not!
Let me just say.. IF WE DON'T manage to tap water from the ground, it is OK. Although very welcomed as a continuous source of water, it is also possible to catch and store enough rain (especially in Portugal), to manage year round with no additional supply. The only thing that matters is how much you store, because for most months of the year it rains, and Penamacor has an annual rainfall of 35.2 inches. Note that the original Earthships can function with just 9 inches of rainfall a year. Therefore, if we don't find water then we will just make bigger storage and a lot of roof catchment. The amount we store will be sufficient to live for a few months even without any rain.
Once we have finished celebrating finding water, and rehydrated ourselves, we can then start the first temporary housing. Right now that is looking like it will be a Yurt but I will make that decision once I am settled in.
I am still not able to return to my former home in India, and right now it will be AT LEAST until July from what i can gather. That is a long time really, and so I'm trying to just let go of everything I knew, and focus on the amazing opportunities and alternatives that have presented themselves.
So, once we have the basics on the land we will be ready to launch Phase 1of the whole ecoVillage project. I have just updated our ecovillages website with the new vision and structure for how ecoVillages is going to start, and operate.
Features of ecoVillages
This model of eco building removes the obstacles that people face when self building with no experience. Building for the first time is always prone to problems, and we aim to make the entire process as easy, quick and cheap as possible! We are able to dramatically reduce your labour costs by launching workshops and training events around new builds. We will provide building and design plans based on our proven model for free, and guide you through the entire build process from start to finish.

» Self ownership of your land and property with ALL the rights and privileges of ownership.


» It is optional to join the community, and you may leave the community collaborations without risk to your home or location.


» ecoVillages will lead and guide you through the entire process of land purchase, planning, legal, and build work, starting around Penamacor, Portugal.


» ecoVillages will connect you with the right people for Land Purchase, Legal Fees, and many other services with our partners.


» We will drastically reduce build costs by holding workshops during each build, thereby reducing labour costs by a huge margin.


» ecoVillage will build homes using the Biotecture approach. Our homes will be by far the best performing models that can run completely off-grid, with almost no bills, and little to no additional heating or cooling.


» Community spaces already exist in the village of Penamacor for many things like schools, yoga etc..


» New community land and spaces will be created by ecoVIllage to support community operations and new ventures, especially for Permaculture and food production.


» Those that choose to become members of the ecoVillage community will abide by the pillars of our community as set out by our members.


» ecoVillage members will collaborate and support each other in many ways, and especially through trade, exchanges, discounts, use of an ecoVillage cryptocurrency.


» ecoVillages will develop and provide the tools and systems needed to facilitate a healthy community trade system, e.g. a website for exchanges and trades.


» An Ultra decentralised and viral approach to both eco building and community living, that honours all of our basic needs.
Phase 1: Proof Of Concept
We will go through the process of a small build, with volunteers and workshops led by myself and other experienced earthship builders. We will teach anyone interested as we build, so that future builds can happen more quickly in the local area. Most of the common questions people ask who are interested to join ecoVillages can be answered once we have built our first small eco-home on our land.
Workshop priority will be given to those with a desire to move to the area and join our ecoVillages project. Once we have finished building our first earthship eco-home we will then know the costs and best approach to building further homes. We will also get our first home through domestic building regulations so that future builds can proceed without the added challenge of meeting codes without precedence.
Instead of trying to make an entire eco-village on one piece of land, we are re-populating an existing area that is ready and waiting for people to come and bring new life to its community. Once we have our first home through the hoops, and forged positive and synergistic relationships with the local people and authorities, we can then make it thrice as easy and quick for the people that follow us.
We will have all the connections you need to acquire land and build at very minimal cost, and with true self sufficiency in mind. We will organise volunteers and workshops to get the job done with you, with minimal fuss, confusion and expense!
Exciting times ahead huh! I may start vlogging at some point, especially when there is something to see!
<3


Disrupting the "Cost of Living" Industry

HOW TO SUPPORT THE ECO VILLAGE PROJECT

RE-BLOG THIS POST
https://peakd.com/hive-123046/@eco-alex/ecovillages-journal-the-new-approach-what-it-means-for-you
SHARE ON SOCIAL MEDIA
https://peakd.com/hive-123046/@eco-alex/ecovillages-journal-the-new-approach-what-it-means-for-you
JOIN US AT THE COMMUNITY NETWORK WEBSITE
https://www.ecovillages.io/communitynetwork/
DELEGATE TO ECOTRAIN

Your delegation will go a long way!

The 8 Pillars of Abundance Tribe

Supporting People Who Help
Make The World A Better Place
CLICK HERE TO SUBSCRIBE TO THE ECOTRAIN COMMUNITY