Spanish and English Atrevete a aprender Junto a mi!!! Delicado Zarcillo de Soutache con borla de hilo ** Dare to learn with me !!! Delicate Soutache tendril with string tassel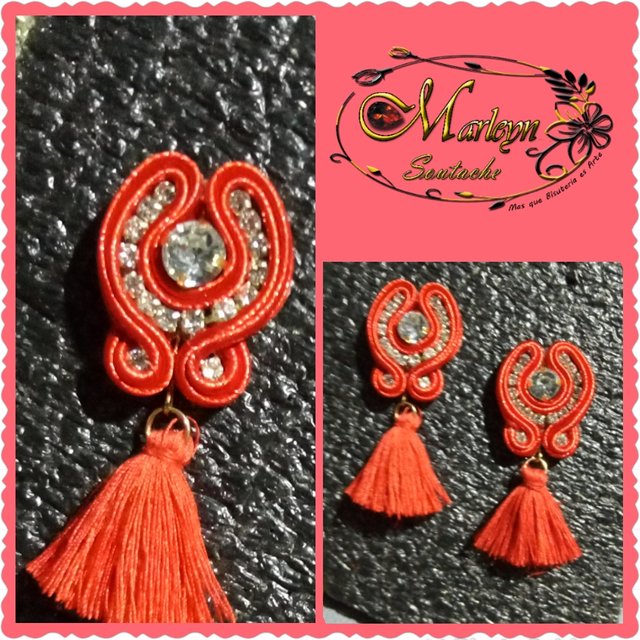 Feliz y bendecido nuevo día, hace poco me fue restablecido el servicio de Internet después de de mucho tiempo, tengo varios tutoriales en cola para ustedes, hoy les e realizado un hermoso tutorial y de unos zarcillos rojos de Soutache con borlas son muy sencillos de realizar se los explicare con la ayuda de una secuencia de imágenes 🤗 espero todo quede bien ya que estoy trabajando desde el celular,😂 si tienes dudas o recomendaciones escríbeme estare feliz de leerte 😁
Happy and blessed new day, recently my Internet service was restored after a long time, I have several tutorials in line for you, today I made a beautiful tutorial and some tendrils Soutache red with tassels are very easy to make, I will explain them with the help of a sequence of images 🤗 I hope everything is fine since I am working from my cell phone,, if you have questions or recommendations write to me I will be happy to read you 😁
Me disculpan que me perdi tanto tiempo lo mas importante es que aqui estoy nuevamente con mas animos mas ganas y mas amor por lo que hago!
I am sorry that I lost so much time, the most important thing is that here I am again with more spirits, more enthusiasm and more love for what I do!
---
Materiales
Tijera
Encendedor
Strass 2 milímetros
Hilo para Soutache
Silicon liquido
Pinza punta Fina
Piedra ovalada 1 centímetro de diámetro
Cuero o tela gruesa
2 Aros de bisutería de 5 milímetros
2 Alfiler de bisutería hembra o con ojito
Pinzas para bisutería punta plana y punta redonda
Cartón de 2 centímetros de alto
Hilo de Coser del color de los zarcillos
2 Base de zarcillos
Materials
Scissors
Lighter
Strass 2 millimeters
Thread for Soutache
Liquid silicone
Fine tip pliers
Oval stone 1 centimeter in diameter
Leather or thick fabric
2 jewelery rings of 5 millimeters
2 Female jewelery pin or with eyelet
Flat tip and round tip jewelry tweezers
2 centimeter high cardboard
Sewing Thread the color of the tendrils
2 Base of tendrils
---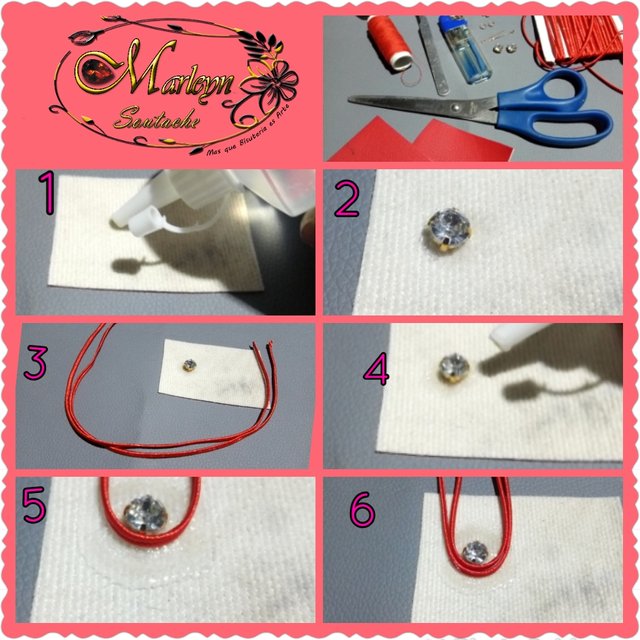 PASO 1: Cortamos un trozo de cuero de unos 4 centímetros, en el centro colocar silicon liquido y pegar la piedra, ahora cortar dos hilos de 10 centímetros aproximadamente colocar mas silicon liquido alrededor de la piedra y pegar el hilo alrededor de la misma como vez en las imágenes
STEP 1: Cut a piece of leather about 4 centimeters, in the center place liquid silicone and glue the stone, now cut two threads of 10 centimeters approximately, place more liquid silicone around the stone and glue the thread around it as you see in the images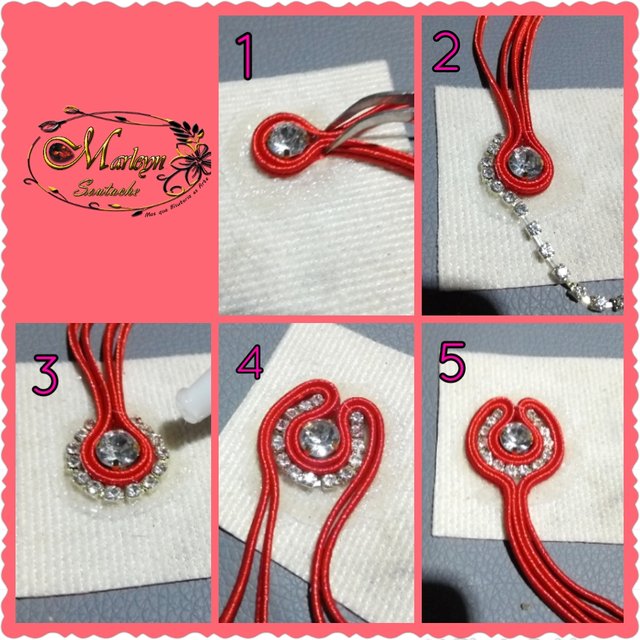 PASO 2: Con ayuda de la pinza punta fina para bisutería pegamos los hilos con cuidado de no ensuciar por arriba con el silicón liquido, ahora vas a colocar .as silicón liquido alrededor y pegaras el strass poco a poco a todo el alrededor puedes ayudarte con la pinza, al terminar coloca mas silicon liquido alrededor y pegaremos los hilos sobrantes hacia abajo con cuidado Se vera como te muestro en las imágenes
STEP 2: With the help of the fine tip for jewelery we glue the threads being careful not to get dirty on the top with the liquid silicone, now you are going to place liquid silicone around it and you will glue the rhinestone Little by little around you can help you with the tweezers, when finished, place more liquid silicone around it and we will glue the excess threads down carefully It will look like I show you in the images
PASO 3: Vamos a cortar solo dos piedras del strass, en donde termina los hilos que pegamos en el paso anterior vas a colocar un poco de silicon liquido y con ayuda de la pinza punta fina pegar las piedras del strass, ahora gira el hilo sobrante hacia arriba como abrigando la piedra.👍🤩
TEP 3: We are going to cut only two stones from the strass, where the threads that we glued in the previous step end, you are going to place a little liquid silicone and with the help of the fine-tipped tweezers glue the stones of the strass, now turn the excess thread up as sheltering the stone.👍🤩
PASO 4: El hilo que subimos para arropar la piedra en el paso anterior se marca el sobrante se corta y se quema la punta con la ayuda de la pinza esa misma punta con cuidado se va a introducir por la parte de abajo de la pieza, es un poco complicado al principio con la práctica veras que se hará mucho mas facil 😁😜
STEP 4: The thread that we go up to wrap the stone in the previous step is marked, the excess is cut and the tip is burned with the help of the tweezers that same tip is carefully going to insert at the bottom of the piece, it is a bit complicated at the beginning with practice you will see that it will become much easier 😁😜
PASO 5: Casi estamos por terminar 😳 en este paso vamos a cortar todo el cuero o tela sobrante que esta al rededor de nuestra pieza, con cuidado y paciencia no te apresures para que los cortes sean perfectos, al terminar de cortar pasa la llama del encendedor rápidamente para sellar los hilos y la pieza! 🙏💪
STEP 5: We are almost finished 😳 in this step we are going to cut all the excess leather or fabric that is around our piece, carefully and patiently do not rush to make the cuts perfect, when you finish cutting, the lighter flame passes quickly to seal the threads and the piece! 🙏💪
PASO 6: En este paso vamos a despegar un poco nuestra pieza en la parte superior y vas a insertar la base del zarcillo coloca un poco mas de silicon y vuelve a pegar, en esta parte no fue que olvide colocar la base es que este es un zarcillo que se hace desde el centro y no siempre la base queda en el mismo punto y si somos principiantes en esto la mayoría de las veces la base nos queda o muy abajo o por fuera, continuando ahora despega un poco la parte de abajo del zarcillo introduce el alfiler de bisutería con ojal y vuelve a pegar TIPS: Puedes realizar presión por un rato con un gancho para ropa para que se seque y cierre bien la pieza😃😉😜
STEP 6: In this step we are going to take off our piece a bit in the upper part and you are going to insert the base of the tendril, place a little more silicone and paste again, in this part no was that I forgot to place the base is that this is a tendril that is made from the center and the base is not always in the same point and if we are beginners in this most of the time the base is either very low or outside, continuing now, take off the lower part of the earring a little, insert the jewelry pin with eyelet and stick it again TIPS: You can press for a while with a clothespin to dry it and close the piece well😃😉😜

PASO 7: Para finalizar la pieza vamos a realizar la borla e utilizado un cartón de 2 centímetros puedes seleccionar el cartón según el tamaño que desees para la borla, lo que debemos hacer es comenzar a enrrollar el hilo en el cartón tantas veces quieras hasta obtener el grueso deseado, yo le di 90 vueltas, al terminar corta el hilo y con ayuda de una pinza introducir en los hilos un aro de bisuteria cerrar el aro con los hilos adentro sacar los hilos del cartón y cortar, ahora hacer varias vueltas y amarrar abajo del aro para q se forme la borla cortar los hilos abajo y listo, realiza este mismo proceso para el otro zarcillo espero se entienda mejor en la secuencia de imágenes

STEP 7: To finish the piece we are going to make the tassel and using a 2-centimeter cardboard you can select the cardboard according to the size you want for the tassel, what we must do is start rolling the thread in the cardboard as many times as you want until obtaining the desired thickness, I gave it 90 turns, at the end, cut the thread and with the help of a pliers insert a jewelery ring into the threads, close the ring with the threads inside, remove the threads from the cardboard and cut, now make several turns and tie under the ring so that the tassel is formed, cut the threads below and voila, carry out this same process for the other tendril, I hope it is better understood in the sequence of images

Si tienes una duda escríbeme un comentario, estaré feliz de ayudarte con cualquier detalle, Espero que mis diseños les gusten tanto como a mí me gusta, aprendan con placer ...!

Nunca olvides que el Poder es Querer y si quieres Puedes...

Eres Luz eres Energía, TU PUEDES ... Que el universo infinito Conspire para que todo siempre sea mejor ... Se les quiere ...

Venezuela FE

Somos Seres Abundantes! Qué las energías del universo vibren en sintonía con las de cada uno de nosotros en armonía! Cuidemos nuestras palabras, acciones y pensamientos!

If you have a question, write me a comment, I will be happy to help you with any details, I hope you like my designs as much as I like, learn with pleasure ...!

Never forget that Power is Wanting and if you want you can ...

You are Light, you are Energy, YOU CAN ... May the infinite universe Conspire so that everything is always better ... They are loved ...

Venezuela FAITH

We are Abundant Beings! May the energies of the universe vibrate in tune with those of each of us in harmony! Let's take care of our words, actions and thoughts!