Cosmea flowers in a transparent vase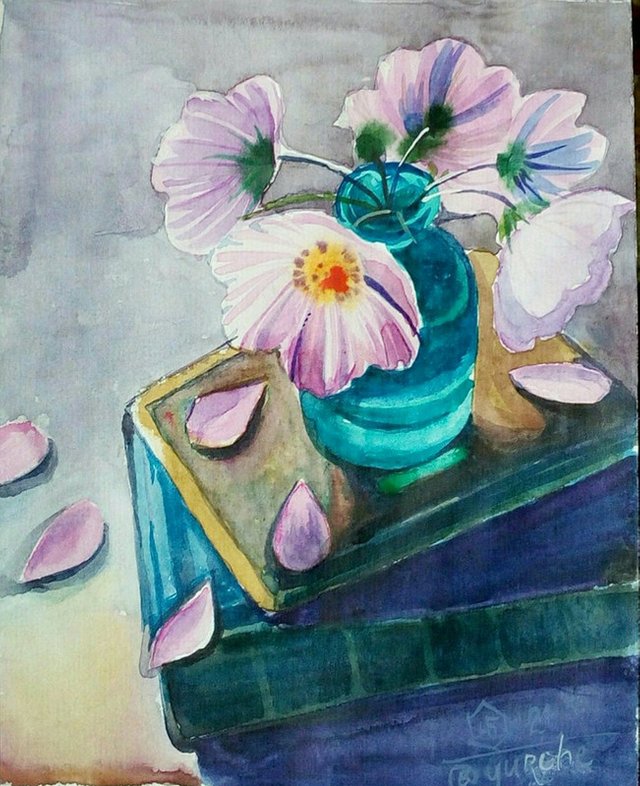 Like any artist, I have several albums in A5 format for different purposes. They contain both plain paper, and tinted, and gray, and craft sheets. But I do not have albums with special aquarelle thick paper, but only with sheets of 150 g/sq. m. A couple of weeks ago, I already posted a watercolor with a sunflower flower painted in that album, but then I worked in a wet technique and it turned out quite well.
Как и у всякого художника у меня есть несколько альбомчиков формата А5 для разных целей. В них присутствует и обычная бумага, и тонированная, и серая, и листы крафта. Но альбомов со специальной акварелной плотной бумагой у меня нет., а есть лишь с листами 150 г/кв.м. Пару недель назад я уже выкладывал акварель с цветком подсолнуха, нарисованным в том альбоме, но тогда я рисовал в мокрой технике и получилось довольно неплохо.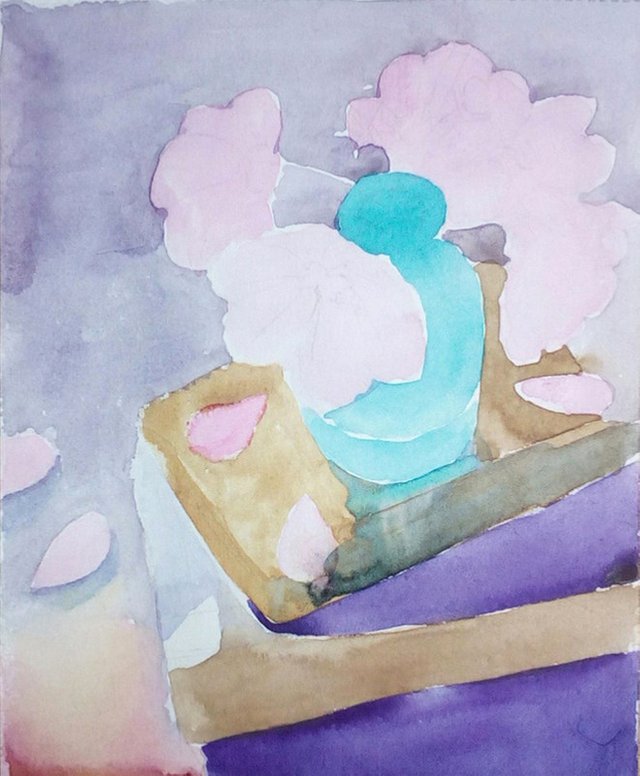 And recently I tried to paint with watercolors in the usual manner and was faced with the fact that this paper is quickly, unevenly soaked with moisture and begins to curl. From here came ugly divorces, because of which the result looks quite different from what I expected. In any case, the watercolor came out interesting, and I'm putting the result on public display today.
А недавно я попробовал рисовать акварелью в обычной манере и столкнулся с тем, что эта бумага быстро, неравномерно пропитывается влагой и начинает скручиваться. Отсюда вышли некрасивые разводы, из-за которых результат выглядит совсем не так, как я ожидал. В любом случае, акварель вышла интересной, а результат я и выкладываю сегодня на всеобщее обозрение.

Paper (150 g/sq.m), watercolor, dimensions 15x20 cm