Guía y recomendaciones the diary Game @steem.sports /Guide and recommendations the diary Game @ steem.sports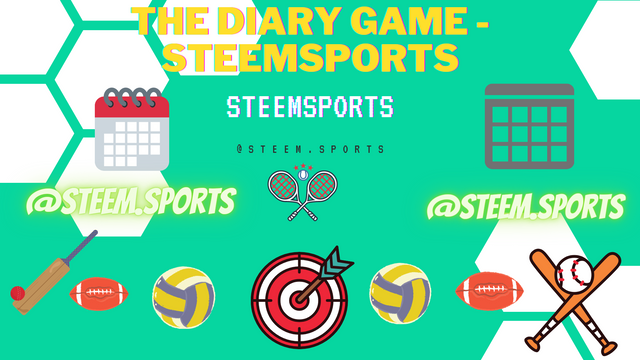 Amigos como todos sabemos SteemSports es una comunidad dedicada a los amantes del deporte y deportistas, en nuestra comunidad hacen vida usuarios que día a día viven y respiran el deporte, algunos realizan análisis otros nos muestran sus conocimientos y habilidades deportivas, hoy tengo el placer de invitarlos a realizar sus diarios dentro de la comunidad.
Esta iniciativa creada por Steemit y su equipo, lleva un año de actividad, para quien no sabe el The Diary Game o juego diario se basa en hablar de nuestra vida diaria, para adaptarnos a esta debemos seguir ciertas reglas y normas de Steemit y de nuestra comunidad SteemSports.

Reglas:
El título de la publicación debe indicar que se está realizando un diario: Por ejemplo: The diary game. Día: 11/06/2021 / (Agregar un título).

Las etiquetas a usar deben ser: #thediarygame #betterlife #venezuela ( debes colocar tu país) #steemexclusive y algunas otras opcionales o de tu preferencia por ejemplo: Como es un diario deportivo usen las etiquetas #steemsports y #sports, pero principalmente se usan las anteriores mostradas.

El contenido del post debe hacer referencia a tu día o vivencias del día que especificas, pero como estamos en una comunidad deportiva si los vas a hacer en la comunidad debes realizar mención de algún análisis deportivo, algún entrenamiento que realizaste ese día o si quisiste mostrarnos tus habilidades.

Objetivo:
La idea es que participen en el juego diario, pero adaptado a la temática de la comunidad, así de esta forma nos cuentan sus experiencias, anécdotas y análisis, a demás tienen la posibilidad de que sus publicaciones sean observadas a nivel general en Steemit. Así de esta forma todos esos grandes deportistas, entrenadores y analistas que publican en SteemSports tengan la posibilidad de llegar más lejos y conocerlos más.

Recomendación para los nuevos miembros de SteemSports y Steemit :
Si aún no han realizado sus presentaciones en Newcomers' Community, para hacerlo deben seguir ciertas reglas, colocar el título en este orden: Logro 1: Mi Presentación en Steemit. Por: @(Tu nombre de usuario) , usar las siguientes etiquetas: #introduceyourself #achievement1 #venezuela (tu país) y realizarlo dentro de la comunidad mencionada anteriormente.

Estos les servirá para verificarse, darse a conocer y aprender sobre las diferentes herramientas que abarcan a Steemit/Steem, en esa comunidad encontraran personas que los guiaran a los diferentes logros de aprendizaje.
---
English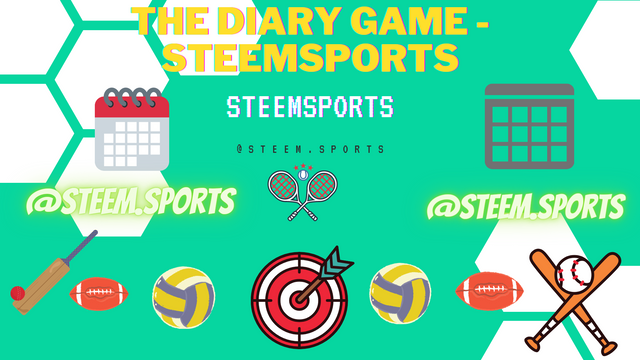 Friends, as we all know, SteemSports is a community dedicated to sports lovers and athletes, in our community users who live and breathe sport make life every day, some carry out analyzes, others show us their knowledge and sports skills, today I have the pleasure of invite them to make their journals within the community.
This initiative created by Steemit and his team, has been active for a year, for those who do not know The Diary Game or daily game is based on talking about our daily life, to adapt to this we must follow certain rules and regulations of Steemit and our SteemSports community.

Rules:
The title of the publication must indicate that a diary is being made: For example: The diary game. Day: 06/11/2021 / (Add a title).
The content of the post must refer to your day or experiences of the day that you specify, but since we are in a sports community if you are going to do them in the community you must mention some sports analysis, some training that you did that day or if you wanted show us your skills.

Objective:
The idea is that they participate in the daily game, but adapted to the theme of the community, so in this way they tell us their experiences, anecdotes and analysis, others have the possibility that their publications are observed at a general level on Steemit. So in this way all those great athletes, coaches and analysts who publish on SteemSports have the possibility to go further and know them more.

Recommendation for new members of SteemSports and Steemit:
If they have not yet made their presentations in [Newcomers' Community] (https://steemit.com/trending/hive-172186), to do so they must follow certain rules, place the title in this order: Achievement 1: My Presentation in Steemit. By: @ (Your username), use the following tags: #introduceyourself # achievement1 #venezuela (your country) and do it within the community mentioned above.
These will help them to verify themselves, make themselves known and learn about the different tools that comprise Steemit / Steem, in that community they will find people who will guide them to the different learning achievements.