Best sports memories of my life: Bending like Beckham
I was quite the athlete as a kid. In fact all of the kids in my family were. We were introduced to just about every sport at a young age and all of us excelled in one sport or another. Two of the 4 of us went to college for free on athletic scholarships and one of us went on to play pro (it wasn't me.) Basically, if one of us played almost any sport, we ended up being one of the best or the actual best on any team we played on. For me the only exception was baseball - for some reason that sport just eluded me and I was terrible at it. After getting put in left field (where they generally put the worst player on the team in youth baseball) for 3 years, I stopped participating in that sport.
But I was good at basically everything else, especially soccer where I was considered by the papers to be one of the best players in the state I lived in. That was quite a nice recognition and it certainly helped me to get a free college pass in the end.
There were a lot of moments in my soccer career but one sticks out in my mind much better than the others and that was when I was 14 or 15 years old or so and was a dominant player in the youth league in Waynesboro, Virginia.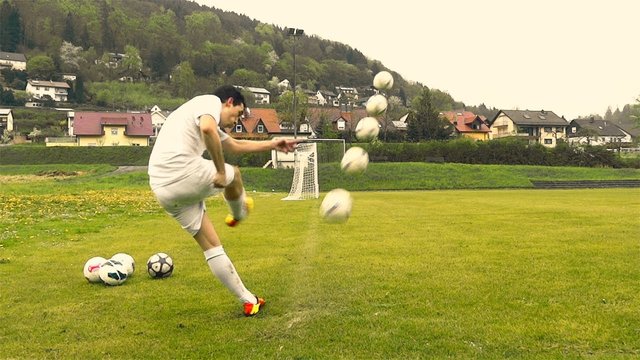 src
I was able to play with both feet, but like most people I favored one leg over the other. Again, like most people, I was much better with my right foot than my left. I was normally chosen to do most free kicks on for the team I was playing with that year, and this included corners.
Now I don't want to sound like an arrogant jackass, but there were very few people on my team that were worth passing the ball to. This sounds mean but the way that leagues were divided up is that when you had a dominant player on one team, the other teams needed to get most of the other good players. This meant that I was leads and bounds better than every other player on my team. I tried to get them involved but it was normally better for me to simply keep the ball myself rather than pass to someone that was almost certainly going to lose it.
After failing to produce any goals on corners unless we did a short pass and then the recipient would give the ball directly back to me, I decided to take matters in another direction.
I practiced doing solo corner kick shots on goal for weeks using about a dozen balls and a makeshift goal we had in my backyard. I really have to hand it to my parents for providing me with this but hey! I went to college for free so I suppose that covers the cost of a dozen soccer balls pretty easily.
After practicing and putting spin on the ball I was able to score solo corners with some level of regularity in my backyard and one day, I decided to have a go at a solo corner during a game against another team.
The thing is, I hadn't told anyone else on the team, nor the coach, that I was capable of doing this and simply lined up to take the corner and kicked the ball high with a counter-clockwise spin on it and this was the very first time I had ever attempted this in a game.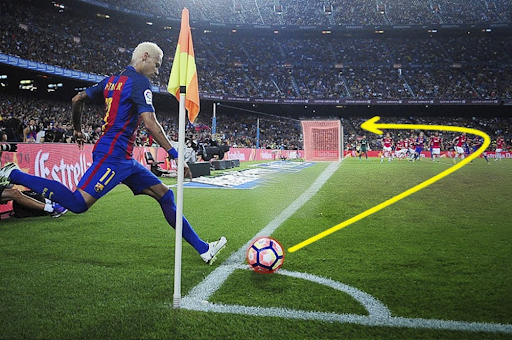 src
The end result was exactly what I had hoped, the ball was in the back of the net on the far side of the goal and no one other than me had touched it at all to get it there. The parents in attendance on most of the players on the field kind of just stood there, not sure if they had actually just witnessed what they did. The opposing goalkeeper was confused as were most of the defenders and the other kids on my own team as to how it is possible that a goal was just scored.
To say that I was on cloud-9 after pulling that off is an understatement. I knew I was better than most of the other kids in the league (probably all of them, actually) but this maneuver is something that most professional players would probably fail at most of the time.
This would be the final year that I would play in the recreational leagues because my parents realized that I was not facing any sort of real competition at this level so they moved me up to a private league that cost pretty big money and involved a lot of travel. I really have to hand it to my parents because obviously I couldn't drive myself to these things and they spent hours in the car driving me to and from games and practices.
If it hadn't been for their dedication to their children I likely would have remained an average player since the only competition in the small town that I lived in was the other inhabitants of which there were fewer than 30,000 at that point in time. When you narrow that field down to the boys around my age that were actually interested in soccer that number of potential competition probably was less than 100. I owe a lot to my parents. They were (and still are) pretty awesome people.
I have a lot of fond memories of soccer and it helps when you are really good at it. However, this one memory, even though it was around 30 years ago, sticks in my head like it happened yesterday.
Do you have any "best sporting memories?" I'd like to hear about them if you do!