Steem Business - Steemit Engagement Challenge Contest 1 | Business review in your city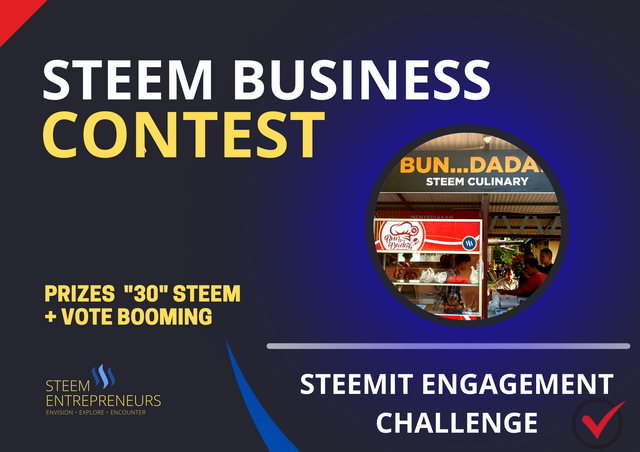 Steem Business Contest is a contest prepared by the Steem Entrepreneurs Community to support the program from the Steemit Team, namely the "Stemit Engagement Challenge" the first week in May 2022.
All information about the Steemit Engagement Challenge project has been shared in detail by @steemitblog in the Steemit Update [ April 25th, 2022 ] : Steemit Engagement Challenge Season 1 - Week 1
STEEM BUSINESS CONTEST
The Steem Business contest aims to increase user participation to promote or review existing businesses in your city, be it traditional retail, modern retail or other businesses.
Review the business in your city in detail
Post on the Steem Entrepreneurs community page
Write in a language you understand
Minimum writing 300 words
Mark the location of the business being reviewed with what3words, google maps or codes plus.
Convert the price of the product or service of the business with Steem, SBD or TRX according to the value of your country's currency.
Use original photos or photos of your own, we do not recommend photos that are sourced from the internet or are free of copyright.
Plagiarism or re-posting will be disqualified
Share rewards of at least 20% for empowerment and charity activities from @steemkindness
Use the hashtag #business-engagement in the first 4 tags with your club status and country tag.
The Steem Entrepreneurs Community will choose 5 winners with the following prizes :
| 1st Winner | Vote Booming | 10 Steem |
| --- | --- | --- |
| Winner 2 | Vote Booming | 08 Steem |
| Winner 3 | Vote Booming | 06 Steem |
| Winner 4 | Vote Booming | 04 Steem |
| Winner 5 | Vote Booming | 02 Steem |
Every winner will get a positive vote from the @booming account and a Steem prize.
Contest start and end dates
You can share your contest posts as early as Monday at 00:00 (UTC). Last time joined was Sunday at 23:59 (UTC).
We highly recommend you to take part in this contest, because the content that will be shared for the "Steem Business" contest will be controlled by the steemit team. If you produce quality content and adhere to the rules, you have a high chance of receiving votes, but as always, we don't guarantee that.
Have fun and competing in the Steemit Engagement Challenge by participating in the "Steem Business" contest.
Cc : @steemcurator01 | @steemcurator02

Open opportunities for useful contributions and collaborations with steem power delegates for community development.
Please select one from the link :
Thank you to all stemians who have supported and encouraged us to work hard to advance the Community and STEEM to reach wider people.
Kind regards,
Steem Entrepreneurs Team