Application : Community Curator for October 2022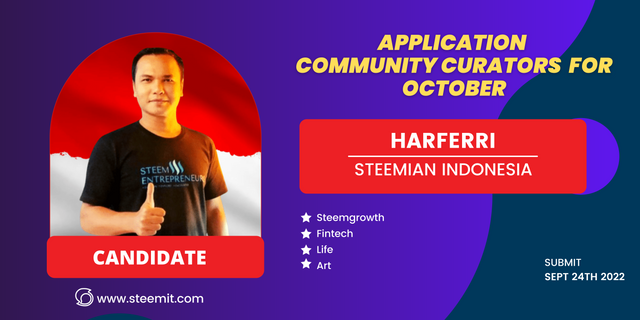 Based on the post Steemit Update [Sep 15th, 2022] : Community Curators for October - Applications Open by @steemitblog about the recruitment of the Community Curator Team for October 2022 - I am interested in taking responsibility for filling this position.
---
A brief summary of your history on Steem
Joined steemit in December 2016 - Has been an administrator of the Indonesian Steemit Community (KSI) and intensively promo steem in Indonesia, especially in North Aceh, Bireun, East Aceh, Lhokseumawe City, Banda Aceh City to the island of Java.
My biggest achievement on the Steemit platform was when I founded the Steem Entrepreneurs Community as a forum for entrepreneurs to exist on Steemit according to their passion. My love for charity can also be well channeled on Steemit through the Steem Kindness Program. This reason is enough for me to persevere and devote my time to Steemit.
Details of any positions of responsibility you have held on Steem
I currently have responsibilities as administrator of the Steem Entrepreneur Community, Steem Indonesia and Country Representative Indonesia. Steemit has become my second job :) because it uses 5 hours of my time every day.
I was also chosen as community curator for september with @inspiracion, @chiabertrand, @simonnwigwe and @lavanyalakshman. They are great friends and great teammates.
Details of specialist or professional skills or expertise you have in "real life"
I am an employee at a company engaged in providing 3 kg LPG for the poor in North Aceh Regency.
I also have experience working as a supervisor at the Lhokseumawe City Central Statistics Agency for survey activities, Non-Governmental Organizations when the tsunami hit Aceh and a supplier of goods for the education and health offices in North Aceh Regency.
I don't have any specialization skills but I'm interested in business and humanity.
What country do you live in and what languages you can read fluently
I was born and live in Indonesia. The daily conversational language uses Indonesian but can read English well.
Other languages I can read and understand well thanks to the help of translation applications.
Your key stats - Own SP, CSI, Reputation, Delegations
| Own SP | CSI | Reputation | Delegations |
| --- | --- | --- | --- |
| 16,231.55 STEEM | 11.9 | 74.557 | 7,128.53 STEEM |
| | | | |
Source : https://steemworld.org/@harferri
Any subjects you particularly enjoy curating
All, because it gives me the opportunity to read all kinds of posts and I get input because of the opportunity. But business, art and life impressed me.
The minimum team size you would be willing to serve in (1 - 7)
I have worked as a community curation team of 7 and 5 in one team. Everything can be done well by the team. I choose 4-7 is a proportional and objective measure for the quality of work.
Thus my description for submission as a community curator team in October to the Steemit Team - Hopefully what I have done for the steem growth can be considered. Thank you and wish me luck.
Indonesia, Sept 24, 2022
Regards,
HARFERRI (Applicant)