Contest: Reviews of local souvenir sellers.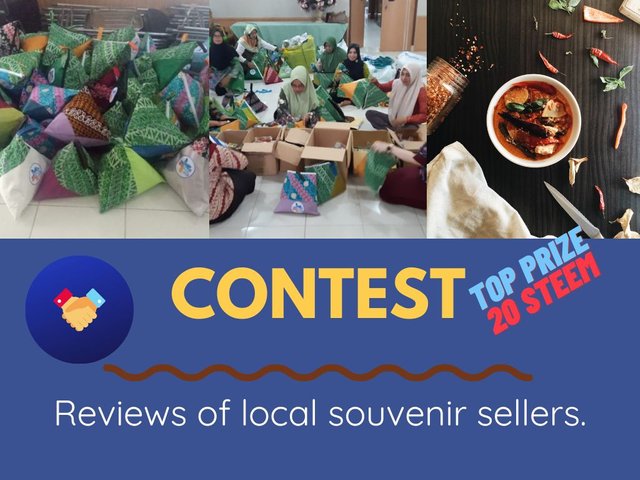 Each region has a unique souvenir. Good souvenirs in the form of serving food, drinks and crafts.
In some places this becomes a profitable business. Various ways are used by business actors to attract the attention of visitors, tourists so that local food, drinks and handicrafts become everyone's favorite souvenirs.
---
In this contest we ask you to review a business that sells souvenirs typical of your area.
As a guide you are expected to answer some of these questions.
What is the name of the place of business?
What are the typical souvenirs that the business sells? Whether Food, Drinks or Crafts.
Where is the business located? Write full address with location map using https://what3words.com/
How does the business serve buyers? Very good or Not at all.
Contest rules:
Posts must be in the Steem Entrepreneur community.
Posts must be at least 250 words.
Posts must be exclusive by attaching original photos. Link the source if you need a photo that has a source to complement the post.
Use the post title : Reviews of local souvenir sellers + The title of your post
Use the hashtags #regionalsouvenirs, #business #your country.
Invite at least 3 of your friends to participate in the contest.
Put the contest participant link in the comments of this post.
Resteem this post to let other users know about this contest.
Contest Prizes :
20 Steem to be distributed to 4 selected participants. Posts must be of quality to get extra rewards with Booming account support.
Notes :
We do not guarantee that contest posts will get votes from the King of curation SC01 and SC02
Posts will be judged by the steem entrepreneur community team
We will really appreciate it if you support the STEEMKINDNES program by dividing the 10% reward into the @steemkindness account
The contest is valid until this post clamps the prize.
Happy competing
Let's join in the #promo-steem marketing project through Instagram Social Media. Visit the link below to follow.
Let's support @pennsif's performance for the development of the steem blockchain network by voting @pennsif.witness at the following link:
https://steemlogin.com/sign/account-witness-vote?witness=pennsif.witness&approve=1
Contest organizer:
Great thanks : @harferri | @afrizalbinalka | @tucsond | @disconnect | @stephenkendal


Open opportunities for useful contributions and collaborations with steem power delegates for community development.
Please select one from the link :
Thank you to all stemians who have supported and encouraged us to work hard to advance the Community and STEEM to reach wider people.