Steemit Engagement Challenge S9W4 - The Steem Say No to War
Greetings Steemians!
We've reached the fourth (4th) week of Steemit Engagement Challenge season 9. I will start my participation in Steem Entrepreneur Community where I am going to share my point of view on the topic; SAY NO TO WAR.
War is conflict /fight between different groups and when it occurs, it comes with a lot of damages in terms of; families / communities destruction, hardship ( reduction in human capital), death, illness, disability, injury and anxiety.
When war happens, there are certain physical and emotional damages that might likely occur as well.
After war, it takes a longer period of time for everything to get back to normal. It is not an easy task to bring back the economic sector of a particular community to life again. The consequences of war are really dreadful.
It will be wise of me to use the contest tips given by the community as guideline so to make my publication simple to understand.
Because of the consequences/ damages in which war brings to people, I would say that; I am against war.
Experiencing war is traumatizing and I don't wish anyone to experience that because I have witnessed war once in my life (in the year 2008) which was not pleasing at all. I have experience real anxiety, losses and hunger not because I do not have what to eat but because I just wanted to survive and be at peace. The next community where we moved to was not healthy for me and everything about its environment was not favourable.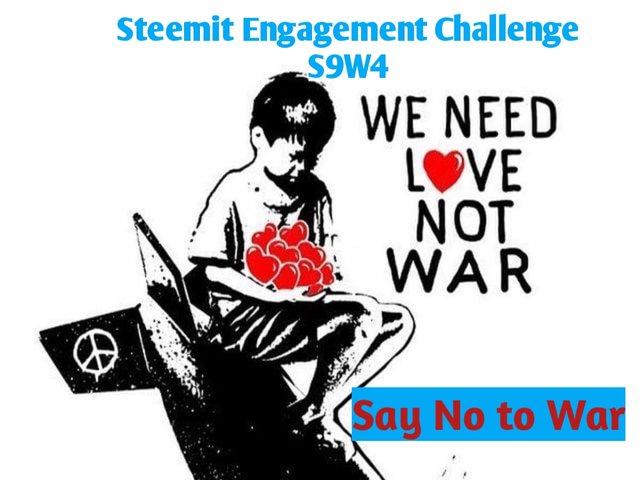 Edited with PixelLab
War has caused so many losses to people and no one will ever pray to experience that in his / her entire life.
No matter how someone stand for war, there must always be negative outcome (loss of productivity /economic resources, death, destruction of the environment and injury of greater number of individuals).
During war, these consequences are meant to happen and nothing can change the fact that this must occur. The only way out of this is by embracing love and peace.
Peace and love simply means care and kindness towards one another. Where there's love, peace must be found there.
Both words (peace and love) works together to heal, put an end to conflict and also bring calmness to unhealthy situation.
Most war that people experience happened because those involved never care to communicate/ listen first and in turn take wrong actions.
Embracing a peaceful attitude is the best way to resolve conflict between individuals or communities.
Love and peace is the only way we can live and make the world a better place.
If I am to make a slogan for world peace, I would suggest peace be still movement...better life with peace
Here's how it goes;
Call: Peace be still movement......?✊
Response: better life with peace.
With this slogan, I am 100% sure that even those having conflict in mind will at some point restructure their thought to bring nothing but peace in a country or community.
Peace awareness needs to be created because in some countries, there are some certain persons that needs to be educated/ taught about the consequences that war/ conflict brings.
At this point, saying NO to WAR is the only thing that will save us all. Thank you!
I will invite my friends (@mvchacin, @eliany and @josepha) to share their thoughts as well.