Steemit Engagement Challenge S9W3 - Time is Money
Hello Entrepreneurs!
Welcome back to my Steemit Engagement Challenge (S9W3) blog. My today's entry will be published in Steem Entrepreneurs Community which is to review on the phrase that says; TIME IS MONEY.
Our time is valuable and precious that is why we considered it as being money. Time is very important and once it is lost, it cannot be regained easily and it will take another time again to achieve a particular goal in which that previous time was supposed to be used for. This same explanation is also applicable to money, once money is lost, it will take another extra time or money to gain it back.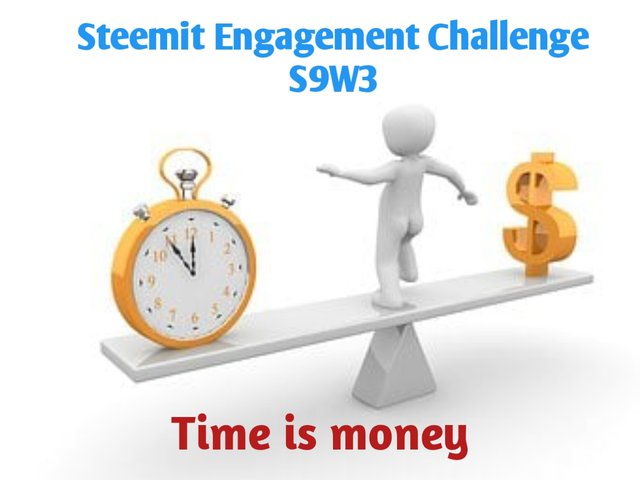 Edited with PixelLab
By using the contest tips given by the community, I will share my idea regarding this topic;
Explain the Reasons Why the Term 'Time is Money' is Appropriate
Time is money is appropriate because things have changed and in order to get life figured out and live a better life, we must use our time wisely. Every second, minute and hour spend must be productive. Earning money these days requires time, we must trade that time which is important to us to earn money.
I have noticed that; the more time I put in to do something, the more productive I become. I would also add that; time is an exchange for money. if a person invest his / her time in nothing he / she will gain nothing which is also the same thing with investing it into something meaningful.
No successful billionaires in this world that will share his / her successful stories without stating that; time was being put into achieving that success. Every successful being on Earth uses time wisely and they are always up and doing (active). Time is precious and it is used perfectly to achieve a set goal.
My time is precious and I value it so much that each minute I feel that I am not productive, I feel so bad and bittered.
Time is something I can't get back no matter how much work I put in or how much I spend in trying to cover up the wasted ones. Some days, I end up wasting my time in doing things that are not beneficial ( mostly sleep or chat with friends on social media) which in turn yield nothing.
This happens when I am mentally drained. I have also grown above it now and realized that; time is money and since then, every second spent is only on an important things (business and building of my career).
Now, I have also placed the value on my time and I make sure I use it wisely by making schedule of the activities of the day.
How I Manage my Time to Stay Productive in Steemit in the Past Week
To be honest, the past weeks has been tight for me. Although, last week I tried to create time out of my busy schedule to publish on steemit.
Staying productive on the blog is not only by making posts, getting to read other users' articles and engaging is another way of staying productive mentally.
I have really missed out on last week's engagements but now I have resumed to start creating content again and make my block lively by interacting with other steemians and by sharing my ideas / thoughts with others in an educative way. Thank you!
I will invite @mvchacin, @eliany and @josepha to join the contest.