"Steem engagement challenge-s7/w1|My priorities for the year 2023".
Hello friends,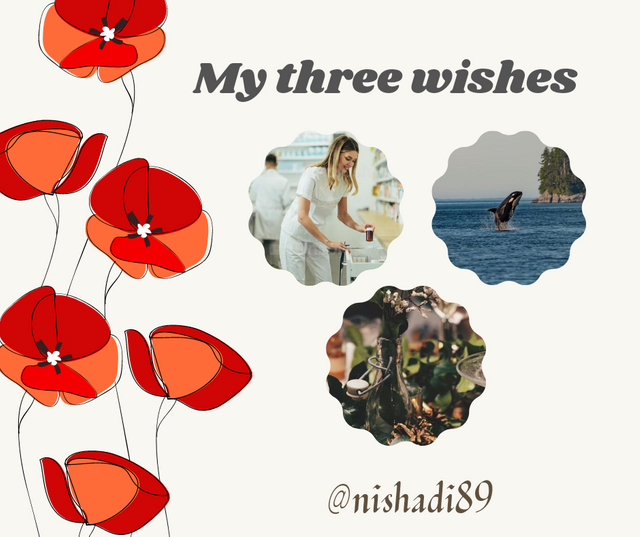 Design made with using canva app
I hope you all are well. I wish everyone a happy new year full of peace and happiness. This is my first post in this "Incredible india community". And this is the first Engagement Challenge that I will participate in this year.
The theme is awesome. In a previous contest I wrote an article about what I hope to achieves this year. Today's theme is similar. It is no secret that everyone has many things to ask for if God really gives us wishes to ask for. But if we only get three wishes to ask for, it is wise to think carefully and choose three things that we think are better. So I chose three such wishes.
My three wishes
1️⃣ I pray that I pass the Pharmacy exam.
I faced the written paper of the pharmacy exam last month and am waiting for the date of practical and viva exams. And I worked hard day and night for this exam. I worked hard for this to the best of my ability. Therefore, my first request to God is to bless me to become a pharmacist. I am begging God to give me results because I worked very hard for the exam.
If I get this opportunity I will become a registered professional pharmacist and that will bring stability in my life. I dream of becoming a good Pharmacist and doing great service to the society.
2️⃣ I wish I could reach the half orca level before end of this year
My other wish is that I wish become a half orca in the steemit platform before the end of 2023. I currently have 7860 steem power and hope to increase it to 25000. And for that, I started following club100 in the last few months. I believe that this kind of victory will definitely help me to succeed in my future journey in this platform.
I have noticed that there are many half orcas in the steemit platform. And their journey is very clear. I also want to become a half-orca in this precious platform.
3️⃣ I pray that the economic problems of our country will be solved soon
From last year till now, the people of our country will still live miserable lives. Thanks to politicians, our country has fallen into such an abyss today. We are going through a period of economic decline. Goods prices have skyrocketed. The prices two years ago have changed a lot. The price of goods has increased by about 300%.
People will survive without dying, with great difficulty. People who ate three meals then eat one meal today and try to make ends meet somehow. Meanwhile, politicians are working to maintain their power. They don't care about people's suffering. Without petral, diesel and gas, people suffered in queues for days. Some died in those queues. The country's economy collapsed due to the shortage of dollars.
The prices of books, pens, pencils, school bags, stationery and school shoes have skyrocketed, so there is no way for parents to send their children to school. Therefore, education in the country has collapsed. I am begging God as my last wish to bring prosperity to my country again.
Why I chose these three wishes
If I get an opportunity like this, I will make these three wishes, two of my wishes and one wish for the country. I think these three things are best to ask for. If I pass the pharmacy exam, I can become a pharmacist. Also, increasing steem power will make my progress easier in the steemit platform.
Even if these two wishes are fulfilled, my heart will not be completely happy because of the problems in my country. Therefore, I need to solve the problems of the country where I live in order to be happy in my heart. Everyone should be possible an easy and happy time. So I ask for my last wish for the country. 🙏🙏
The End..... ❤
I invite :-
@arshani
@gimhani
@enamul17
---
🎀 Thanks for reading 🎀
---