Physical Activity of Children has gone down after the Pandemic
A survey was done in our city recently on Children's physical activity after the Pandemic and the results that came out were very sad. It showed that the average time of the Children physical activity has reduced almost by 50%. At an average the child needs to spend around 2 hours in any physical activity, that can be about outdoor games or sports but after the pandemic it has reduced to an hour time. Again in this the study showed that the activity was even lesser over the weekends then week days which means that during the school days they would be having some sports activity in the school but during the weekend they would be spending more time indoors at home.
Another observation that I have made personally in my city is that now that all the curbs have been lifted since almost 5 months now and majority of the people have dropped down on their face masks as well but school children still continue wearing them. When I go for my Yoga sessions there also even while doing their Yoga or other activities they continue wearing their masks. I do recommend them not wearing their mask specially when they are engaged in any physical activity but they refuse to listen.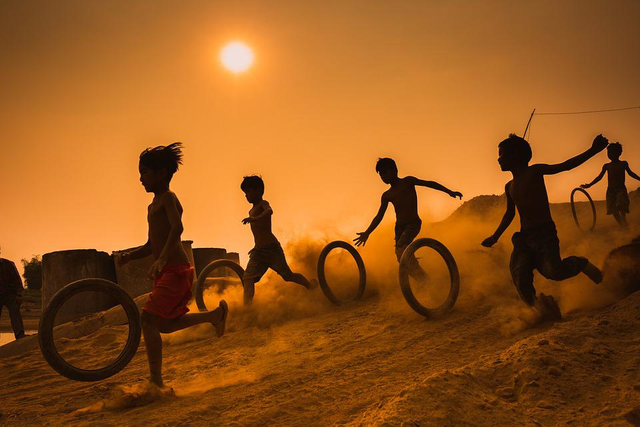 Source
The other thing I have been observing is that children when they go out with their parents, the parents do not wear mask but they make their children wear it. If we have to just go with the scientific studies then it has been saying that children are less effected with Covid then elders. So it should be other way around then.
These are some clear psychological impacts of Covid. Either it is the fear or the constant bombarding of the media messages of wearing masks that makes them behave in this manner. They still do not want to get out of their homes. They have become very comfortable with their gadgets. They are enjoying that more than being outdoor with their friends. It is sad to see the younger generation psyche being developed in this manner.
This is what continuous repetition of the same thing again and again does to our brain and specially for children where their brain development is still happening and they absorb these kind of messages very fast it is unhealthy for them.
How habits can change over time by just repeating it.
Thank you for visiting my blog. 👼🏻👼🏻💖💖🌹🌺🌸




"Unlimited Abundance, Blissful Happiness and Unconditional Love"