I have spent the last few days at my mom's in the Swedish countryside. It's been great to spend some time in nature and to just take it easy and rest. It was much needed. And it's very relaxed that way, with my mom. She's just happy to see me and I often wish I could show my appreciation for her more. For some reason it's just a bit hard for me to do that, I guess it's because she is my mom. But at least I'm getting better at it.
It's also nice to visit my mom since I have most of my stuff stored at her place. Over the last four years or so I haven't really had a home, I have been living quite minimalistic (at least that's how it started). First I was traveling (only with carry-on luggage) and since I moved to Berlin I have only rented flats short term. I have liked it that way but now I'm starting to feel that I sometimes miss having a place to call home. It's not because of my stuff really, but sometimes it just feels it would be nice to have my own furniture and a bed I have chosen for myself.
I do miss my slow juicer though. It's been with my mom since I left Stockholm. But now I had an opportunity to unpack it and make some nutritious, tasty juice again 🙂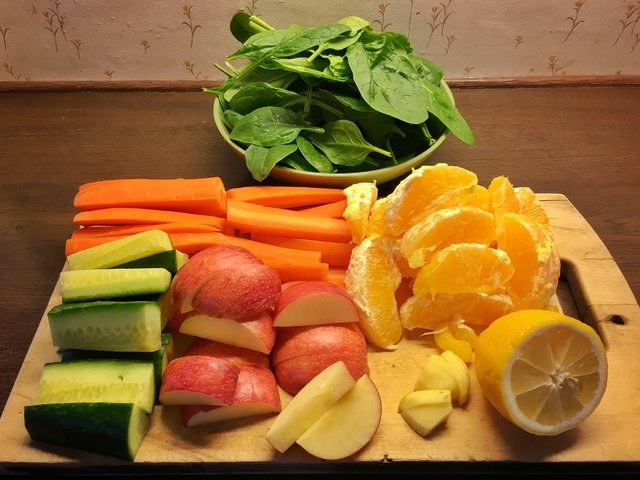 The ingredients for the juice.
What is a slow juicer?
---
I first learned about the health benefits with slowly pressed juice on my first detox retreat in Bali some years ago. For a week, two glasses daily of slowly pressed juice were all I had (apart from water). I spent the week with the rest of the group talking about poop, doing colonics and enemas. I can say that experience brought us close together. But that's another story...
Of course, there are many different juicers out there and my only experience is with my Hurom slow juicer. I was recommended this one on my retreat and for me, it's been a great investment (the engine is said to have a life long warranty). Slow juicers (aka cold press juicers) are slow because they need to use a pressing force to get the juice through the filter without creating too much heat and friction. Fast juicers (aka centrifugal juicers) on the other hand, are fast because they need to spin the juice out through a filter with centrifugal force. From the nutritionist and detox expert on my retreat, I learned that slow juicers produce more nutritious juice as the ingredients are treated more gently and there's also less pulp, i.e. more of the fruits and veggies are being pressed into juice. I felt really good after this retreat and wanted to continue to drink this healthy juice so a bought a Hurom slow juicer (the cost was about 500 euro).
Even though there is quite a lot to wash when you have used this juicer I find the process to be really fun. You can press basically any fruit and veggie. And in my experience almost whatever you throw in there, it comes out as a really tasty juice. But of course, if you're no so used to drink vegetable juice I suggest starting with a mix of fruits and veggies for a sweeter taste. That's also what I did this time as you can see in the first picture.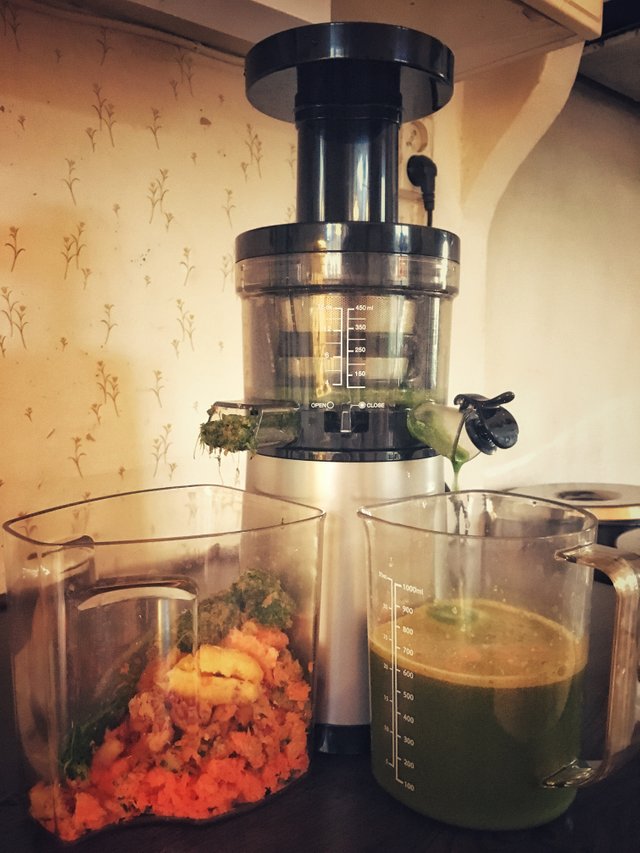 This is a really fun process! And it's quiet (a slow juicer doesn't make much noise).
Some cold-pressed juice health benefits
---
There are numerous health benefits of cold-pressed juice, I think you'll feel it instantly when you drink it. At least that has been my experience. It just feels like you're drinking a life elixir and I instantly feel more energized.
Cold-pressed juice contains many vitamins and enzymes that can get lost or destroyed by commercial juicing methods. It's a great way to get in your nutrients! The nutrients in cold-pressed juice feed your body good bacteria and it can boost your immune system.
It's also really good for digestion. Since the fibre and the pulp are removed from the juice, it enters the digestive system in the small intestine and all the absorption happens there. This way you give your digestive system a break.
Cold-pressed juice has also the ability to help detoxify your body. I mean, that's why we were only drinking this for one week on the detox retreat. Apart from all the health benefits it can also beautify your skin and help with everything from acne to anti-aging.
I don't know if you can see so much of a difference in my appearance but below you can see a before and after picture of me from that detox retreat (this was four years ago). At least I look more at peace 😇 And I felt so much better.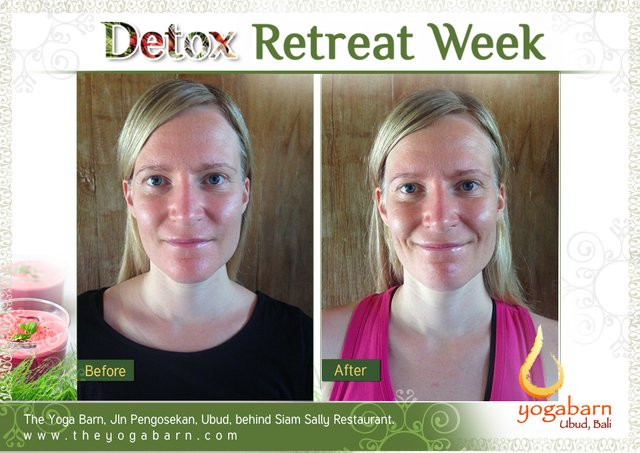 At the moment I'm making some plans for the near future and it looks like I'm going to take a break from Berlin and spend part of the summer in Sweden. I'll then do a juice fast. I feel that's one of many things my body needs to regain some balance.
What I used for this juice
---
I don't feel there's much of a point writing a recipe because, as I already mentioned, you can basically take fruits and veggies and press as you please.
But for demonstration I used:
5 carrots
2 oranges
2 apples
1/2 cucumber
some lemon
some fresh ginger
spinach
This produced almost 1 litre of juice.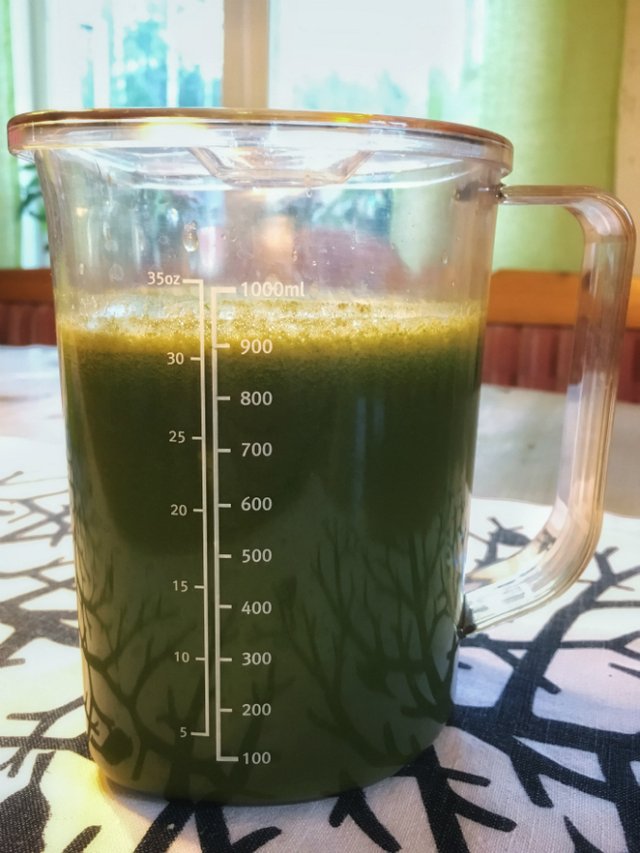 It's important to drink this juice slowly. Swirl it around your mouth before you swallow. By doing this you add oral enzymes that further ease digestion. In my experience it's also actually hard to drink this juice fast, you simply want to sip it gently and feel how your body thanks you 🙏 This is really a great way of giving your body some love.
Now I will find other ways to support my health. I have already parted from my slow juicer 😥 I'm on my way back to Berlin today. So this was all from the Swedish countryside for this time.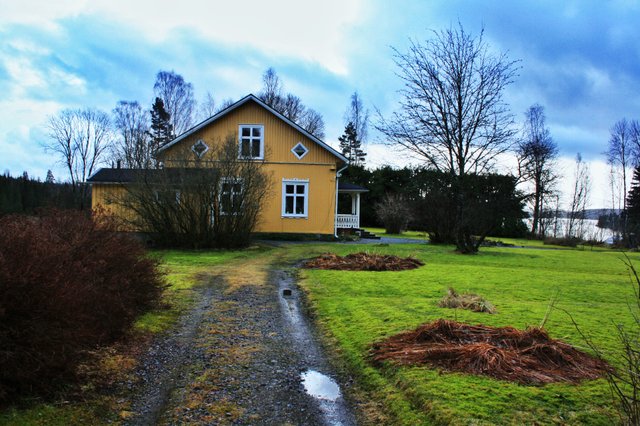 Thanks for reading 🙏
Love and blessings to you all 💚