📷 OneBreathOnePhoto #22 - ONE photo of ONE moment on ONE breath of air
Hello dear Steemian friends! It's been quite some time since I last made a post on Steemit, but now I am back, and I hope you can welcome me back in 2021!
Continuing where I left off in my photo series, allow me to welcome you back to the 22nd episode of:
As some of you may know, two of the things that I'm deeply passionate about besides travelling, is Freediving and Photography. Freediving is a practice of diving underwater without a tank or any other breathing apparatus, gliding through the watery abyss on a single breath of air with nothing but you and nature.
My aim for #onebreathonephoto is to showcase the beauty of this sport and the beauty of the ocean, as well as to brighten up your day by sharing some of my favourite photos taken over the years.
ONE photo at a time, of ONE moment in time, on ONE breath of air
---
Episode #22: Lost at Sea


It is usually a beautiful and wonderful experience to see a humpback whale in the wild, especially the newborns being nurtured by their mothers. However, what you see here is a picture of a lone calf without its mother, the same juvenile whale that was spotted alone the day before, was again swimming alone today, this time following a group of dolphins as if he was trying to make friends. He is believed to be blinded in one eye, and has parasites all over his body. The locals know that he won't survive much longer without a mum, or a friend.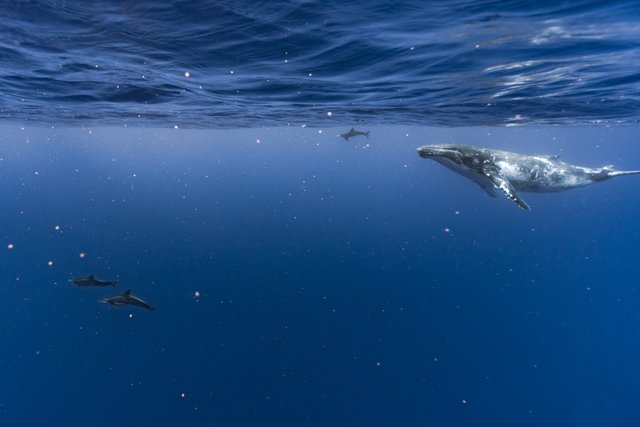 Sony A7RII | 28mm + 16mm FE converter | 1/250sec F/6.3 ISO600
Have a great day! 😃
---
Previous Episodes:
21.Silent Prayer | 20.UnderwaterSpaceman | 19.AquaticMammal | 18.PerfectlyImperfectCircle |17.StillnessUnderwater | 16.FlyingTurtle | 15.Mother&Calf | 14.WhenYourSubjectIsFreediver | 13.JustKeepSwimming | 12.Freediver'sAscent | 11.ChasedByWhales | 10.UnderwaterSymphony | 9.PositiveBuoyancy | 8.TheFlow | 7.ShapelessWater | 6.WhatLiesBeneath | 5.IntoTheAbyss | 4.WhaleStare | 3.FlyingTurtle | 2.MondayBlues | 1.Humpday
for more #OneBreathOnePhoto Goodness!
Your Upvotes & Resteems means a lot to me, Thank You!
---
© Picture by @kuenok