What Is The Best Traffic Sources? - Plus #2020Vision Day +16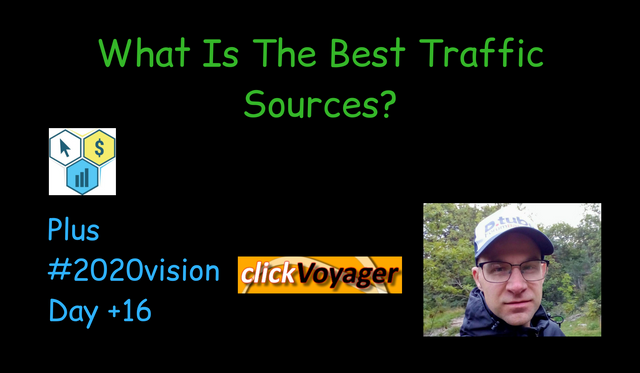 Made in Canva
What Is The Best Traffic Sources?
So this question might have a bit of a surprising answer to you, and at first glance you might just jump to the conclusion that you should look up some rankings and statistics to see what gets the best conversions and then add as many as you can, promote them to get referrals and then stop surfing for credits when you have a big enough downline to keep it going without your input.
It's easy to think that, but that also draws the logical conclusion that those referrals also wants to quit when they have a big enough downline themselves, and you need to start surfing for credits again, and in reality you never really get out of that.
So the better question to ask is in my opinion:
What Is YOUR Best Traffic Sources?
Now what I mean by this is what traffic sources are you comfortable with to keep using on a daily and weekly basis, and by that I mean to continue surfing for credits and continue to promote and build your list and your brand with.
Why this is important is because if you do keep using them regardless of if you can quit surfing yourself or not is because if you do keep on using them, then you will also keep on talking about them in your blog posts and in your videos, plus of course the emails that you send out to your list.
And if you like to use them then chances are that some or even many of your referrals and a large part of the subscribers to your list would also like to continue using them, they do not want to quit surfing for credits just because they can, they want to continue because they like to use it.
So at the end of the day YOUR best traffic sources are the ones that you keep on using on a daily and weekly basis, because you WANT to use them.
What About Tracking?
Of course you should track your results, I use LeadsLeap to track mine, but I think that you will find that conversion ratio and how much you like to use a certain traffic source will start to correspond to each other quite nicely over time, it's fun to get subscribers to your list, and you get the best conversions where most people like to surf for credits.
Sunday Surfing: ClickVoyager And vTrafficRush
As this is Sunday today my daily surfing is in ClickVoyager, they have a really nice offer where you get a free 7 day Upgrade if you surf 250 pages or more, and it works great to surf it on a mobile, they have a fully mobile responsive surfing interface.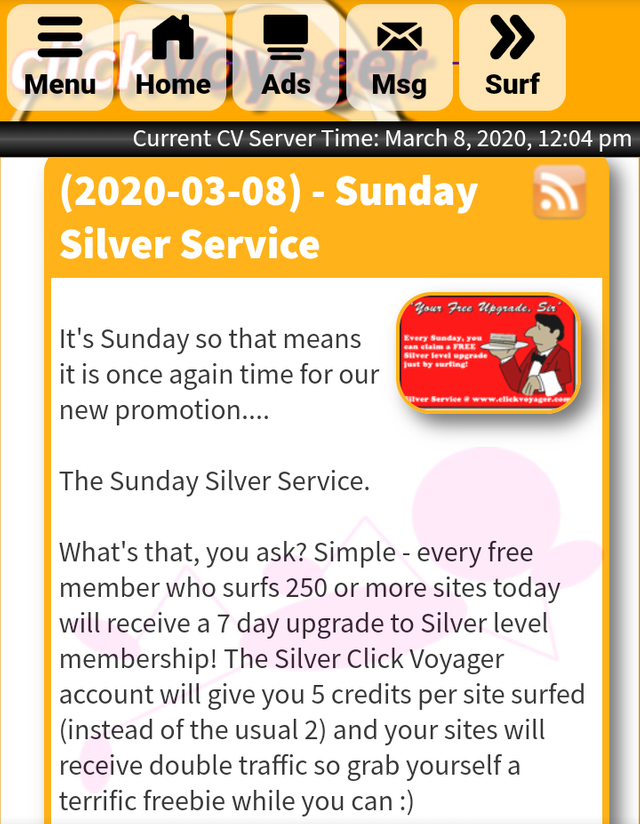 Screenshot from ClickVoyager
While surfing they also have some fun and easy games that gives extra credits, plus each 50 pages surfed gives you 1 spin in the CV Slots that can also give extra credits, and they have an affiliate program that can earn you credits up to 5 levels deep creating a lot of leverage.
I use my credits to send traffic to vTrafficRush where I have a banner to my LCP promoting my list, and anyone who wants to sign up to VTR needs to watch that for 10 seconds, plus it also shows in my downlines up to 6 levels deep creating even more leverage.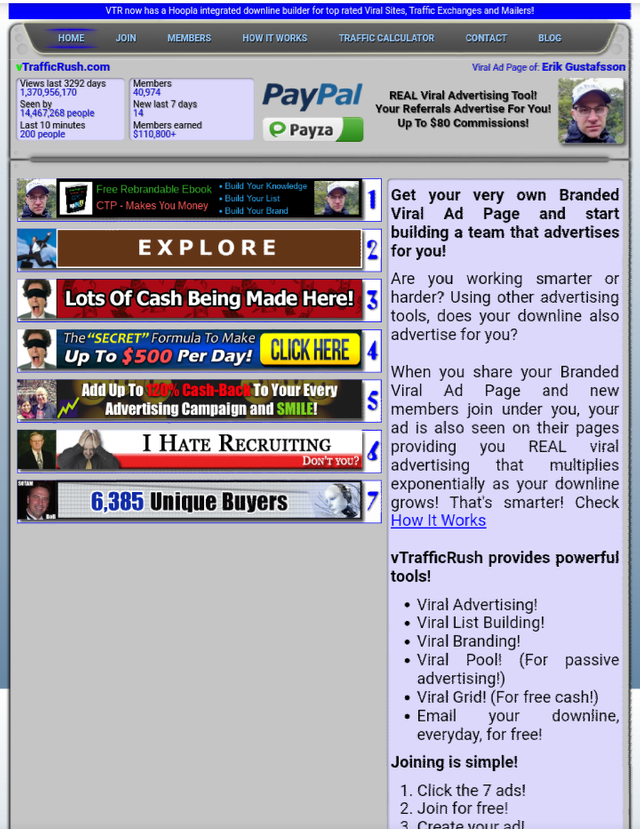 Screenshot from vTrafficRush
So a bit of Sunday surfing, have fun.
2020Vision Day +16
So I continue to watch 4 ads per day for my #2020vision, my form of creative pushups, and as I said above today I did this in ClickVoyager.
2020vison was started by @pixiepost to draw attention and awareness to the Steem blockchain and to promote health and the Actifit dApp, and you can see her announcement here.
Screenshots from my mobile watching 4 ads.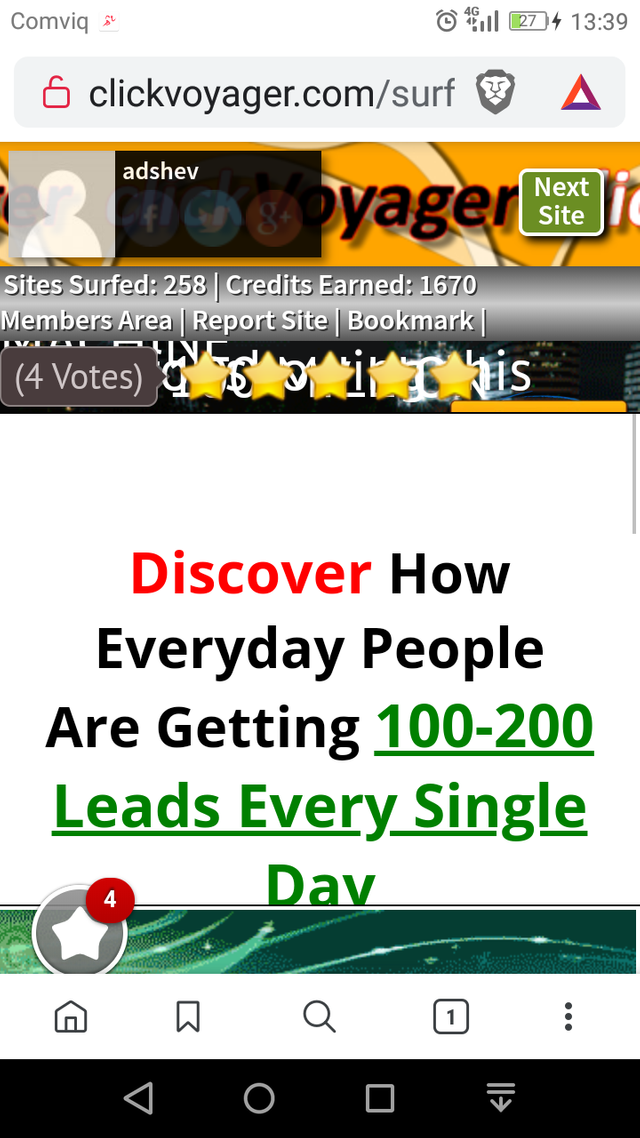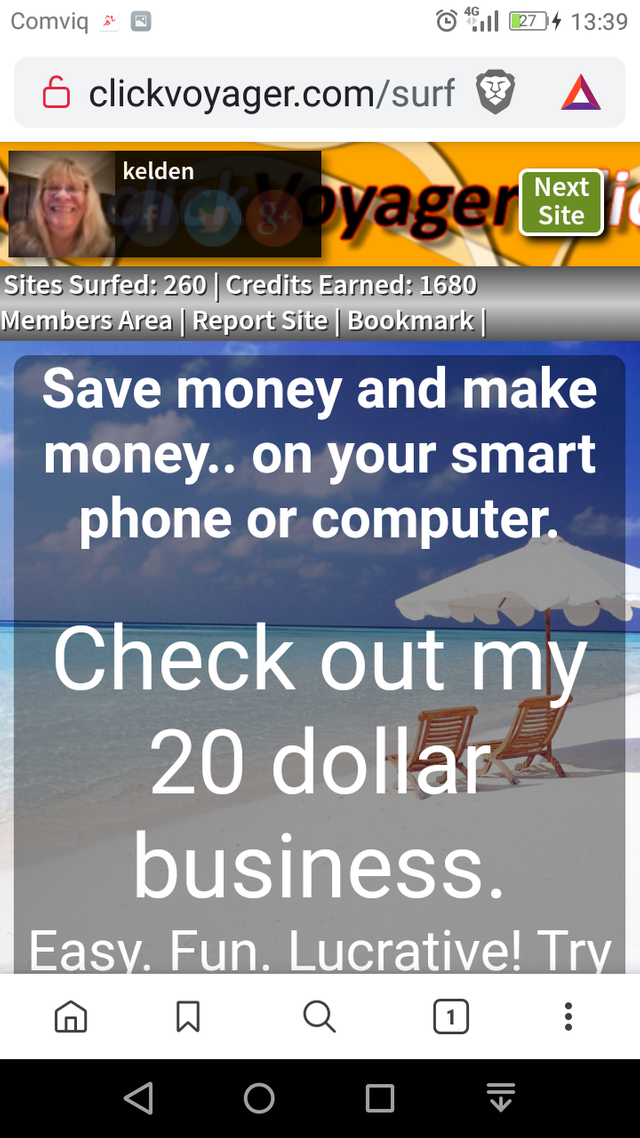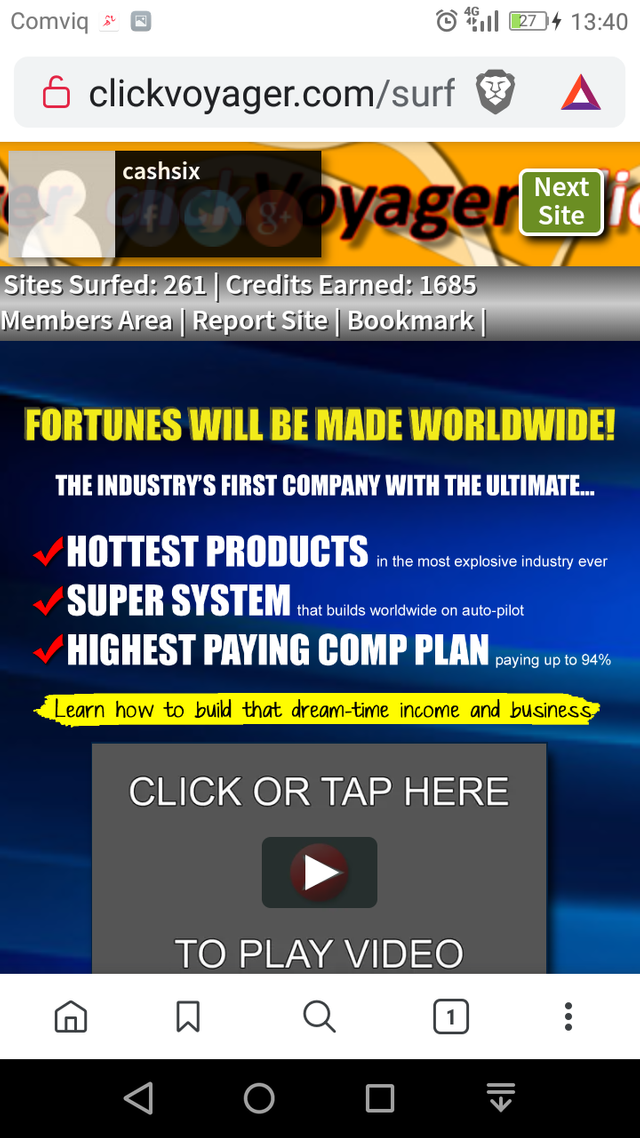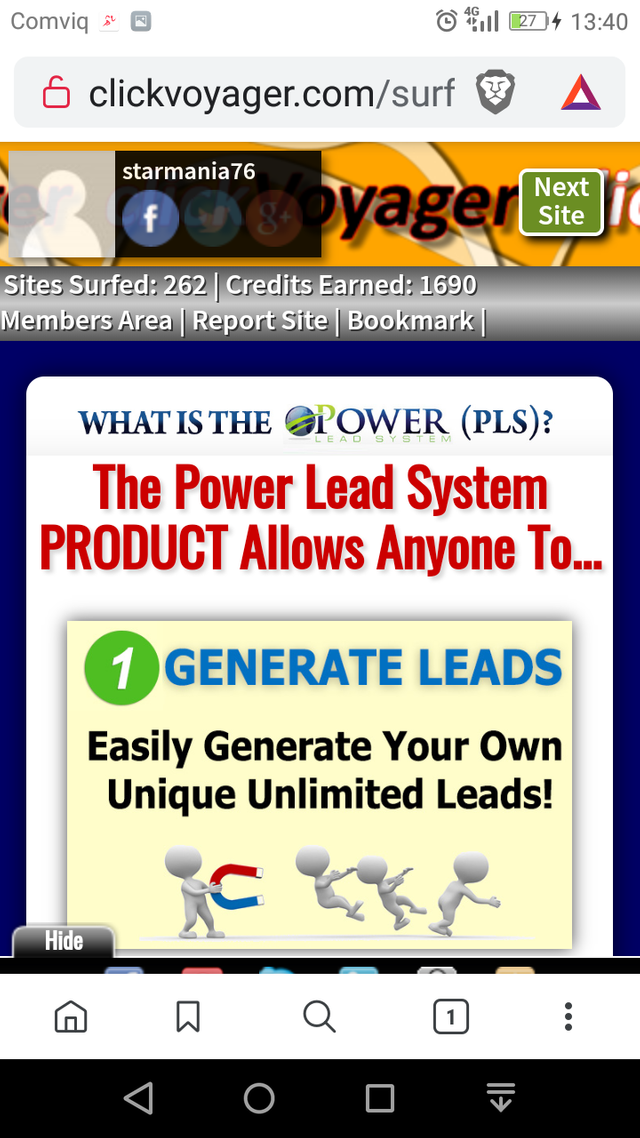 So that was my #2020vision for today, leave your thoughts in the comments below, and ...
Stay Awesome!
Sincerely,
Erik Gustafsson
https://www.ctptalk.com/@flaxz
This is my own personal opinion, do your own research before investing, and seek legal counsel if uncertain.
---
Join me on Discord: https://discord.gg/F6cCZ2N
Join me on ClickTrackProfit: https://clicktrackprofit.com/flaxz
---
Sign up for free to my email course and ebook, click the banner below.
---