Natural Disaster in Himachal Pradesh ( INDIA ) : 14 dead after Massive Landslide Hits Kinnaur, at least 25 Missing.
Hi my Steemit and Steem Geography Friend's, Natural disaster's are now getting so frequent in every region of our planet which is a cause of concern for all of us. And yesterday i.e. on Wednesday 11th August, 2021 a Disaster in the form of Landslide occurred in the Mountain Area of Himachal Pradesh. I heard the news on the TV News Channels and in the newspapers. It is really a sad day for the people and families who are now suffering their losses due to this landslide.
Sharing the details of this Disaster here in my post with the source from where i read this.
Source of the News
---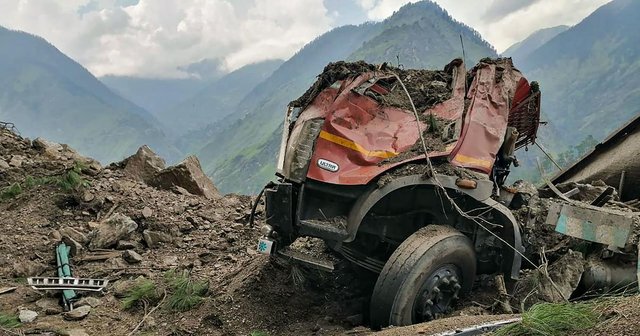 At least ten people died after a massive landslide hit Himachal Pradesh's Kinnaur district on Wednesday, the Indo-Tibetan Border Police said. So far, 14 injured have been rescued from under the debris.
Deputy Commissioner Abid Hussain Sadiq told PTI that several vehicles, including a Himachal Road Transport Corporation bus carrying over 40 passengers, were buried under the debris. The state-run bus was on its way from Reckong Peo in Kinnaur to Shimla, Sadiq added.
Sadiq told Reuters that at least 25 people are still trapped. "We expect the rescue operations to continue through the night, if not longer," he added. "The area is currently very dangerous."
The Army, the National Disaster Response Force and the Indo-Tibetan Border Police have been sent to the area for rescue operations. Around 200 troops have been dispatched for help, said Vivek Pandey, a spokesperson for the ITBP
Himachal Pradesh Chief Minister Jairam Thakur said a helicopter was also being arranged for the rescue operations. Earlier, Thakur had told the state Assembly that there are reports that 50-60 people are feared trapped. He added that the driver and the conductor of the bus have been rescued but they were not in a position to ascertain how many passengers were in the vehicle.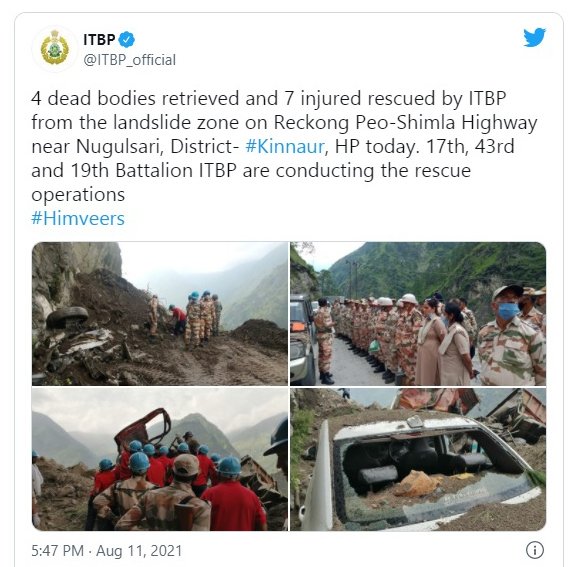 Heavy rain has led to landslides in parts of Himachal Pradesh in the last few weeks.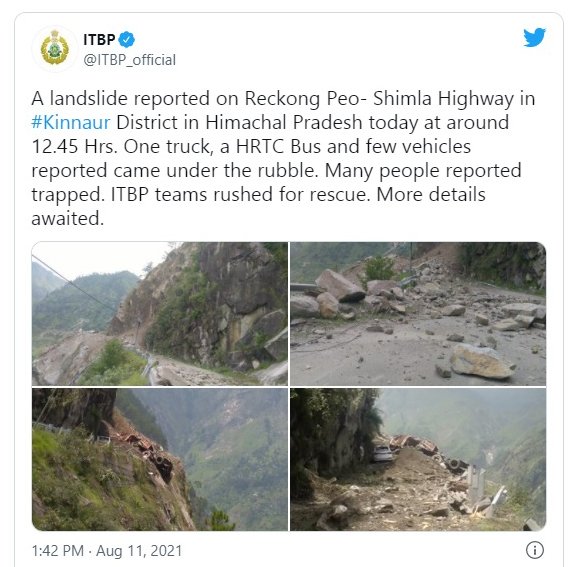 Meanwhile, Prime Minister Narendra Modi and Union Home Minister Amit Shah spoke to Thakur and offered all possible help.
Other politicians also expressed grief over the incident. "My heart goes out to the families affected by the landslide in Kinnaur, Himachal Pradesh," Delhi Chief Minister Arvind Kerjiwal was quoted as saying by his office. "Praying for everyone's safety and successful rescue of those trapped at the site."
---
Praying for the Speedy Recovery for the people who are injured and still stuck in the rubble and hopefully they reunite with their families as soon as possible. Rescue workers are also doing their hard work to rescue the people.