Taking a trip down memory lane with @steemitworldmap's HaveYouBeenHere 2019 Steemitworldmap Travel Contest makes me want to pack my bags right now and get into the car and tick off a few more places on my bucket list!
We have such a beautiful country here in South Africa and there still are many many places I have not seen so until I've done all the local road trips my heart desires, that trip abroad can wait!
It was not easy choosing my four favourites, but I decided to share the South Coast of Kwazulu Natal as that is the area I visited the most this year.
Scrolling through my 2019 travel blogs certainly brought back fond memories!
---

Shipwreck, the sea and quirky signs
Unspoilt coastline fronting the Indian Ocean with white sandy beaches perfect for taking long walks and collecting sea shells; Rock pools where mussels and oysters can be harvested (within limits of course); a fascinating Shipwreck called the Nightingale that made the rocks a little north of Glenmore Beach it's final destination back in 1933; amazing sunrises over the East Coast of Africa; quaint and crowd-free little bays perfect for swimming; a Lagoon for the little ones; gigantic ancient rocks for fishermen with names like Pulpit Rocks wooden benches in memory of loved ones sitting atop some of the rocks; and well-appointed self-catering accommodation at our favorite Glenmore Sands with a restaurant that serves the very best Prawn Curry in Kwazulu Natal; all this makes the little coastal town of Glenmore Beach our absolute favourite family haunt - a real getaway from the crowds place.

---
We visited the Beaver Creek Coffee Estate a little further down south; being a self-confessed coffee addict this was a place I really enjoyed.
We arrived just in time for the daily Crop to Cup Walk around the farm. The owner's son gave us some interesting little tidbits about the ups and downs of toiling on the coffee farm for three decades already. This was much appreciated and a real eye opener to all the coffee lovers in our little group as none of us realized just how much goes into that cup of coffee we enjoy every morning!


Walking the Beaver Creek Coffee Estate
That good cup of coffee of course starts with a little seed as that is what a coffee bean in fact is, and that little seed goes through a lengthy process to become a fully roasted coffee bean that will be ground to make a perfect cup of coffee.
From a humble seed to a fully grown coffee tree to produce coffee cherries that are harvested at just the right time; we were shown the different machinery that's used for some of the processes - skinning the cherries; drying the beans in the sun and some are soaked in water and left to ferment before placing on trays to dry out.


Thereafter the dry beans are packed and sent to coffee producers or roasted to perfection on the farm itself - we learnt about the different strengths and saw an ancient coffee roaster which still is in use today.


We enjoyed a perfect cappuccino at the end of the tour and could really appreciate it knowing all the work that went into it - could not get a better or fresher cuppa than that!

---
Still down the South Coast of Kwazulu Natal but approximately 20 kilometers inland is an amazing natural phenomenon - the majestic and spectacular Oribi Gorge which is a canyon approximately 400 meters deep and almost 5 kilometers wide at its widest; cut by two rivers, the eastern gorge by the Mzimkulwana River and the western gorge by the Mzimkulu Rivers.
The basement rocks of both gorges are part of the over 1000 million years old Namaqua-Natal Metamorphic Province.
We visited the Lake Eland Game Reserve and walked the suspension bridge there - well I did not walk that one, my hubby and friends did!


Walking Suspension Bridges at Oribi Gorge
But I did walk the suspension bridge that is near the site of the Wild Five Adventures where one can partake in any of the following activities for adrenaline junkies:
Wild Gorge Swing which is the highest gorge swing at 165 meters (55 storeys) into the abyss!
Wild Abseiling down a 110m cliff face next to Lehr's waterfall
Wild Slide which is a 120 meters zip-line or foefie slide that spans across the Gorge at 160 meters above the ground or one can take a 3 hour canopy tour.
Go-Ballistix Paintball Games.
Wild Water rafting along the Umzimkulu River.
Guided walks and birding tours as well as a host of other team building activities are on offer at this magnificent site.
We enjoyed the view sites from here - Baboon's Castle; The Hanging Rock and The Cathedral.
As I mentioned earlier, I, who have a fear of heights, was brave enough to walk the suspension bridge called the Wild Bridge which is 84 meters long. It was real scary as it was wobbly and a frightening thought that we were suspended 100 meters above the gorge floor between heaven and earth with magnificent views of Lehr's Waterfall, Baboon's Castle and the world's highest Gorge Swing.


Walking the suspension bridges certainly is not for the faint hearted!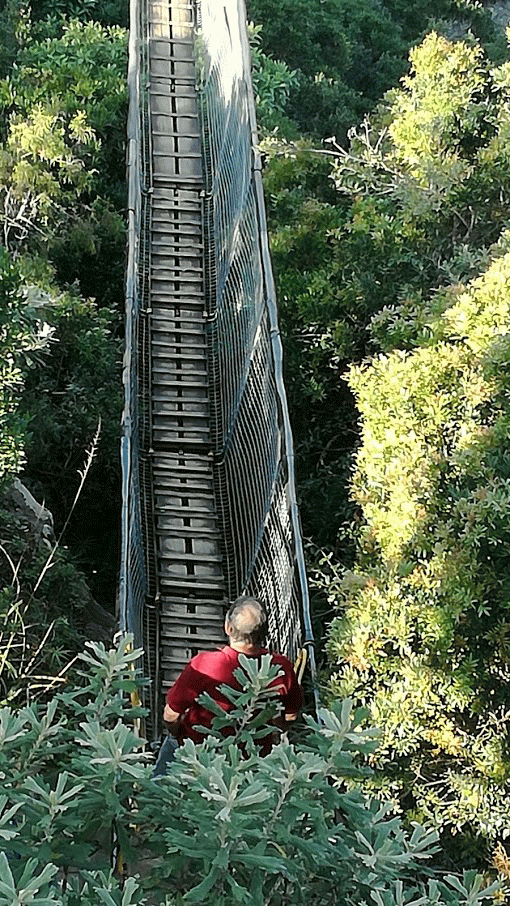 ---
Another favourite was actually a look at traveling from the other side and that was a four part series - a practical guide on setting up your own BnB.


The BnB Host - How to set up your dream BnB
As we are still in the peak season here at our Lily's Cottage, I can tell you one thing, and that is that this also is not for the faint-hearted, especially when you have electricity outages as has happened the past few months here in South Africa with our loadshedding!
Opening up part of your property to strangers can have its ups and downs, but we have been immensely blessed by our guests who have been fabulous; I can count the nasties on one hand and that is over a three year period. Not as nasty as messy though!
Our guests come from many parts of the world and the reasons vary from vacations to expats visiting family to illnesses to weddings and other special celebrations to name but a few. We get to learn about other cultures and they in turn find a tranquil little haven here. We have many returning guests who have become like family.
So if you have space on your property and enjoy meeting people from all walks of life, I can recommend the hospitality business to you; the rewards are great as you are making one of your biggest assets working for you but it also enables you to beautify and maintain your property to a high standard so that when you do sell and move down to that little beach cottage or log cabin in the mountains, your property will fetch a handsome price;)
My little series really covers most of the stuff you need to know if you're considering setting up a BnB.

---
Thank you to @steemitworldmap for the support when pinning our travel posts onto their map, you guys and all your curators are awesome, I really appreciate the encouragement!
A big thank you also to @blocktrades for sponsoring this contest!



Connecting the people of #STEEM across South Africa. #steemsa
JOIN US ON DISCORD (South Africans Only)
JOIN US ON TWITTER
JOIN US ON FACEBOOK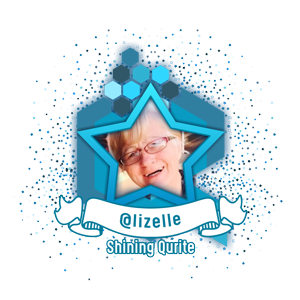 Original Content by @lizelle

Thank you for stopping by

Copyright @lizelle - All Rights Reserved


---
!steemitworldmap -31.012170 lat 30.255715 long Glenmore Beach, Kwazulu Natal d3scr