Steemit Engagement Challenge Season5 Week6: Traveling the world at Christmas.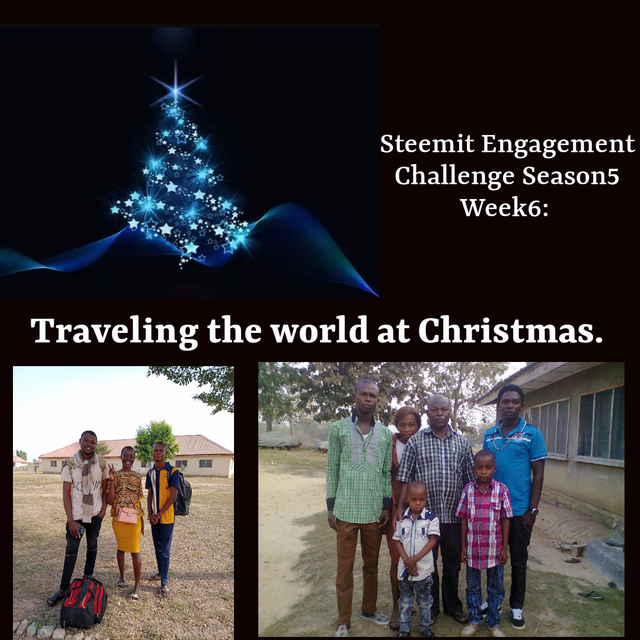 Hello, Steemians! Greetings to you and welcome to my post. In this post, I have discussed the Christmas celebrations in my country and in my family as well. We all know that Christmas is a worldwide celebration that makes a lot of people staying in the city travel back to their maternal home in order to share the joy of Christmas with their loved ones.
---
1. Do you celebrate Christmas in your country? If the answer is yes, say how they celebrate it; if the answer is no, say what other special date they celebrate in December.
Yes, I do celebrate Christmas in my country, which is known as Nigeria. In Nigeria, millions of people value Christmas celebration, which makes them start preparing ahead of December 25th.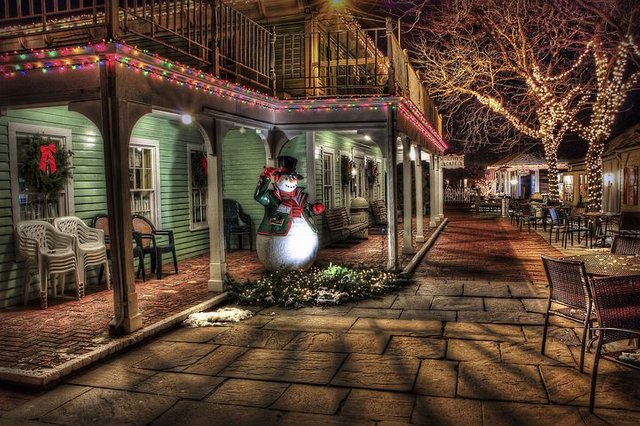 Christmas decoration Src
During the week of Christmas, they started by decorating their houses with Christmas trees and flowers and playing Christmas songs. Then, on December 24, is the day that most Nigerians kill and prepare their meat. Many people, including those in my home, kill goats, rams, hens, and cows on the 24th of December.
On December 25, which is the big day of Christmas celebration, they do wake up very early in the morning to start exchanging greetings and wishing each other a happy Christmas. After waking from sleep, they will begin by cooking rice, warming their food, and sharing with their neighbors. There is normally a church service on the 25th of December, which usually starts at 10 a.m.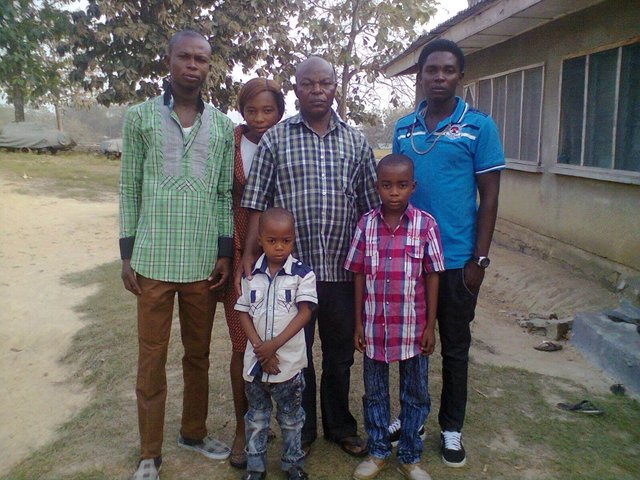 A picture of my family during Christmas some years back
In Nigeria, after church service is over, a lot of families will then start taking pictures, beginning from church down to their houses. Food sharing, eating, and drinking keep going round throughout the day of Christmas. On that same day, in some houses, music would be playing aloud, whereas children would be visiting people and wishing them a happy Christmas in return for cash. I did this when I was a kid.
To sum it up, in Nigeria, we do eat and drink very well at home with our loved ones, and we take a lot of pictures for remembrances. Then, from 6 p.m. on, a lot of Nigerians do take their loved ones on an outing to a tourist center.
---
2. Do you perform any rituals at Christmas or on that special date? We would like to meet you.
No, I don't perform any rituals at Christmas. In my family, what we usually do is come together to pray and thank God for the gift of life before preparing what to eat. Although back then, I and my friends would hide and burn tires while at the same time drowing (shooting) knockout.
---
3. What special foods do you prepare for this celebration?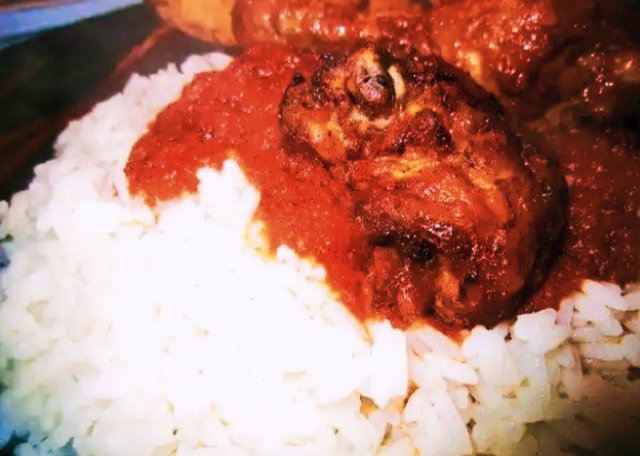 Rice and Stew
For the Christmas celebration, I prepare rice and stew with enough meat inside. After preparing rice and stew, my parents will still prepare Afang soup with hot pounded yam. Even with the soup that is prepared, rice and stew are what I prefer eating with my friends on Christmas celebrations.
---
4. Do you have any special memories regarding Christmas or that special date?
As at last year, I had to run from my place of primary assignment just to celebrate Christmas with my loved ones. Before leaving my place of primary assignment, I told my people that I would be coming over, and their faces became so happy. I and my friends then traveled together.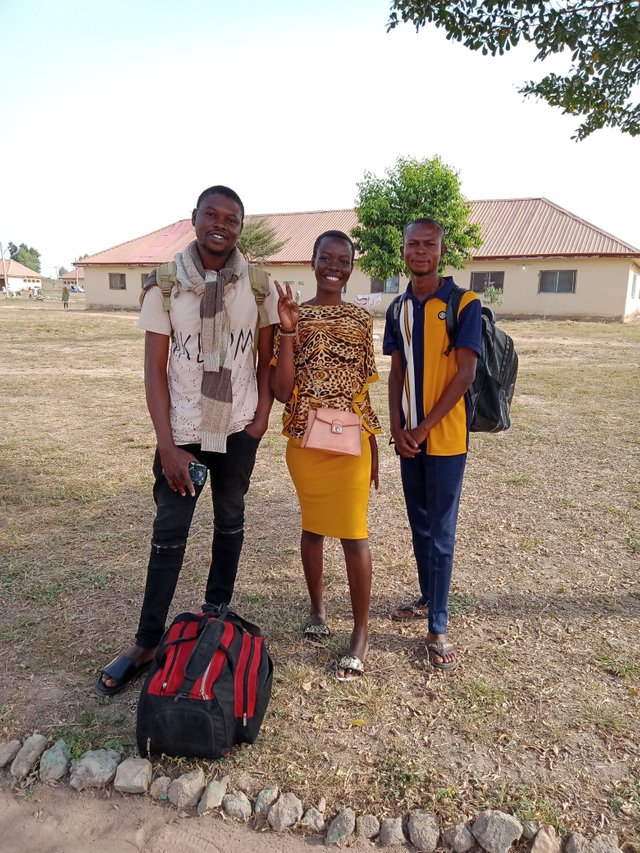 Traveling for Christmas
On reaching Jalingo, I lodged in a hotel with my guy, where we flexed and moved around Jalingo for the first time, and continued our journey the next day, during which I then reached home. I got to my home on December 24th.
Hmmm, the kind of food that I ate and the drinks that I drank were too much for me. I and my family ate and drank to our satisfaction at home before taking pictures as a family. I could remember the day that we had to take group pictures just like the one below that we took some years ago.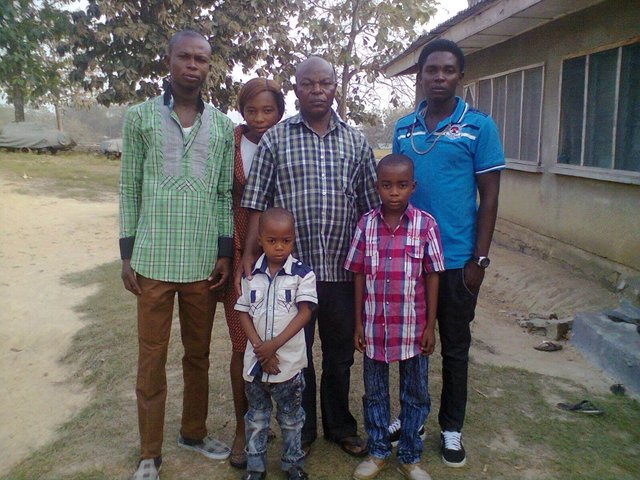 A picture of my family during Christmas some years back
On that very day, my siblings weren't around. They followed a stranger to his house after church without informing anyone first, and while we were busy looking for them, they had already reached home. That day, I almost beat them, but I didn't. That day, after taking pictures, we all went out as a family to one of the restaurants in my town, where we all ate and drank.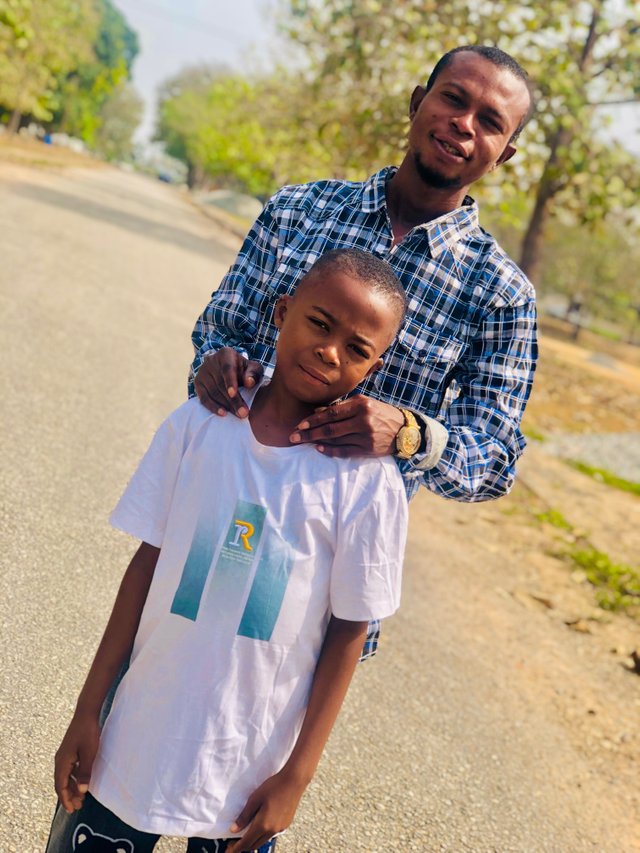 Me and my sibling
The memories are something that I wouldn't forget because on that day, I met with several people who are my friends together.
---
5.—If you could send a virtual Christmas gift to a Steemit user, who would it be and what would you give him?
|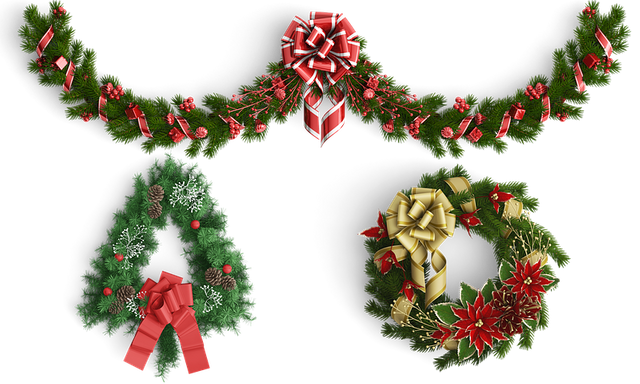 If I could send a virtual Christmas gift to a Steemit user, it would be @yakspeace, and it is Christmas Wreath that I will give to her. The Christmas wreath is the most iconic symbol of Christmas spirit. The gift symbolizes a lot of good and wonderful things, and I am sure she will receive it with joy.