What I'm feeling right now regarding Steemit.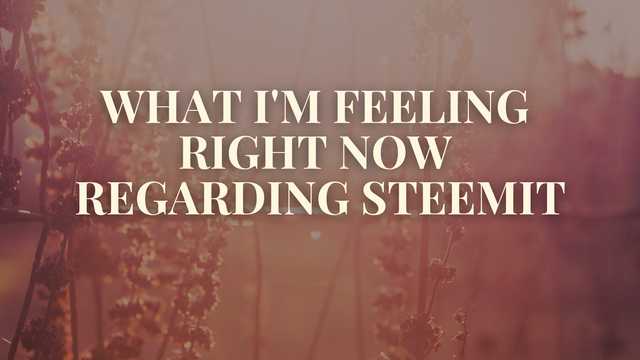 I wanted to write this post for quite some time now. I felt it was necessary at that moment, but I just wanted to avoid any sort of misunderstanding that might occur... up to now, that I'm starting to feel pretty bad about it.
I'm going to talk about my personal experience and if anyone relates to it, I'd love to hear your thoughts on this. I joined Steemit almost a year ago, when I was in the look for another website that would work as a blog for me, as Blogspot had already bored me. In that search, I found this place that has brought me so much fun, a great friend and many, many, many hours in which I really enjoyed my time writing and sharing with you all.
After a couple of months, @steemitblog picked me (and @belenguerra) as CRs for Argentina. We had already been working really hard for the platform, so it felt great to have that sort of recognition and opportunity. We created Writing & Reviews and, from that moment and on, we did engage a lot in creating new things and interesting contest so that we could grow. And hell we did, we're about to hit 5K subscribers, and we couldn't be more happy about it.
As well as that, I've been part of the Greeter Team since I was one or two months in the platform till today. I did traslate all of the achievements into spanish, greeted a lot of newcomers and I was also in charge of screening the applicants for the 500SP Support Program. Also, I wrote a lot of helpful posts for beginners, such as how to transfer their Steem into their Binance accounts, how to use the P2P market there, how they could write their posts in a better way... many, many, many ideas and things that took a lot of time and that I really enjoyed.
Lately, we've also started Steem Argentina community, so as to help and guide all argentinians that might be wandering in the platform and so far, it has been growing really nicely.
You might be wondering...
But where's the point in all this?
For what I'm about to say, I need to give just a little background about me: I'm Florencia, I'm a 27-year-old Accountant and I work in one of Southamerica's biggest and most promising fintech. My workload is really heavy and my job takes a lot of my time. And by a lot, I mean it. It's no 9 to 5 as most people do. It's mostly 9 till you get your things done.
What about this? I wish I had more time to spend here... but I don't.
I try to manage my best to keep up with CryptoAcademy, Writing & Reviews, Steem Argentina and other posts that I like to write just for the sake of writing. I get at least +150 notifications per day, just from people tagging me in different things (whether it's achievements, posts they do or cryptoacademy if that's my week to work). Time, as we all know, is a scarse resourse.
In the last couple of months, I've felt as if us (curators, CRs and community managers) are just considered as bots... as plain and simple as that, bots. Users get cranky if you don't check their posts as soon as they post them or if a contest closed just a couple of hours ago and you didn't post the winners. People complain if they didn't receive the support that was part of the program. We receive complaints if we don't do this or that... but everything's related to the same. There's almost no thing as being thanked for your hard work here.
More than once, I've felt chased, blamed and pointed at just because we "didn't do certain things"... and this time I'm not talking about users. I feel as if it was settled that you have to do this kind of things as if it was part of your job... and this is not my job, I came here looking for fun and a place I once felt like a shelter, now it all feels as a stress and additional pressure. Believe me, I'm trying as hard as all of you to help Steemit grow.
I'm not complaining about being part of CryptoAcademy, CR or community manager, don't get me wrong. I feel really grateful towards Steemit for what it's given me, as I said before. I really don't like this new "attitude" of pointing fingers and blaming things just because. It's so much easier to spread kindness and not always look for what's missing.
We all like to give our best when it comes to performing our roles as CRs, but whenever we receive feedback from the curators, mostly all comments are really harsh and just focusing on what you're not doing, what you're missing or what you're doing wrong. Is that a way of encouraging people?
From one moment to another, it all just seems as if there were two types of CRs, the ones that don't get blamed for anything... and us, the ones that always receive negative feedback no matter what. And I can give you an example of that, there was a CR that plagiarized content more than once, we raised the issue... and nothing happened :)
I don't mean to hurt anyone, 'cause that's not my type really... but all this just seems unfair to me. I don't even know if someone's going to read this, but this mostly explains how I'm feeling regarding Steemit right now.
---