Geldingadalir volcano erupted on Iceland's Reykjanes peninsula [VIDEO]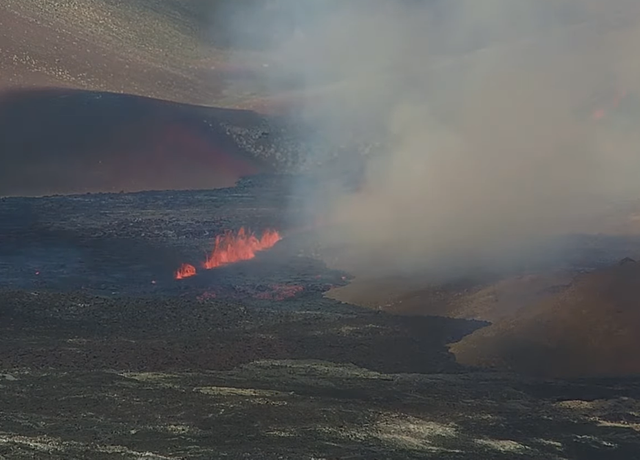 (Morgunblaðið https://bit.ly/3oSu829)
Geldingadalir, one of the many volcanoes of Iceland erupted the morning of August 3.
Lava began pouring out of a new fissure in the Meradalir Valley, which is adjacent to the site of the Fagradalsfjall eruption in 2021.
The opening of the crack was preceded by a swarm of earthquakes with five aftershocks of magnitude greater than four.
The island of Iceland lies in the Atlantic Ocean at the junction of the diverging North American and Eurasian lithospheric plates.
It owes its volcanic activity to the mantle plume, which feeds 30 volcanic systems of the island.
Once every 4-5 years, a volcano erupts in Iceland.
However, on the Reykjanes Peninsula (southwestern part of the country) lava erupts less frequently, on average, with an interval of 800-1000 years.
Each volcanic episode here can last from several tens to three hundred years.
The current cycle of activity on Reykjanes began in 2020, when the area experienced several cycles of ups and downs accompanied by a swarm of earthquakes.
Geologists attributed the deformations to the intrusion of magmatic fluid into aquifers.
In February 2021, a new intense swarm of earthquakes indicated the growth of a magmatic dike, the movement of magma along a crack
On March 19, 2021, after a centuries-long lull on the Reykjanes peninsula, lava began to pour out.
Within half a year, the crack poured out the melt with peak values ​​of 11 meters per second.
The crack opened at a distance from settlements, so there was no damage to the infrastructure.
At the end of September, the lava stopped breaking through to the surface, but degassing in the Geldingadalir valley persisted for several more months.
---
---
The recent eruption
Now, a new burst of seismic activity in the region began in late July.
A swarm of earthquakes hit the southwest of the island: five of the aftershocks had a magnitude of more than four.
Researchers from the Icelandic Meteorological Center published the results of observations: a new portion of magma has crept very close to the surface and lies at a depth of about one kilometer.
The magma influx rate is almost twice that observed during the development of the dike in February-March 2021.
The probability of an eruption was high.
On August 3, at 13:18 local time, a fissure opened in the Meradalir Valley.
It lies east of the Geldingadalir valley, where Fagradalsfjall erupted for six months in 2021.
The speed of the outpouring of lava is 20 meters per second, but so far the eruption does not pose a danger to residents and infrastructure.
It will take several weeks (or months) before the lava fills the valley.
(
Mbl.is / YouTube
)
Source: