THE POSTURE OF THE HEART IN PRAYER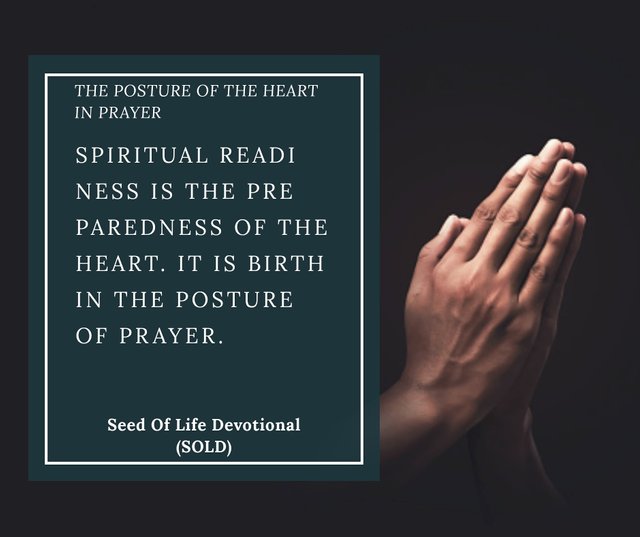 If we are to truly experience more of God in this day, we must tune our hearts in alignment with God.
It is not the multitude of words nor the body posture that moves the hand of God, it is the heart of the "Prayer" (John 4:23).
It is better to possess a heart without words in prayer than words without a postured heart.
The foundation of every prayer is in the posture of the heart. If the heart is not well-tuned, the frequency of such prayer can't touch heaven.
Those who pray must do so in a Spirit-sponsored truth_*(John 8:32).
A broken heart is a postured heart(Psalms 34:18).
Psalms 51:17 "My sacrifice [the sacrifice acceptable] to God is a broken spirit; a broken and a contrite heart [broken down with sorrow for sin and humbly and thoroughly penitent], such, O God, You will not despise".
Spiritual readiness is the preparedness of the heart. It is birth in the posture of prayer.
ACTION POINT
A man can deceive his friends and neighbors but he can't deceive his Creator and himself. Humbly ask God to help the state of your heart today.
PRAYER
Search my heart and align it to your will Lord. Work upon my heart and make it whole in Jesus' name.