Give your hand to the one who is down!
30 Jesus answered and said: A man was going down from Jerusalem to Jericho, and fell into the hands of robbers, who plundered him; and wounding him, they left, leaving him half dead. 31 And it came to pass that a priest came down that road, and seeing him, he passed on by. 32 Likewise a Levite, coming near the place, and seeing him, passed on by. 33 But a Samaritan, who was on his way, came near him, and seeing him, he was moved with mercy; 34 and approaching, he bound up his wounds, pouring oil and wine on them; and putting him on his mount, took him to the inn, and cared for him. 35 Another day when he left, he took out two denarii, and gave them to the innkeeper, and said, Take care of him; And whatever you spend too much, I'll pay you back when I get back. Luke 10: 30-35 Reina-Valera 1960 (RVR1960)
Today we are facing complex, difficult and tough situations. They are circumstances that lead us to tighten our seat belts, to maintain our survival.
Some tend to encourage themselves by saying, things were better so many years ago, many people who were well positioned economically, today are bankrupt, waiting for someone to help them.
Whoever is firm, take a good look so that he does not fall. As Christians we are called to reach out to the needy. The Christian is there to help within his possibilities and not to turn a blind eye.
The favor that a Christian does is not the same as the favor that a person who apparently does not know about God does.
In the parable of the Good Samaritan, Christians receive a very careful teaching, since we believe we know God in depth, and when it comes time to put into practice what God teaches us, sometimes we are disappointed.
It is assumed that a Hebrew priest and a Levite were people who supposedly knew very well the law of God and divine love, however, when the time came to put into practice the commandments of the Lord, they were disapproved for not providing the respective help or show mercy to a person who was knocked to the ground as the victim of a criminal.
God's eyes are on the church in this time of humanitarian and economic crisis. God is watching how we are acting in the midst of the needs of many people who have been affected by the hurricane of the economic crisis. Some may be turning a blind eye, although this crisis has affected Christians and non-Christians alike.
The Lord had a lesson left for both the priest and the Levite, using a Samaritan to show mercy to the man lying on the ground.
Let's not wait for God to use the stones to be moved with mercy by those who suffer in the world. The crisis is an opportunity for God's people to shake hands with the fallen. This is the time to show true love to others.
Today we look at the one who falls, but tomorrow the fallen one may be one of us. If we shake hands with the fallen, we will be winning a soul for the kingdom of heaven.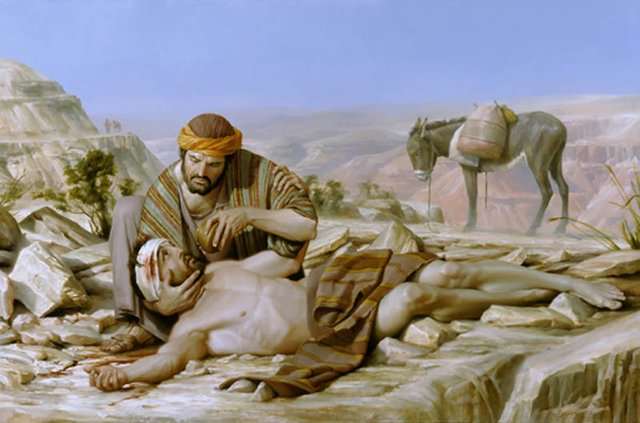 Imagen source