Steemit Crypto Academy Season 2, Week 3 || Decentralized and Centralized Exchanges,How to use uniswap,best Cryptocurrency Exchanges of 2021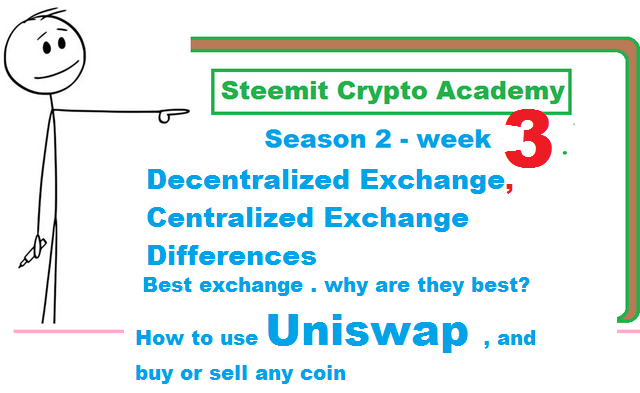 ---
Hello All,
As-Salaam-Alaikum ,
I am @yousafharoonkhan, your crypto professor and I am from Pakistan. And this is my 2nd class season 2 week 3.
The third lecture of our season 2 is starting from today and I will first of all try to maintain the continuity of my first lecture. In the first lecture we have tried to understand the difference between decentralized and centralized system.
While we have also seen what are the advantages and disadvantages of decentralized and centralized systems, we have also seen through the practical process how we can check which coin or blockchain which is decentralized by coding this information.
Claims to be decentralized or centralized and then we tried to understand through the question which system of business or trading people would prefer at that time and why. And in today's lecture we will read about Decentralized and Centralized Exchange and try to understand the difference between them in simple words.
So let's move on to today's lecture.
Decentralized and Centralized Exchange
---
Decentralized As we read in our first lecture, a decentralized system is a system in which the user is autonomous in all matters and can apply his will and decisions to his work without the permission of a middleman. Thus decentralized exchanges are such exchanges. Which give their customers complete freedom of business. The middle man does not play a role in these exchanges. Rather, you can trade your investment at any time as you wish.
If we try to understand Decentralized exchange in depth in one sentence, then it means that every person can trade on the exchange world according to his own principles. No company's rules and regulations apply to such exchanges. Decentralized exchange only connects seller and buyer and all transactions are done by the trader at will.
Centralized Now if we talk about Centralized Exchange, understand that it works on the principles contrary to Dectralized. In this the trader has to follow the rules of exchange. And those who do not follow the rules and regulations of the trader exchange may face problems in the system. In addition, the centralized exchange plays the role of middle man during trading. Thus both the seller and the buyer are operating under the principles of exchange. While we have seen that the role of middle man is zero in decentralized and this role is playing a fundamental role in centralized.
In short, centralized exchanges are exchanges in which all the assets of the trader are controlled by the exchanges. You cannot start a trade unless you have the permission required to post. We can also say that all transactions between the seller and the buyer are paid by the exchange as the middle man and all the transactions take place under the same middle man principles. And the exchanges operating under this system are called centralized exchange.
---
---
Now we try to understand the difference between the two.
Now that we understand how these two exchanges work. So now we will try to understand the difference between them and see what is the main difference between them. Which a trader should know. If we look at these two exchange there are many differences .
Verification Process The process of verifying a trader or user in a centralized exchange is very complicated. And the trader may be able to trade in centralized exchange only after his verification and verification of documents. And this stage of verification is called KYC.
While decentralized exchange does not require any kind of personal verification and trader can trade on decentralized exchange 24 hours anytime without document verification.
Trading fees There is also a significant difference in fees. In a decentralized exchange there is no fee at all which benefits the trader
whereas in a centralized exchange the trader has to pay the fees as per the rules of exchange thus charging a fee for centralized exchange trading from both the buyer and the seller. ۔
Protection of capital If everyone wants to be safe in this capital exchange, then decentralized exchange is considered safer for capital than centralized exchange. And it is impossible for a hacker to steal capital from a decentralized exchange because decentralized exchange is working on blockchain on many servers while centralized exchange works under one server. Thus this difference is also considered important.
365 Days You can trade on Decetralized and Centralized Exchange at any time of the day throughout the year. While sometimes there is an issue of Maintenance on centralized exchange due to which sometimes trading cannot take place but in decentralized there is no issue of Maintenance.
Volume If we talk about the volume of cryptocurrency, centralized exchange volume has been seen more in terms of trading. While the volume of decentralized exchange is less. So this volume plays an important role. Because during the trade, both the buyer and the seller have to trade on time and thus any coin on which the volume is high in market its means that the business is going well there .
Liquidity Now if we talk about liquidity, it has been seen that most of the buyers rush has been seen in centralized exchange and therefore the trading volume is also high. While the liquidity and volume on decentralized exchange is increasing, but since some traders do not understand decentralized exchange well, both are less.
Usability & Features If you are new, centralized exchange is very easy to use while decentralized exchange is very difficult to use. This way, if you want to do fast trading, you can do it very easily on a centralized exchange. There are many features available on centralized exchange. A trader can make short-term trades and short-term trades at will while decentralized exchange features are rare. And even more difficult to use than centralized exchange.
These are just some of the goal setting shareware that you can use. Because in order to understand any exchange, it is necessary to understand the difference between them, because unless we understand the difference, we will not be able to trade the best. And we can use both exchanges at the same time. Thus, we can only do this when we know the difference. Hopefully, you will be able to describe the basic difference between the two exchanges in your own words.
---
Now, in this lecture, I will talk about the best centralized exchanges in the world, because every trader wants to trade on an exchange that is easy to use and where he can find a good deal of trade. Are working But I will name only five of them on which I have my own experience, so let me tell you the names of the best exchanges.
1. Binance
The best exchange in the world is Binnance which is being used by traders all over the world in a very reliable way. And the biggest feature of this exchange is that it has all the best coins in the world listed. And the volume and liquidity of this exchange is very high. Its interface is user friendly but verification of account is very important before using this exchange. I like the binnance P2P market the most. Its spot trading is very easy and the fee is also very low. Stakeholders are also available on this exchange. If I say that this exchange can be used very easily by anyone who is just learning crypto trading, the binnance is very good.
---
2.Coinbase
The other most reliable exchange that I place at number two is Coinbase. The condition of the popularity of this exchange is that if any coin enters the market, if it is listed on Coinbase, the market value of this coin can be doubled. Besides, if we talk about different pairs on this market, the rest of the exchange Its trading pairs are less than that. In addition, residents of each country are not allowed to trade on this exchange. In addition, everyone can use the coinbase wallet for deposit. This exchange interface is very simple like binnance and it is also considered very reliable in terms of exchange security.
3.Poloniex
I ranked the poloniex exchange third because of the steemit coin. Because on this exchange there is a trading pair of steemit and usdt and I like usdt pair very much with steemit. While the pair of steemit on binnance is btc and etherum. poloniex friendly user. And very easy to use. The verification process is very fast and you can withdraw and deposit on this exchange only after verification.
4.Bittrex Global
Bittrex is the first exchange on which I started trading for the first time. And my dear students, you should understand that I have learned crypto trading on Bittrex exchange. And for the first time, the trade of SBD and steem started on the same exchange. If I were to say that bittrex exchange is one of the best exchanges then my claim would not be wrong. Volume and liquidity are also very high. Besides, like Binnance, its interface is very simple. This exchange is also very acceptable in terms of security. And the best coins in the world are listed on this exchange.
---
Decentralized exchange is gaining popularity day by day. And if we check the Coingecko market, we get the details about decentralized exchange. The following are the names of the largest decentralized markets in terms of trading volume.
Mdex

Uniswap (v2)

PancakeSwap

PancakeSwap

JustSwap
---
My dear students, this is a practical part of today's lecture. In this practical I will tell you how you can use UniSwap exchange. You can take advantage of all the features by connecting UniSwap exchange through your Etherum Metamask or trustwallet. Uniswap is a decetralized exchange. Very good projects are being launched in it at the moment. Which can give a lot of benefits to the trader in the future. So to connect your wallet with Uniswap exchange, we will first connect with Metamask. I will first teach you how to install Metamask. Because many students do not know how to install and use Metamask.
All you have to do now is install Metamask on your computer. You can also register for Metamask directly from the Uniswap exchange. First you open Coingecko and then click on the Defi option as I have shown in the screenshot below.


now click on Decentralized Exchange (DEX)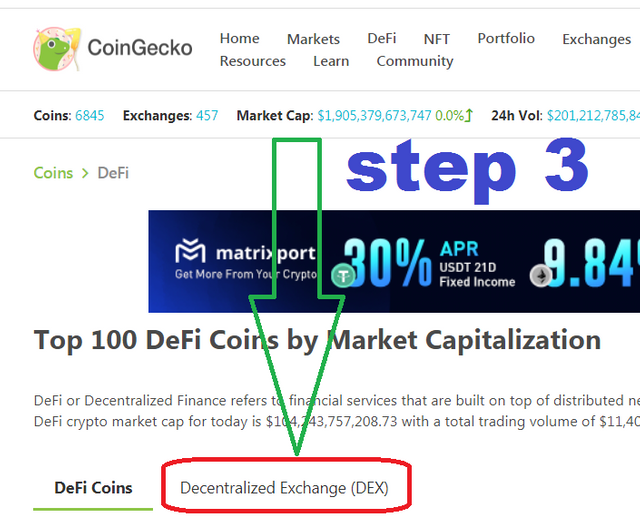 now click on Uinswap exchange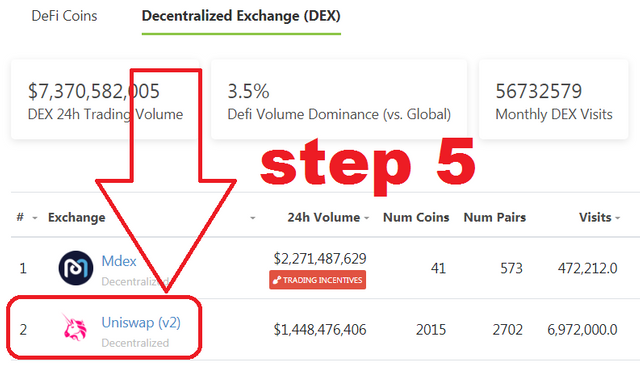 now click on about uniswap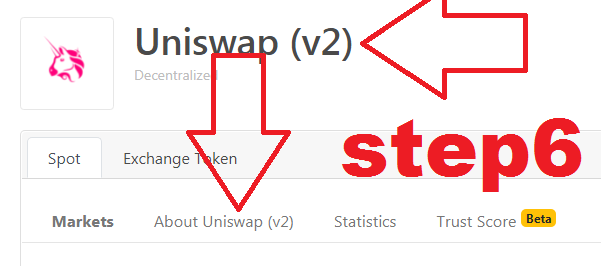 now click on Uniswap exchange website link as shown in below screenshot.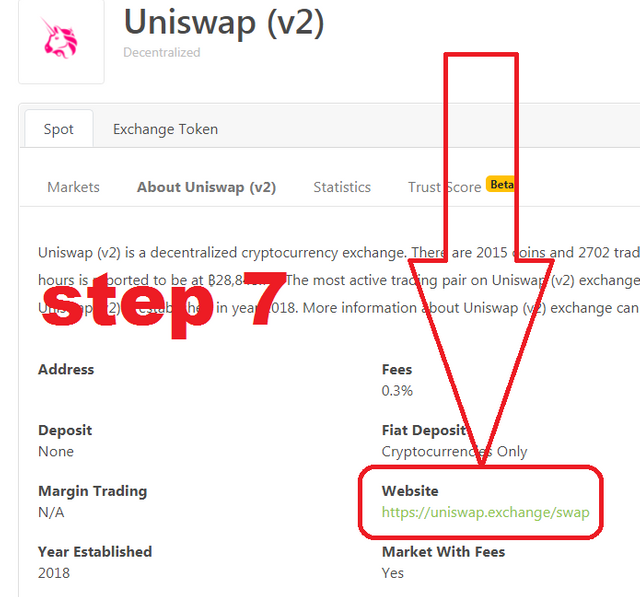 I have explained each step from step 1 to step 7 because some students do not know how to download from the original metamask story when we will use Uniswap exchange and if we do not have metamask account on our computer. So, as soon as we connect to wallet with Metamask, the option will come. Download metamask, then you can download it with your google extension. See the screenshot below now. How do I use metamask extention to connect with Uniswap?

click on connect wallet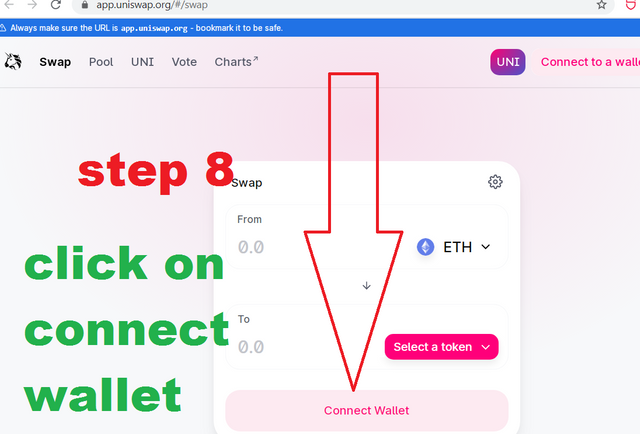 when you will click on connect wallet you will see different wallet option you have to select Metamask as see below screenshot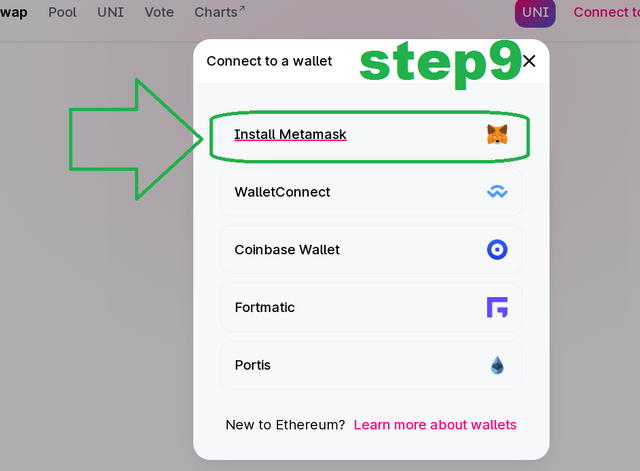 It is also important to understand that if your metamask is not installed then install to metamask will come and as soon as you click on install to metamask you will go to metamask's extention site and thus you will have saved metamask in your google chrome. I'll see you in the screenshot below.

when metamask site open, click on download button to download metamask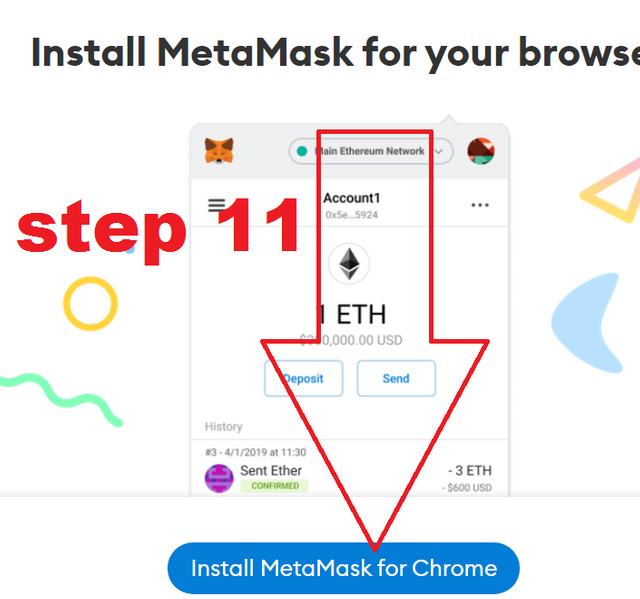 it is tweleve step here , we will click add to chrome so as look at screenshot to complete step 12

After clicking the Add to chrome then click Add extension button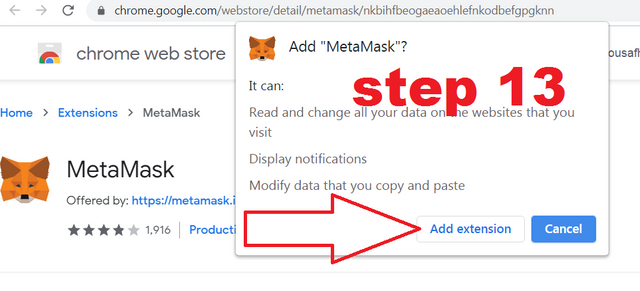 after adding extension pin the metamask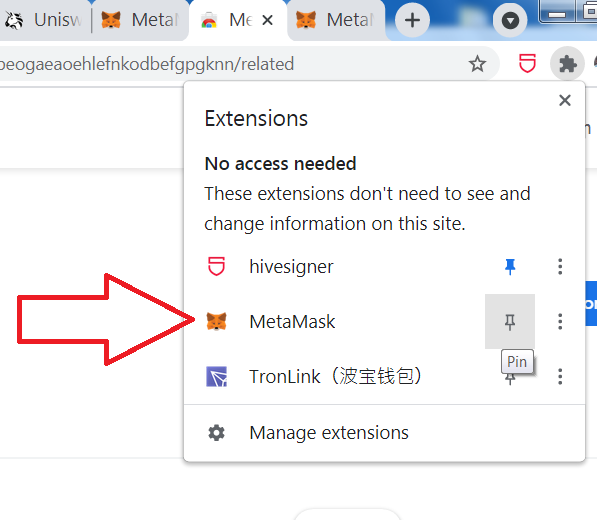 after pin the metamask you will see the metamask here, look at screenshot

if you have no wallet then create new wallet and if you have already then you can import the wallet to metamask to connect with uniswap exchange so here i will create new wallet , because my purse of course is to teach you, about all steps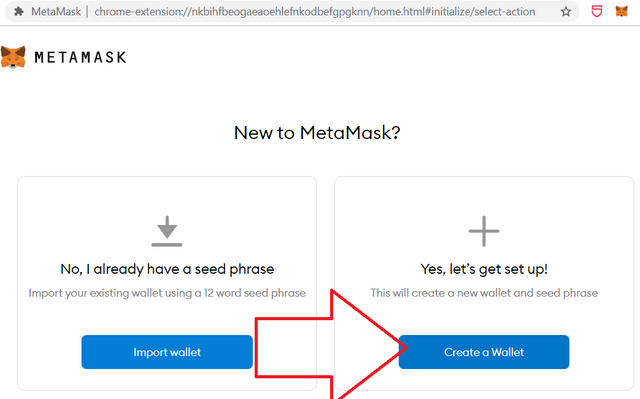 here you will accept all important instruction then click agree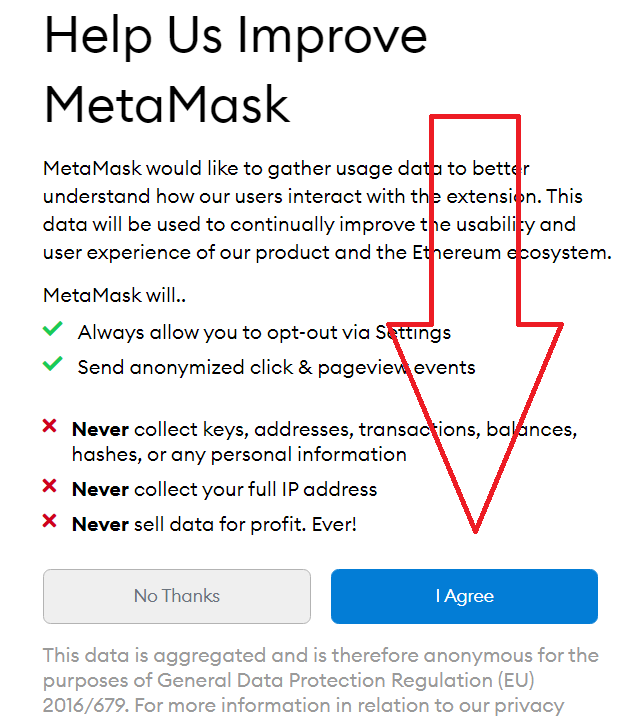 MetaMask would like to gather usage data to better understand how our users interact with the extension. This data will be used to continually improve the usability and user experience of our product and the Ethereum ecosystem.
MetaMask will..
Always allow you to opt-out via Settings
Send anonymized click & pageview events
Never collect keys, addresses, transactions, balances, hashes, or any personal information
Never collect your full IP address
Never sell data for profit. Ever! source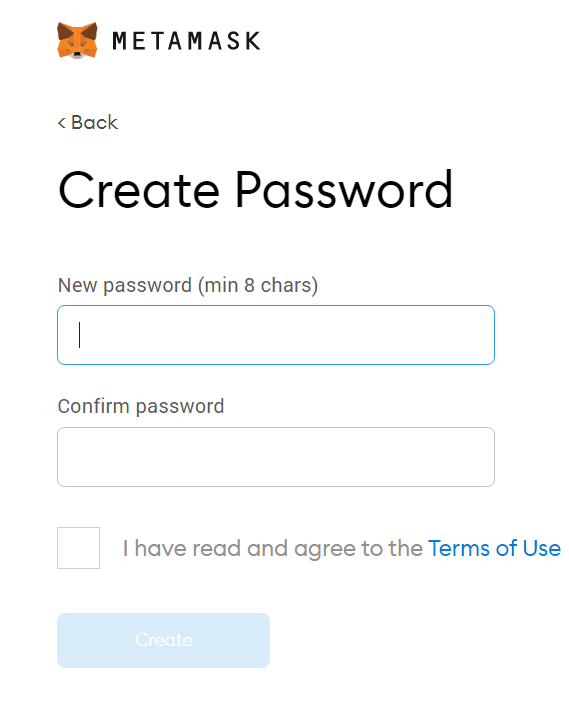 set new strong password that will use for login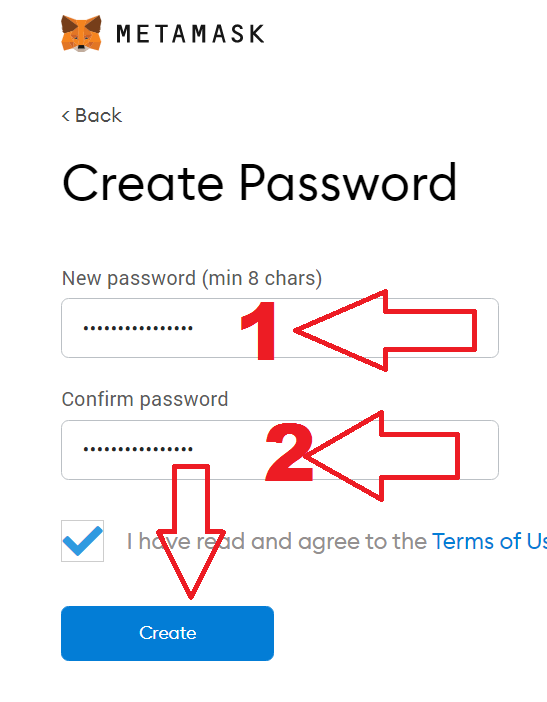 Secret Backup Phrase
Your secret backup phrase makes it easy to back up and restore your account.
WARNING: Never disclose your backup phrase. Anyone with this phrase can take your Ether forever.

safe 12 words very secretly,i deleted them because of security reason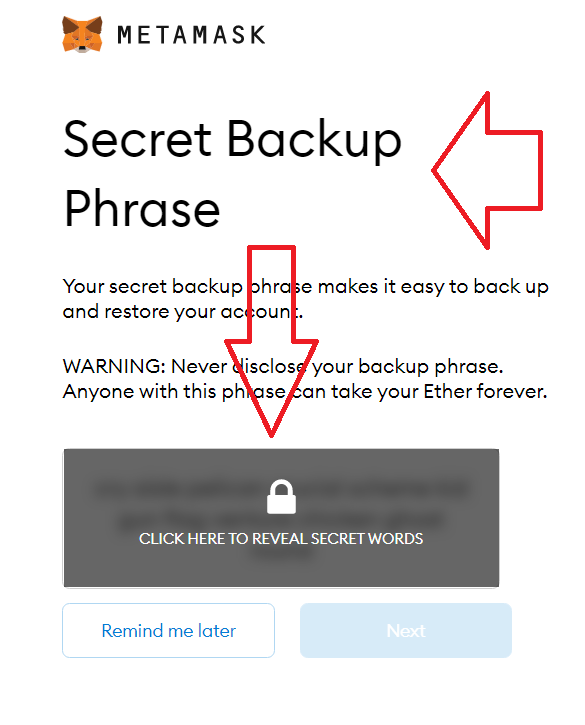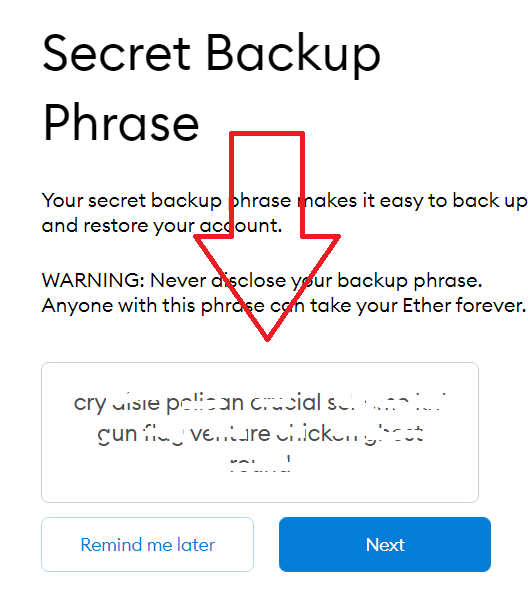 now Confirm your Secret Backup Phrase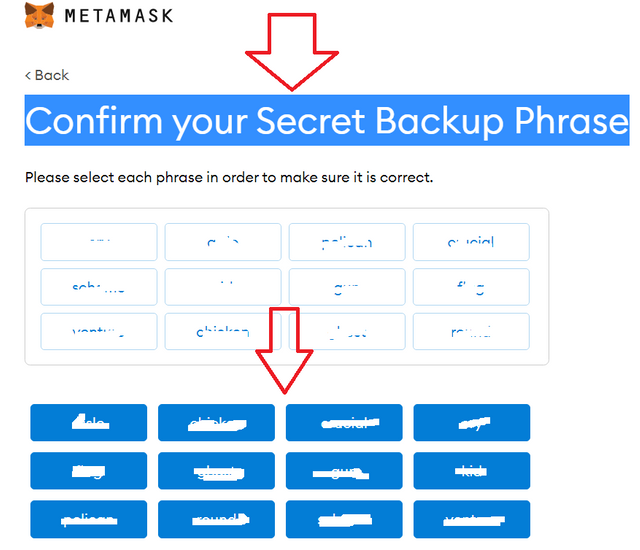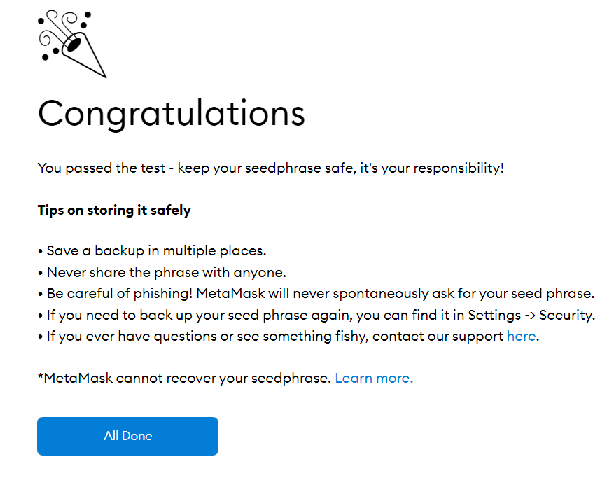 now your metamask account is ready to connet with uniwap exchange and swap any token that you want on this exchange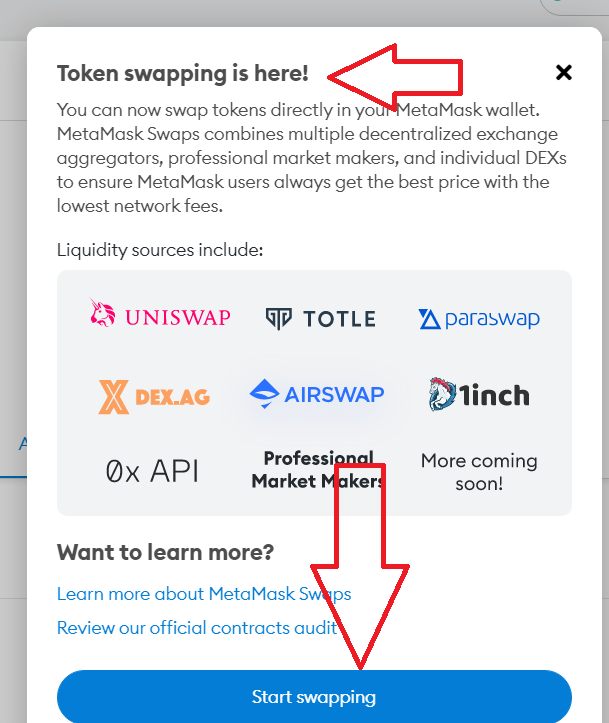 now your metakmask is connect with uniswap , you can below screenshot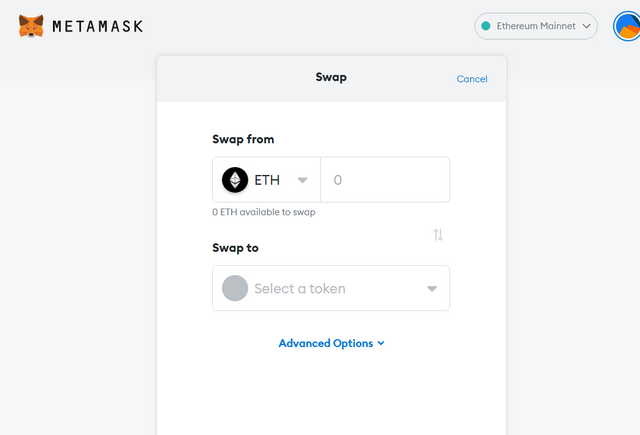 in first step , you can swap any coin with any coin that is your holding on uniswap, so here in first you will select which coin you want to swip with which one, number one you will select the coin that you want to swip
here i select etherum , i want to buy or swip with SKl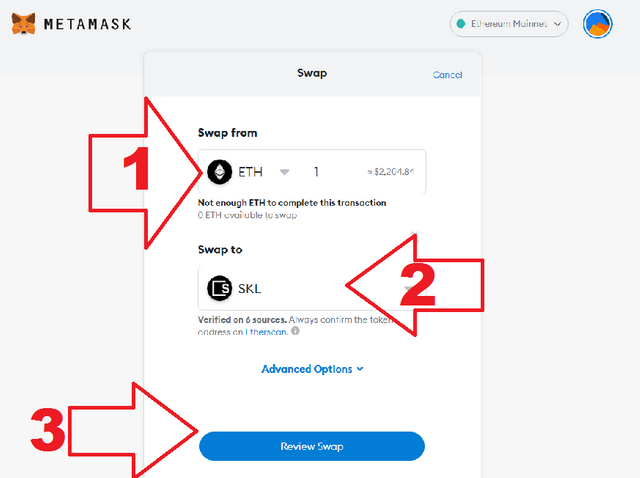 Reviewing swap order you will get this and make confirm, this review will tell you that how many coin you will get after completing swap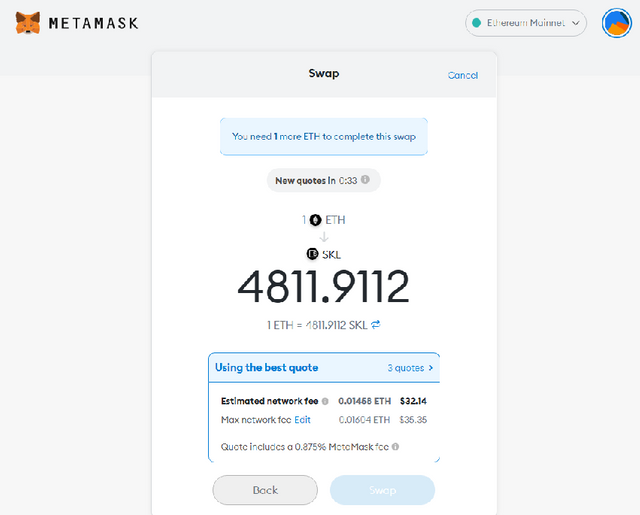 I hope. You all must have liked my lecture today and I have tried to explain all the information in short and simple words. Hopefully this will help you all in terms of using decentralized and centralized exchange. If you do not understand any of the questions, you can ask in the comments. I will try my best to guide you in time.

My dear students, this is the 3rd week's course and I hope you all like today's class. And I have tried to put this subject in front of you in simple words instead of complicated words. I hope you have understood the course. And you can let me know in the comments how you like my class today so that I can prepare my lecture in the next class using the easy teaching method for you. thanks so much.

Home Work Week 3
Question no 1 :
Write the definition of Decentralized and Centralized Exchange in your own words.(definition should cover exchanges ,not system) only explain in your own words, after understand the exchanges
Question no 2 :
Explain in your own words the difference between decentralization and centralization exchanges (answer should related exchanges ,not over all system.. (answer must be written in oun words, copy paste or from other source copy will be not accepted)
Question no 3 :
write about any 2 best centralised exchanges of 2021 . why are they best in front of you? (Show screenshot of your verified profile to make verify that you are really using them, or also share any one trade that you made in last 24 hours )
Question no 4 :
Install Metamask, and share step by step screenshot ,(Practicle step by step )
Question no 5 :
How to use Uniswap exchange , and Swap/buy or swap/sell any coin (practicle step by step )
Conclusion
---

Rules
Important All Homework posts should be posted in the community Steemit Crypto Academy .

Your Homework should be at least 300-1000 words.

Only steemexclusive articles will be curated

Add tag #yousafharoonkhan-s2week3 #cryptoacademy in your post and should be among the first five tags. Also, tag me as @yousafharoonkhan

Use only copy-right free images

PLAGIARISM Will not be Accepted, make sure your content in the post is not copied and pasted from other sources.

Plagiarism and spinning of other users' articles will not be tolerated in the homework task. Otherwise repeat offenders will be blacklisted and banned from the Crypto Academy.

Submit Homework Season 2 -Week 3 Post between 25th April 2021 To 1st May 2021.

It is necessary to complete all given questions in the week 3 course to gain the full marks.
---
Thank You.
@yousafharoonkhan
Crypto Professors at Steemit Crypto Academy