Zethyr Finance - Crypto Academy / S4W8 - Homework Post for @fredquantum. 29/10/2021
Hello Prof
@fredquantum
. It is a good time to be a part of your class this week. Thanks so much for the class. Here is my submission.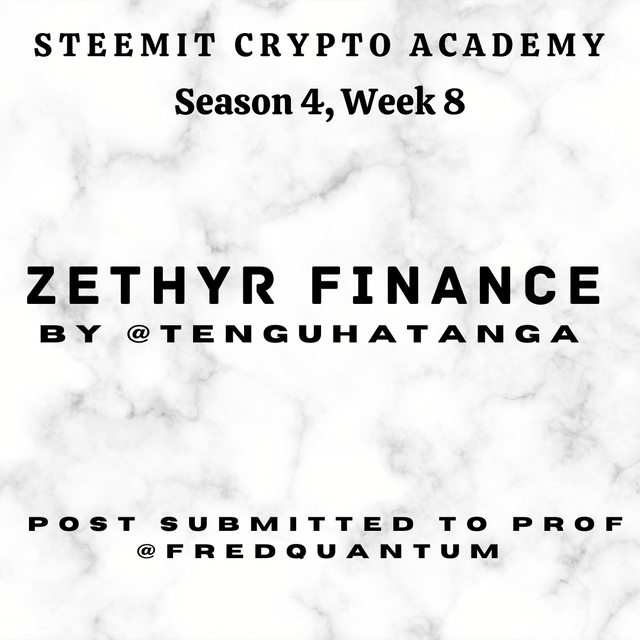 ---
What is Zethyr Finance?
---
Zethyr Finance is the first DeFi protocol on Tron ecosystem that offers TRX and TRC20 tokens for loans. It is simply a lending and borrowing protocols that enables users to lend TRC20 tokens to provide to the system and also borrow from the tokens that others have lended to the system.
The proper word for lending on Zethyr is supply. Users of Zethyr who which to borrow must have first made a supply to the system before they can proceed with borrowing from what other persons have supplied.
Aside the lending and borrowing functions, Zethyr Finance has an exchange where TRC20 tokens can be swapped for one another. It also have a function that enables the swapping of Tether (USDT) for other TRC20 tokens.
---
What are the features of Zethyr Finance? Discuss them. What's your understanding about DEX Aggregator?
---
Zethyr Finance just like other decentralized protocols on TronLink offers some amazing features that makes it unique. They are discussed below.
1. LOANING AND BORROWING.
This is one of the very amazing features users of Zethyr protocols can access. Have you ever wanted to make a cryptocurrency investment and you got short of money or you are in a search of a platform where you can yield anual income on your excess crypto holdings? Zethyr Finance is the right protocol. You can lend and borrow at the same time using this protocol. The supply and borrow functions can be used for this.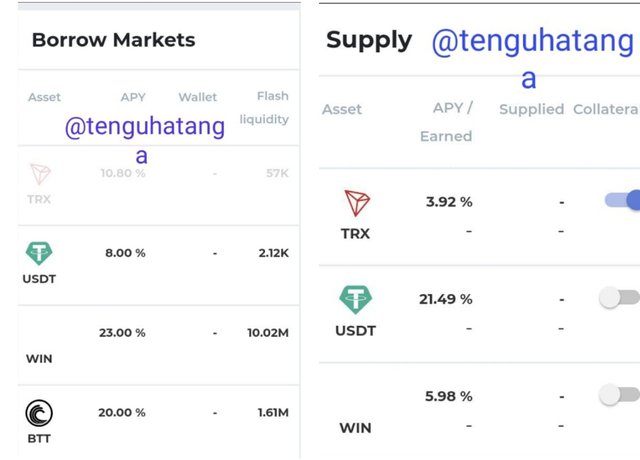 Lending and borrowing is not limited to the liquidity pool provided by the system. Users can also borrow from and lend to one another.
2. ZETHYR DEX.
This is a decentralized exchange that provides users with the swap function. On this exchange, TRX and other TRC20 tokens can be swapped for one another. Zethyr is the only lending/borrowing protocol that has this feature. It offers the best pricing for swaps using DEX aggregator which compares price of other exchanges before issuing the price to swap.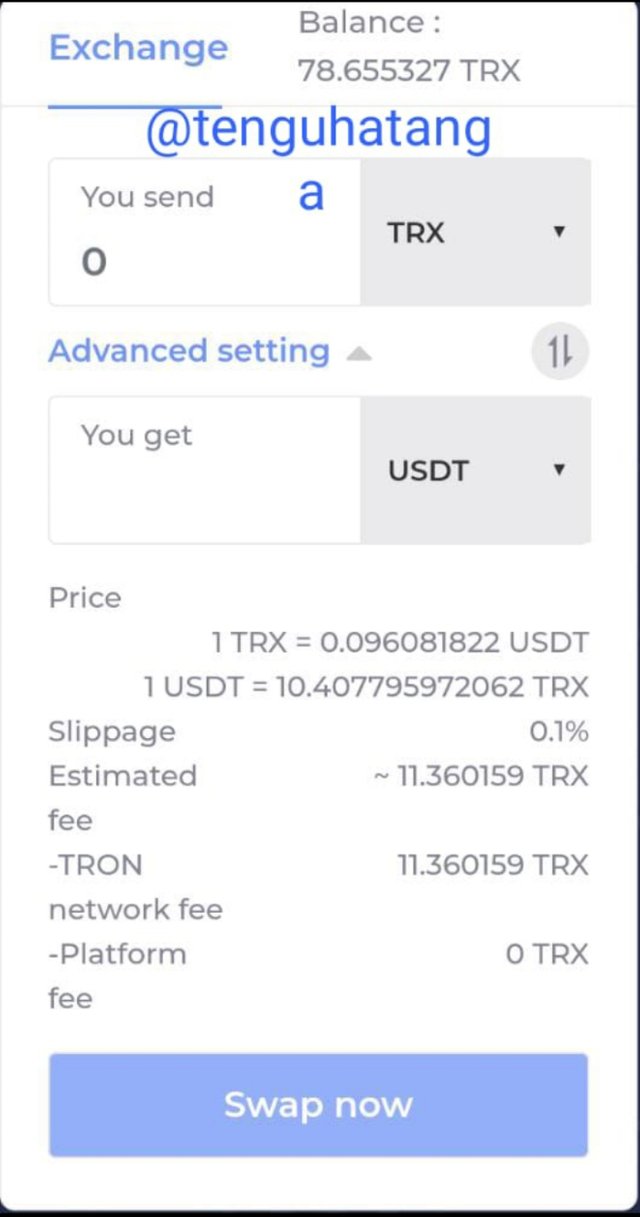 3. STABLECOIN SWAP.
Another very amazing feature of Zethyr is the stablecoin swap feature. This feature is called a cross-chain stablecoin coin swap. That is USDT based in the Tron platform can be swapped for USDT based in Ethereum. This feature is only available for the mentioned chain above (Tron-Ethereum). With time, other stablecoins would be added to this function.
It is simple to use like other swapping functions provided on DEXs. After inputting the amount of USDT-TRC20, the system would state its equivalent in ERC-20. The transaction fee for TRC20 - ERC-20 is 10 USDT.
4. ZETHR TOKEN.
This is the token of Zethyr Finance protocol. It is used to reward users who supply TRC20 tokens to the liquidity pool. The accrued interest on supply can be used as collateral when a user wants to borrow. On the Zethyr Finance protocol, it stands for the size of the asset each user has. This includes the borrowed, lended, and others held in tokens.
The Zethyr token is pegged in the 1:1 ratio for other tokens. In the supply of 1TRX, will give the user 1zTRX and this applies to every other token where zBTT, zWIN, and zUSDT. This same tokens are given when TRX, BTT, WIN and USDT are deposited. When the supplied token is withdrew, the ztoken is burned
---
A similar token to the Z-token is the Jtoken used in JustLend DEX in the same ratio to the tokens JustLend supports. For instance when TRX is deposited, the user gets JTRX in 1:1 ratio. Jtoken is used to reward users who supply to the liquidity pool. Users who borrow using JustLend also pay interest with Jtoken.
---
---
DEX AGGREGATOR:
This is a feature in the Zethyr Finance that allows orders to be merged as quickly as possible. DEX aggregator is a unified explorer offered by decentralized exchanges for prizes and liquidity. It brings together all the prices from other DEX and compares them to give the best price. This is done this way because just like other DEXs, Zethyr Finance does not use order book.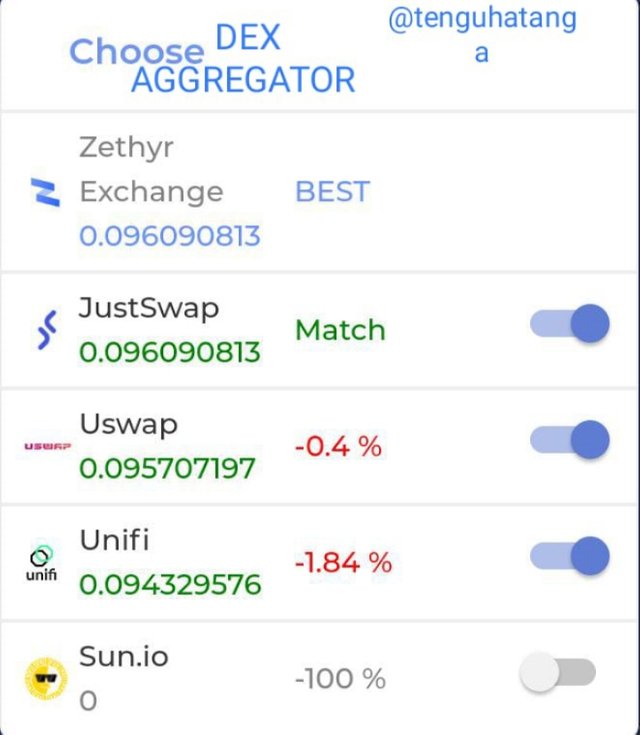 ---
Explore the Zethyr Finance Markets and show your observations in terms of profitability of Supply and Borrow (Hint: Best Supply/Borrow APY). Screenshots required.
---
Zethyr Finance Protocol market supports only four TRC20 tokens. These are TRX, USDT, WIN and BTT. These tokens are supplied and borrowed in different quantities depending on the users who needs them.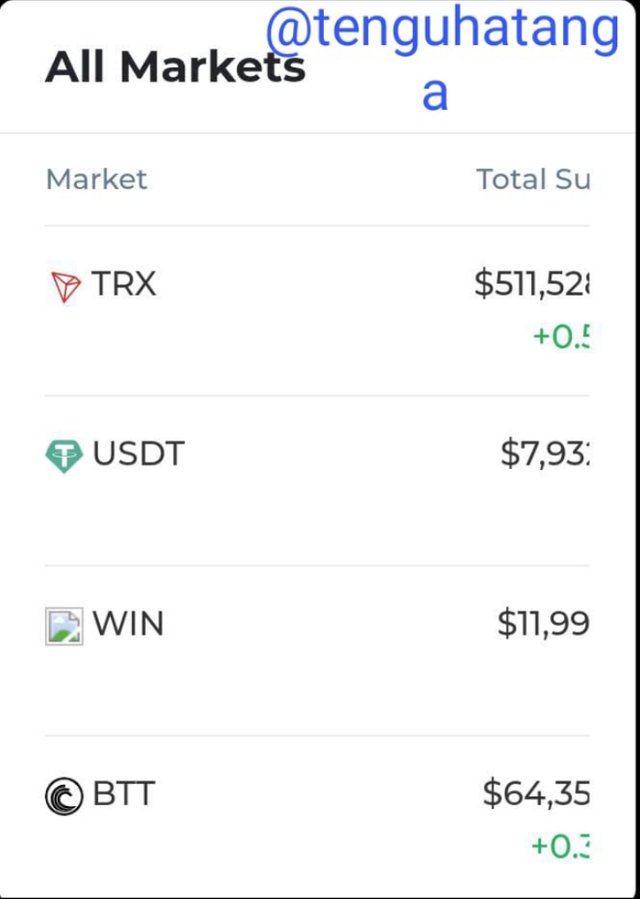 As at the time of writing this, there was a supply of 595,816.33 supply of the four tokens in different percentages. The screenshot displays percentages for each of the tokens supplied. Annual profits are given to the suppliers in a percentage. This is given in a certain percentage for each of the tokens and it changes daily.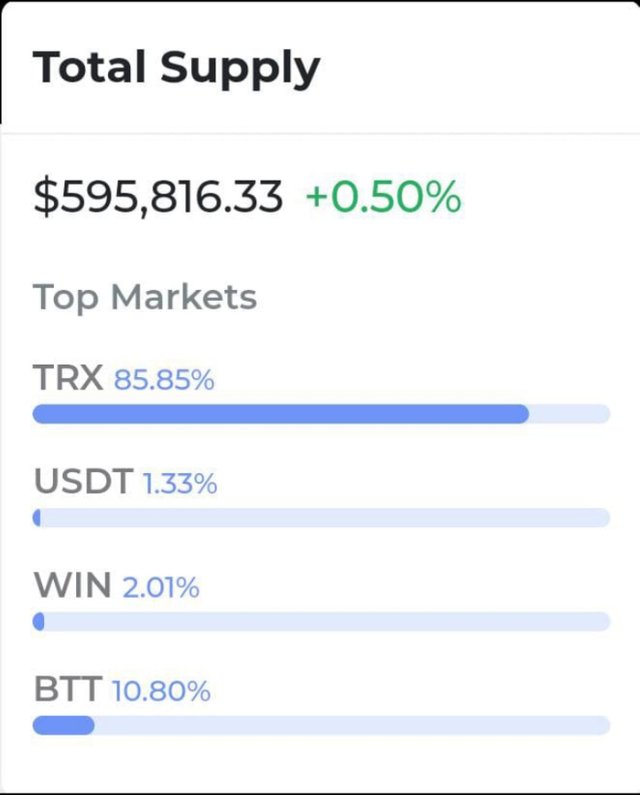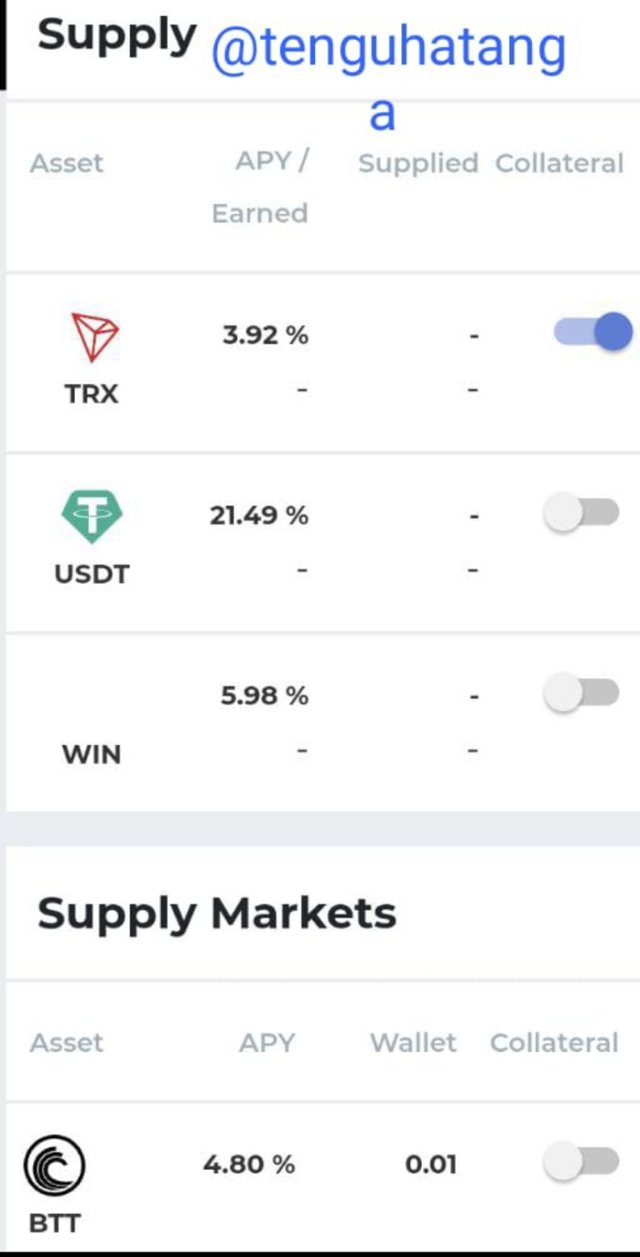 ---
Also, the borrow functions displayed the total token that was borrowed by users. A total of $22,612.77 was borrowed by users. Still in the screenshot is the different percentages of each of thd tokens borrowed. The users who borrowed them would pay interests that is given by the Zethyr finance protocol. The interest rate is displayed in percentages for each token and it varies day after day.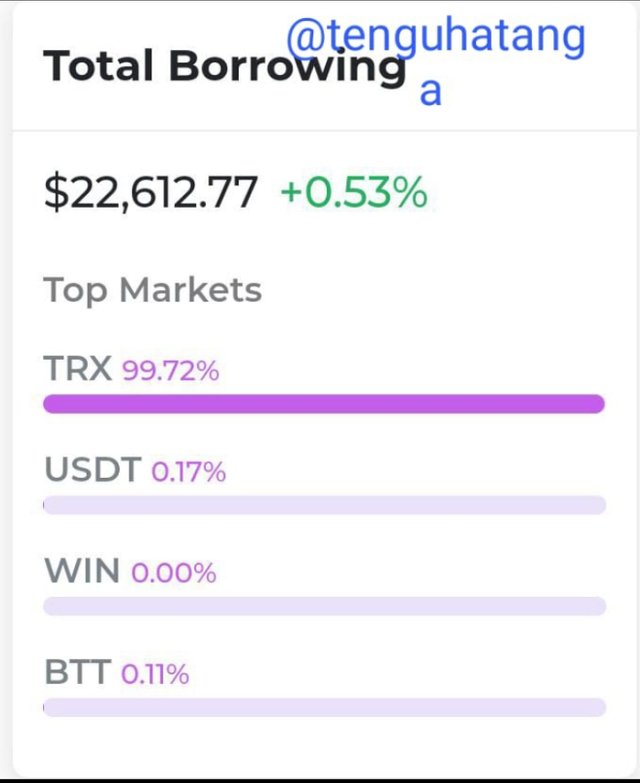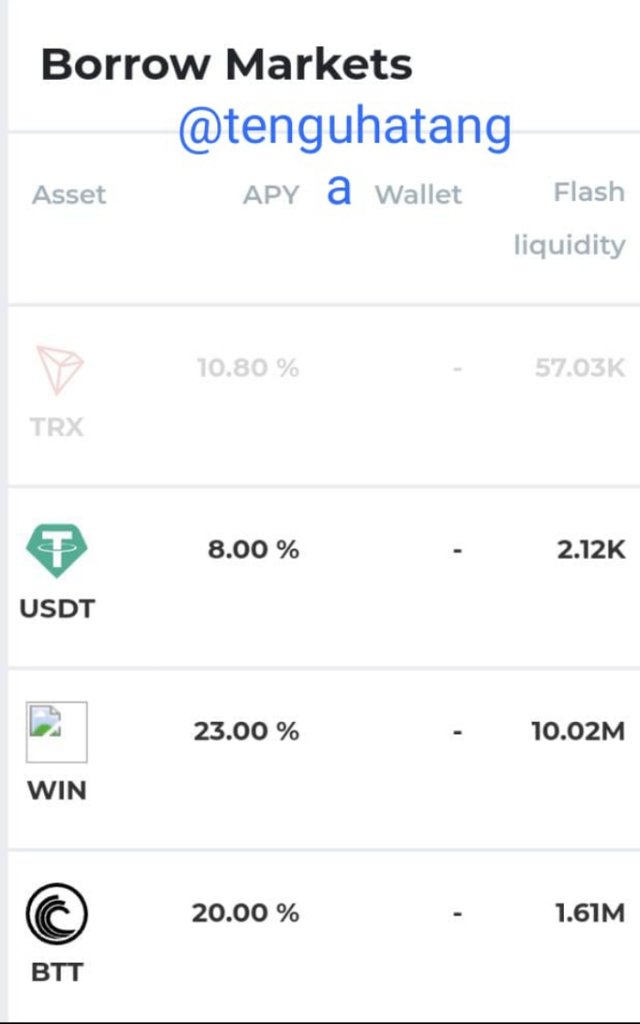 ---
Show the steps involved in connecting the TronLink Wallet to Zethyr Finance. (Screenshots required).
---
The connection of Tronlink to Zethyr is quite easy going through TronLink. This is kind of automatic when used. I am going to describe the steps for an an android phone user that has TronLink installed.
---
Launch the TronLink App and click on Discover
---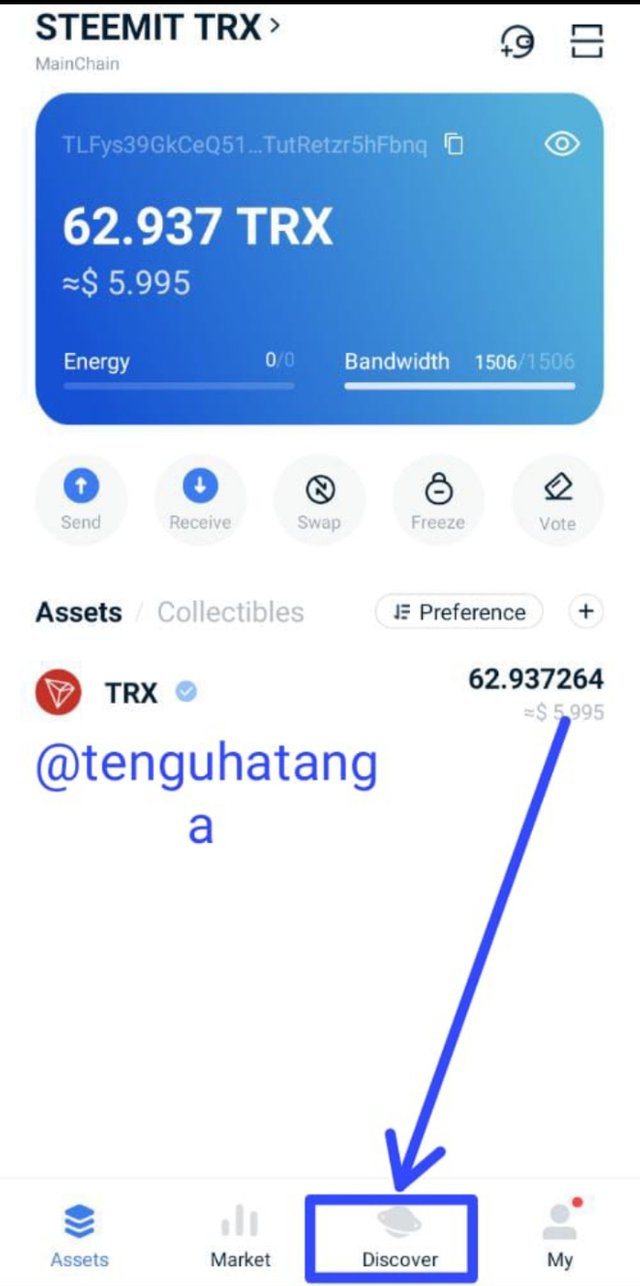 ---
On the next interface scroll down to exchange, click on more.
---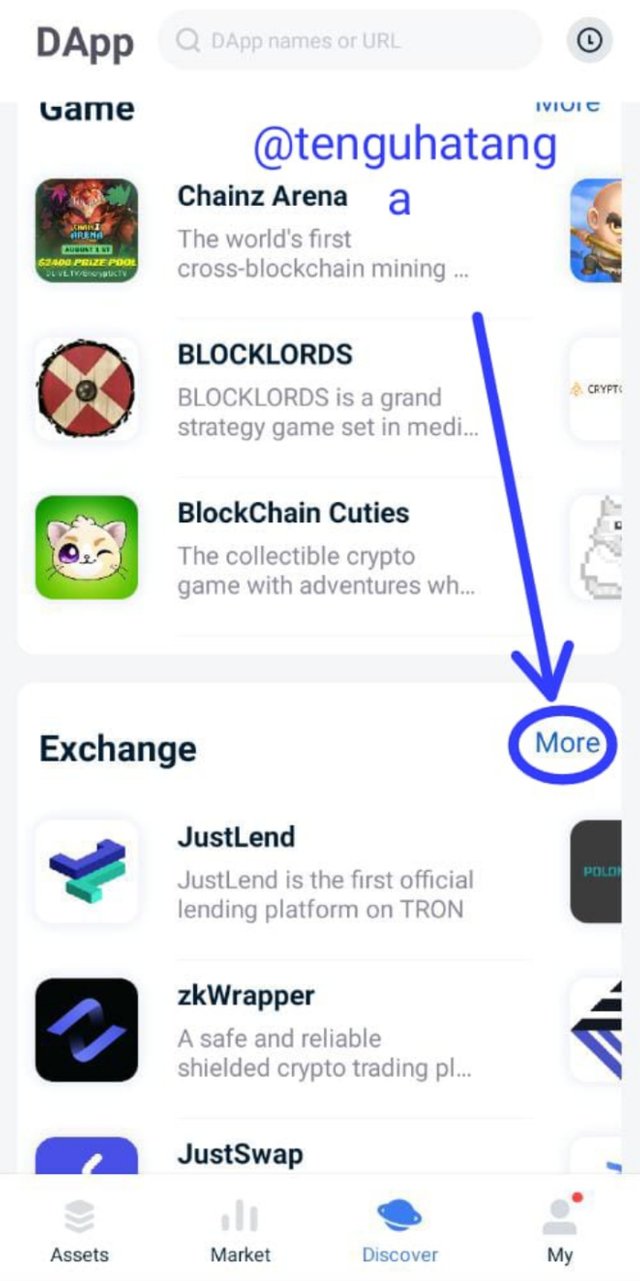 ---
On the next interface, scroll down to Zethyr Exchange, and click on it.
---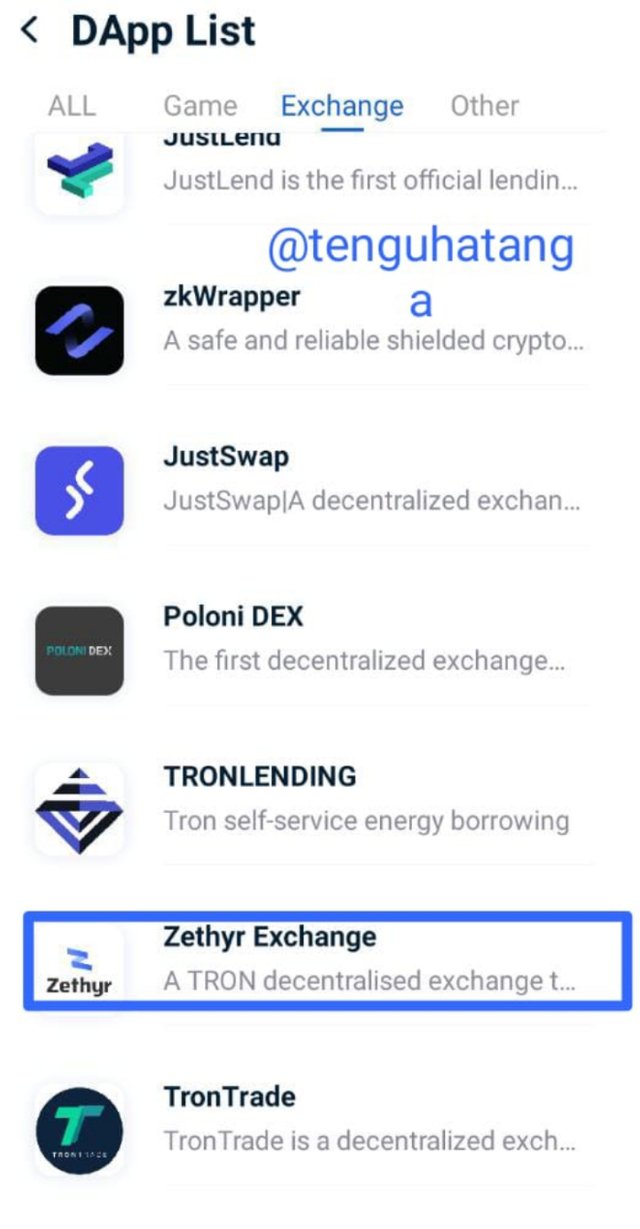 ---
Allow it to launch the Zethyr Exchange. Once it launches, it becomes connected automatically.
---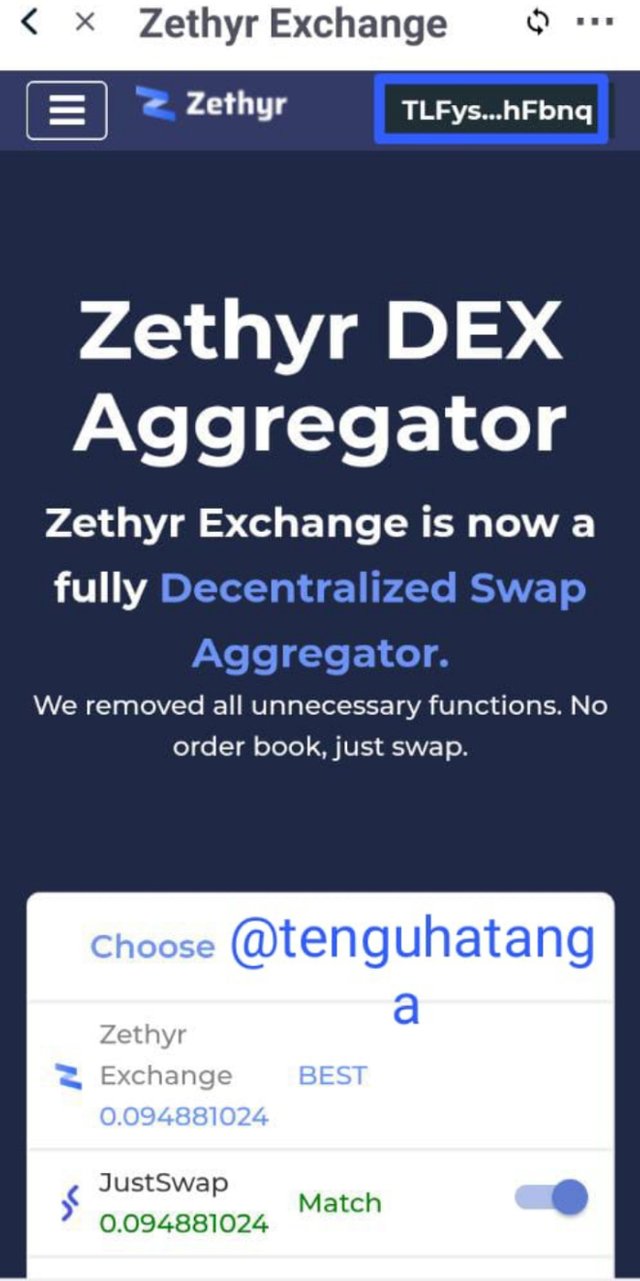 ---
Give a detailed understanding of ztoken and research a token of another project that serves the same purpose as it.
---
Z-TOKEN
Z-token is the native token of the Zethyr Finance protocol. It represents a user's balance and increases when interest accrues. The Z-token conforms to the standard of TRC20 and work just like every other token. Holding the token makes it possible to be able to borrow and enjoy the other benefits of using the from the protocol.
---
Perform a real Supply transaction on Zethyr Finance using a preferable market. Show it step by step (Screenshots required). Show the fees incurred.
---
On the Zethyr Finance interface, scroll down to All Markets. This shows the markets of tokens available for lending and supply. Click your preferred asset.
It navigates to a page to a page that shows tokens for supply and borrow with their annual yield., select the preferred token to be supplied.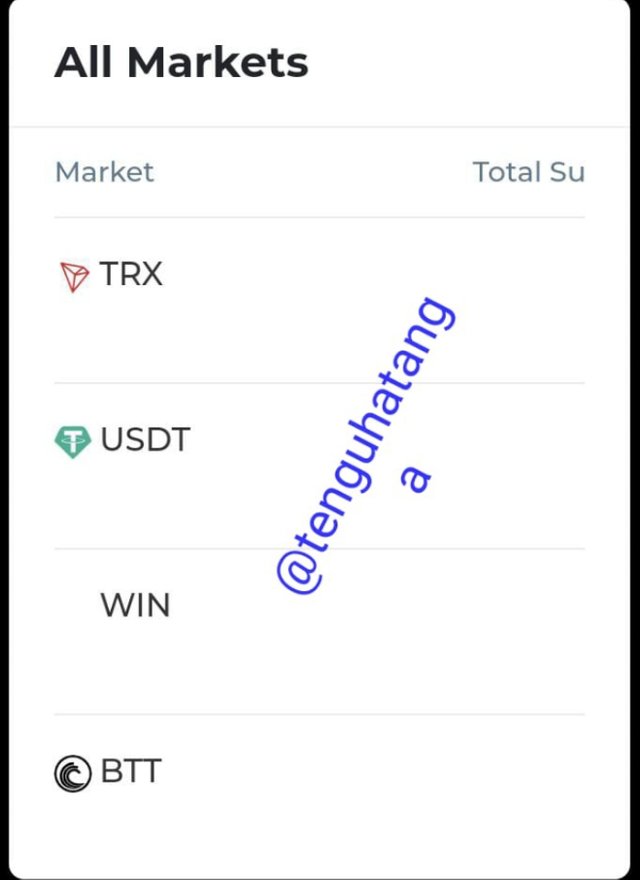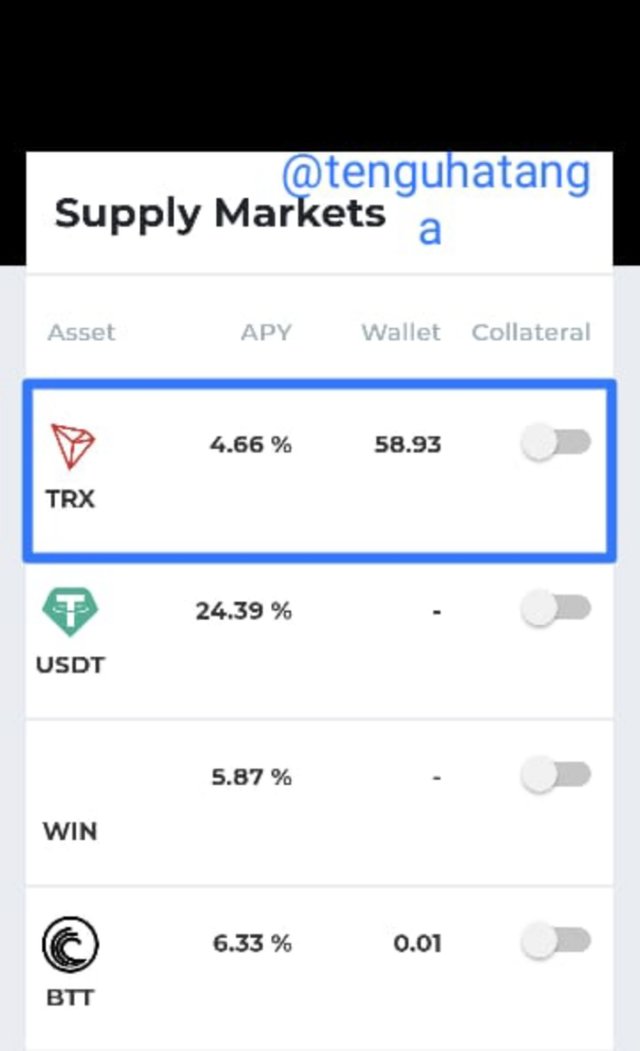 ---
Enable the transaction if its the first time of doing this. Once you click enable, a page will show up letting you know the amount of TRX that would be burn for the transaction. Click okay. I had already tried it before, so I need not enable for the second time
Enter the amount of the token to be supplied and click on supply. I supplied TRX as seen in the screenshot.
A prompt came up letting me know I would burn 20TRX for the transaction, I clicked okay before I could enter the supply quantity.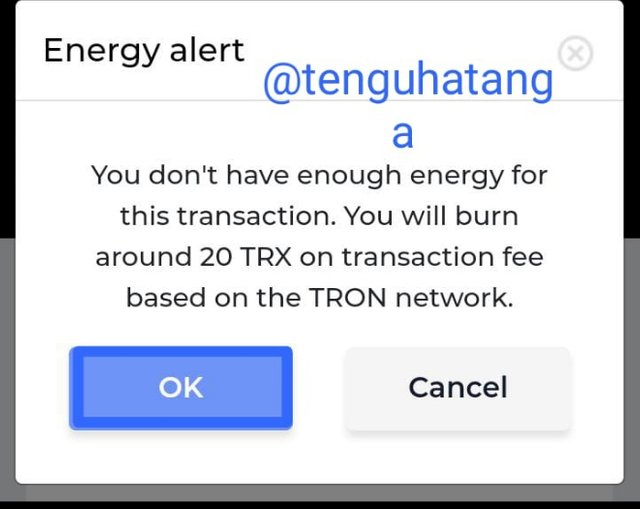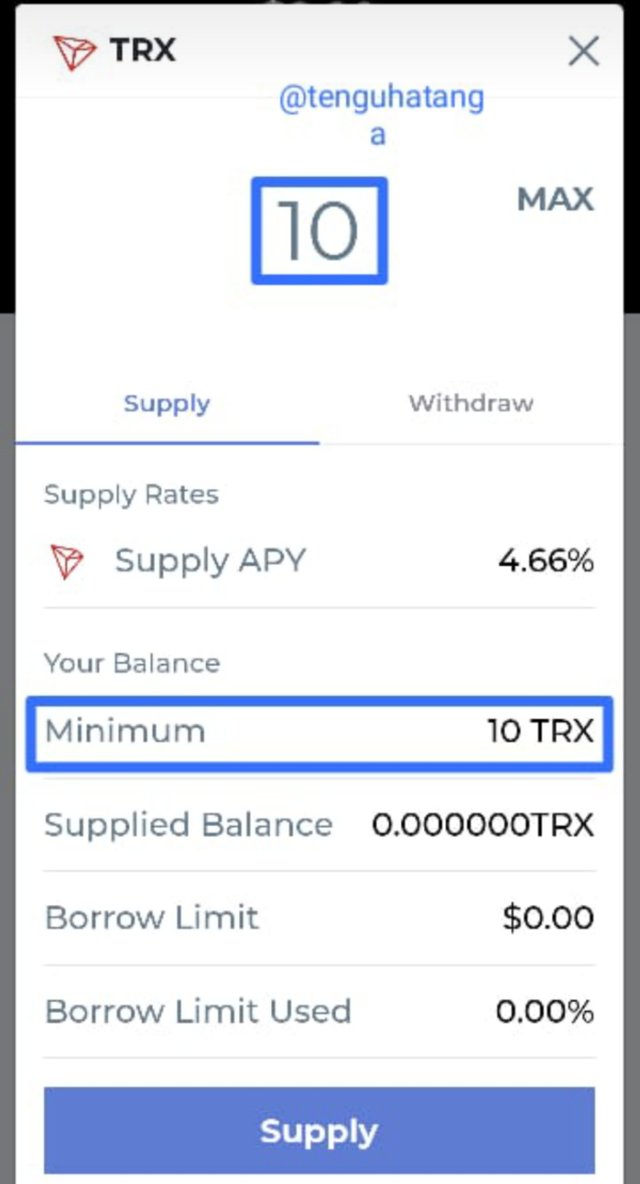 Follow the prompts and sign the transaction with the necessary password (TronLink).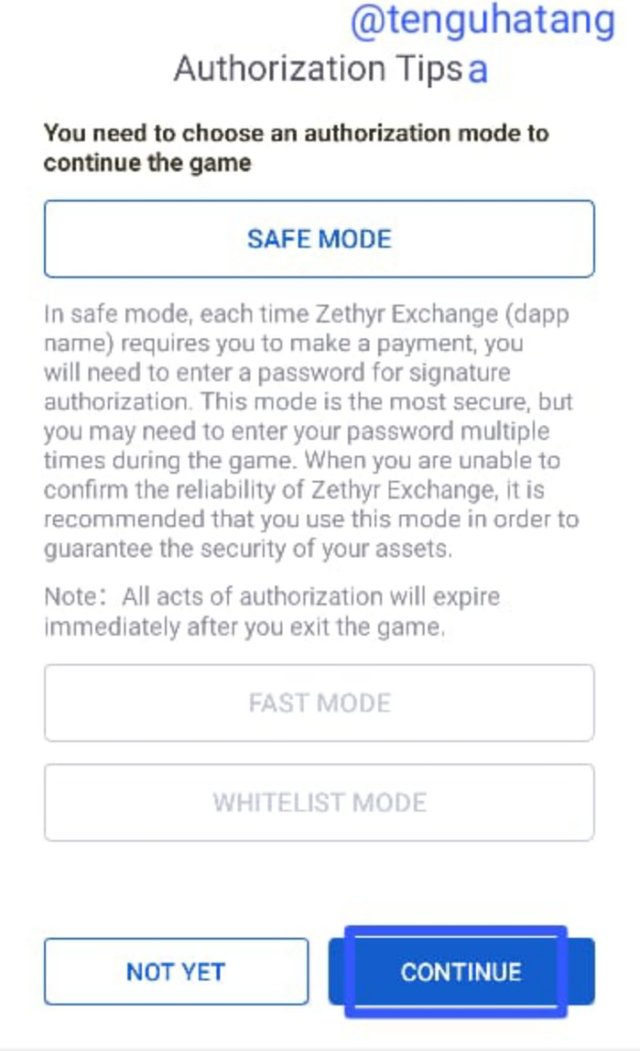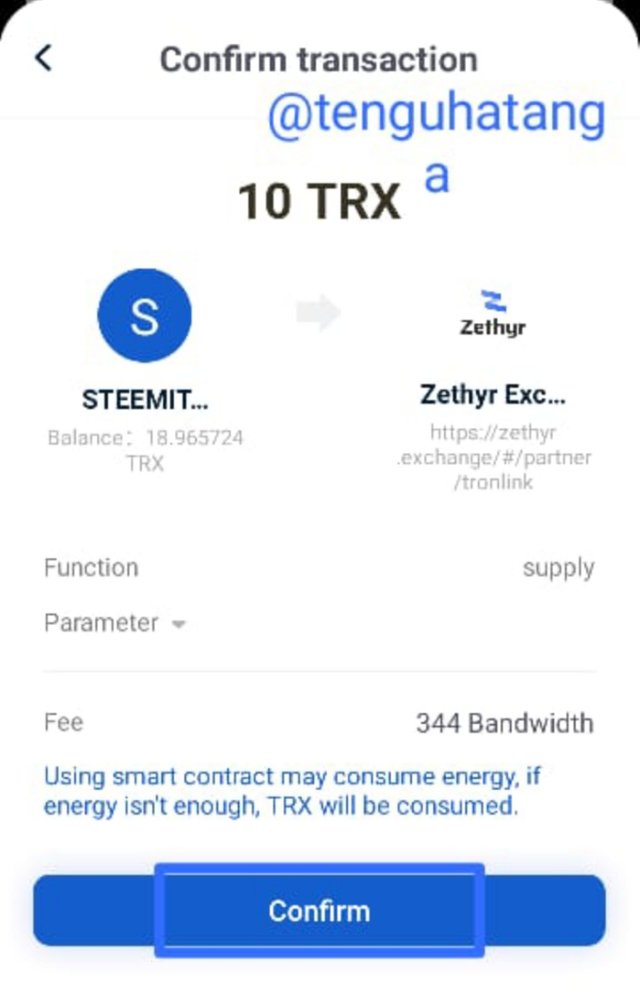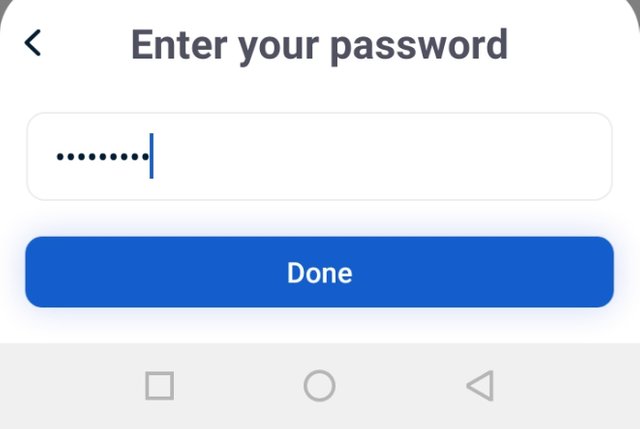 Here is my supply details.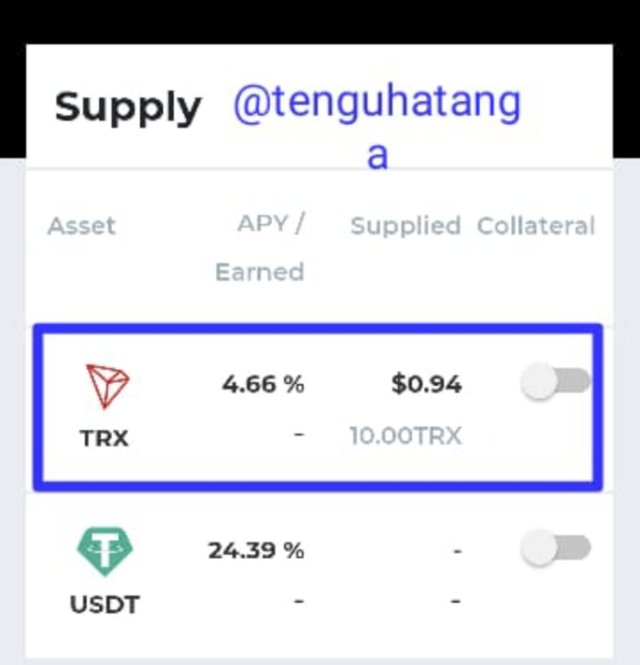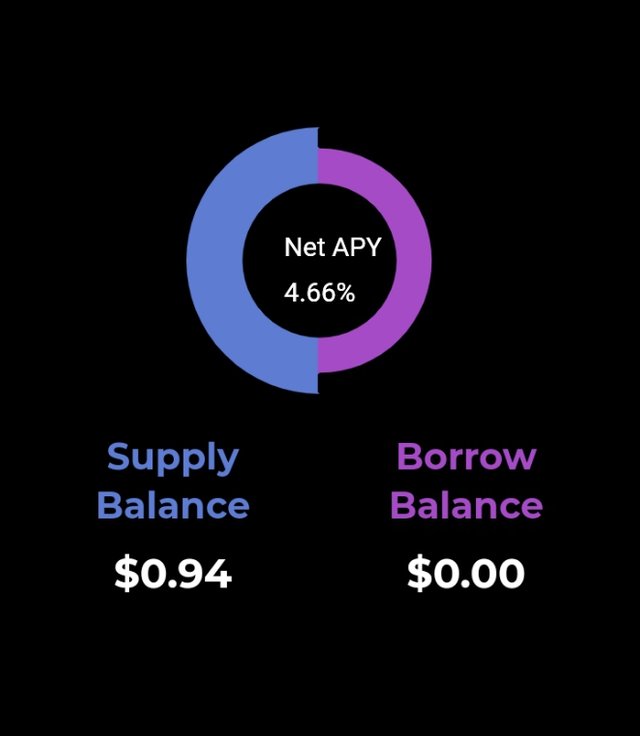 The transaction hash which displayed the details is below
2585fd6fd6dab85f09b22f04ebc8cd1c5a6491734a25ab62b95326633b5ee7e1
---
Collateralize your asset to Borrow on Zethyr Finance, repay the borrowed asset and withdraw your supply. Show the steps involved and your observations (like the fees incurred). (Screenshots required).
---
To collateralize my asset, I clicked on the initial supplied asset and on the next page, I used the asset I have supplied (TRX) for collateral by clicking on use TRX for collateral
---
On the page that followed, I licked on Okay for the 20TRX that would be burn for the transaction. I followed some prompts of confirmations and signed the transaction with my password and clicked done.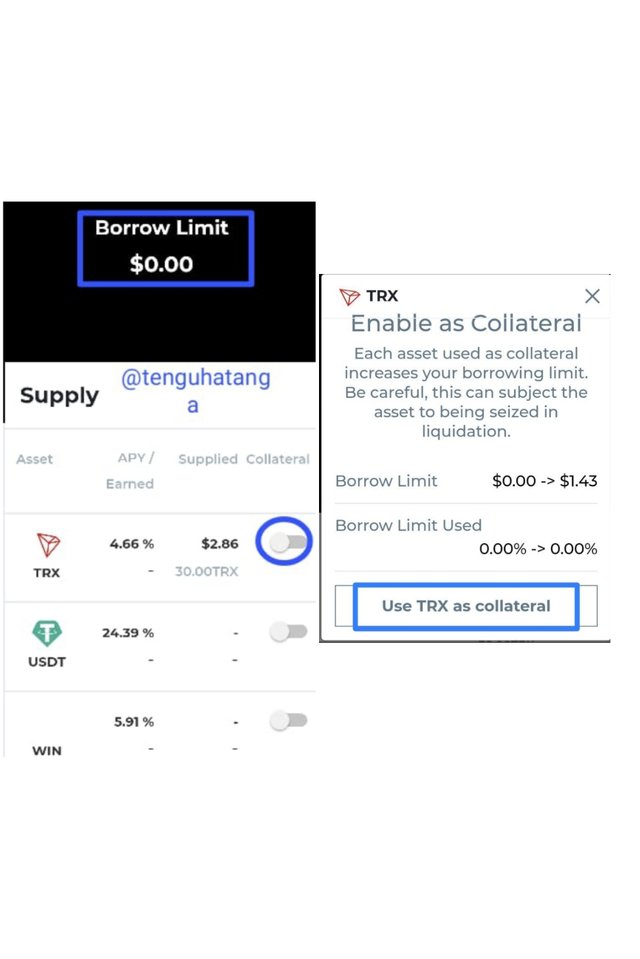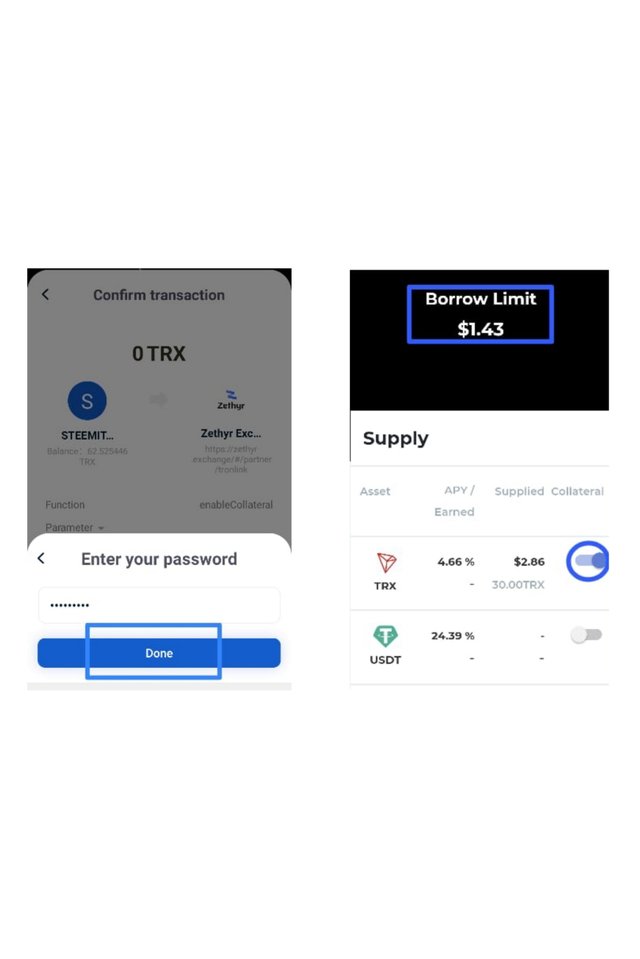 If you look closely, the asset I supplied is not congruent with my borrow limit displayed at the end of the collateralization.
I had to repeat the collateralization after disabling it. Actually after the first supply and I made a couple of attempts to borrow USDT, it didn't work because my supplied balance was not up to $2. So I supplied three different times to get $1.43 as my borrow limit.
---
---
To borrow, I selected the asset I wanted to borrow ( I had already enabled it before now). It was not my first time of borrowing the asset. In a bid to do the task, I already borrowed same asset in which I didn't get the desired results. A first timer would have to enable the transaction before he or she can borrow.
I entered the amount I was to borrow and clicked borrow. I followed the prompts and signed the transaction with my password.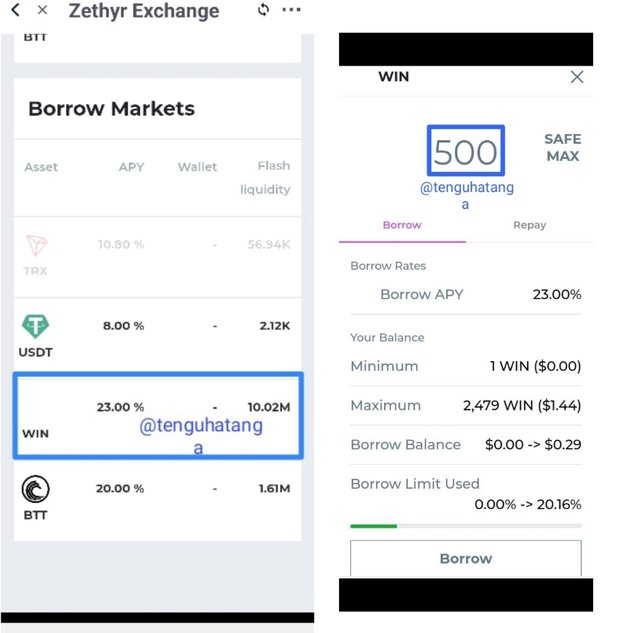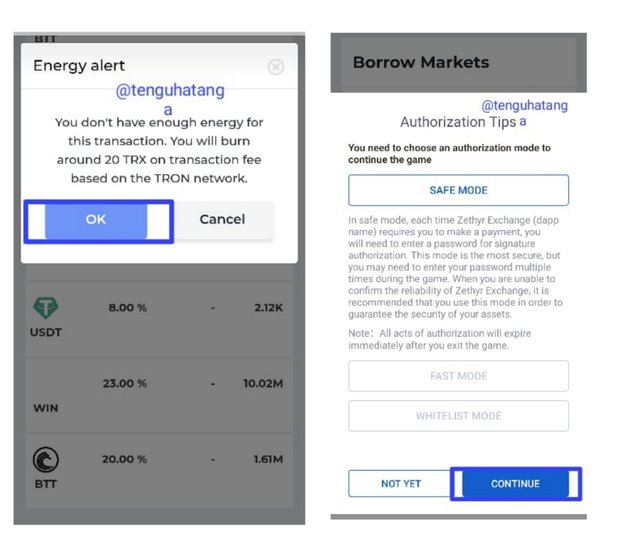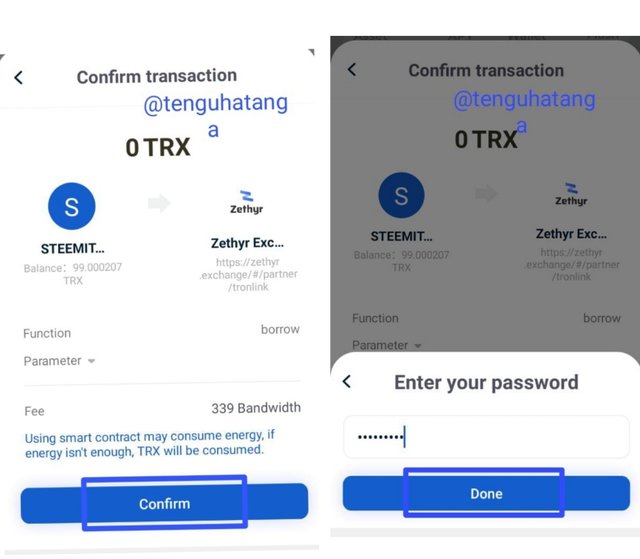 After several attempts of borrowing, I didn't get my expected results. I do not know if the Zethyr system failed but I know I made not less than 5 attempts of borrow and none brought the borrowed amount on the dashboard.
The last transaction for the borrow I made is below.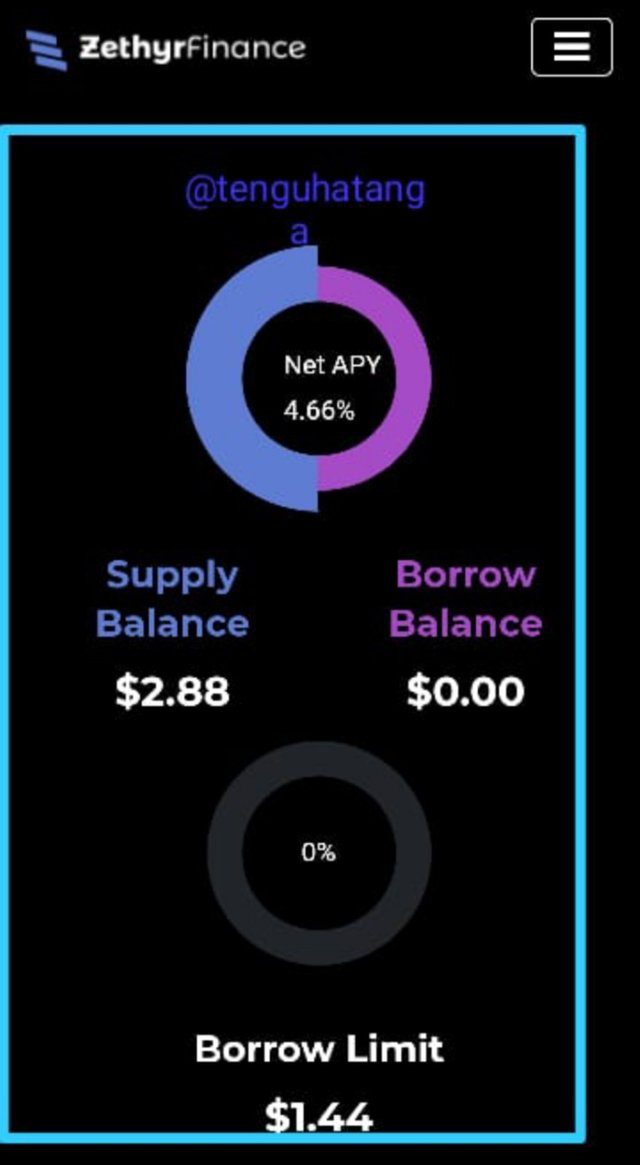 eaeafe55c9671250c1f64419439c3e36679997c530805d8a4c322a30c1ba6b6d
If you check you won't find the information on this transaction.
---
---
To withdraw my already supplied assets from supply, I clicked on the supplied asset. I switched on to the option of withdrawal. I clicked on safe max and clicked on withdraw. I then clicked on confirm and signed in with my password to complete the transaction.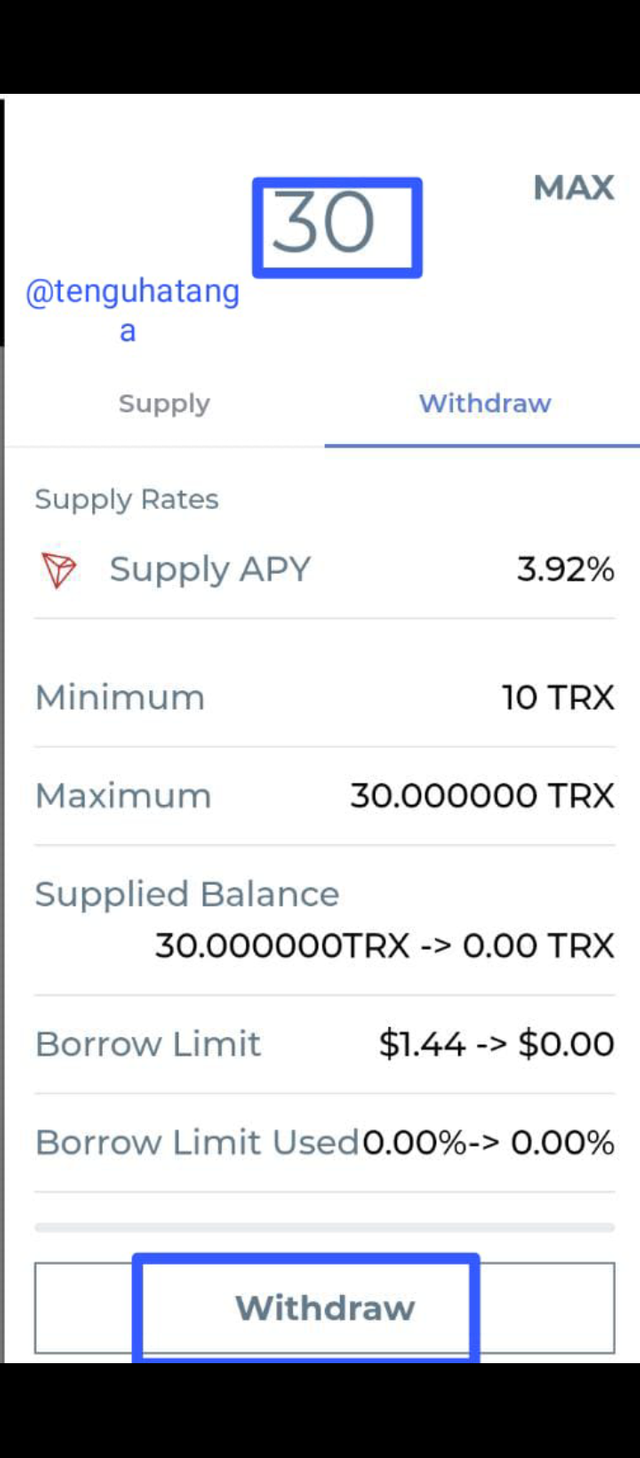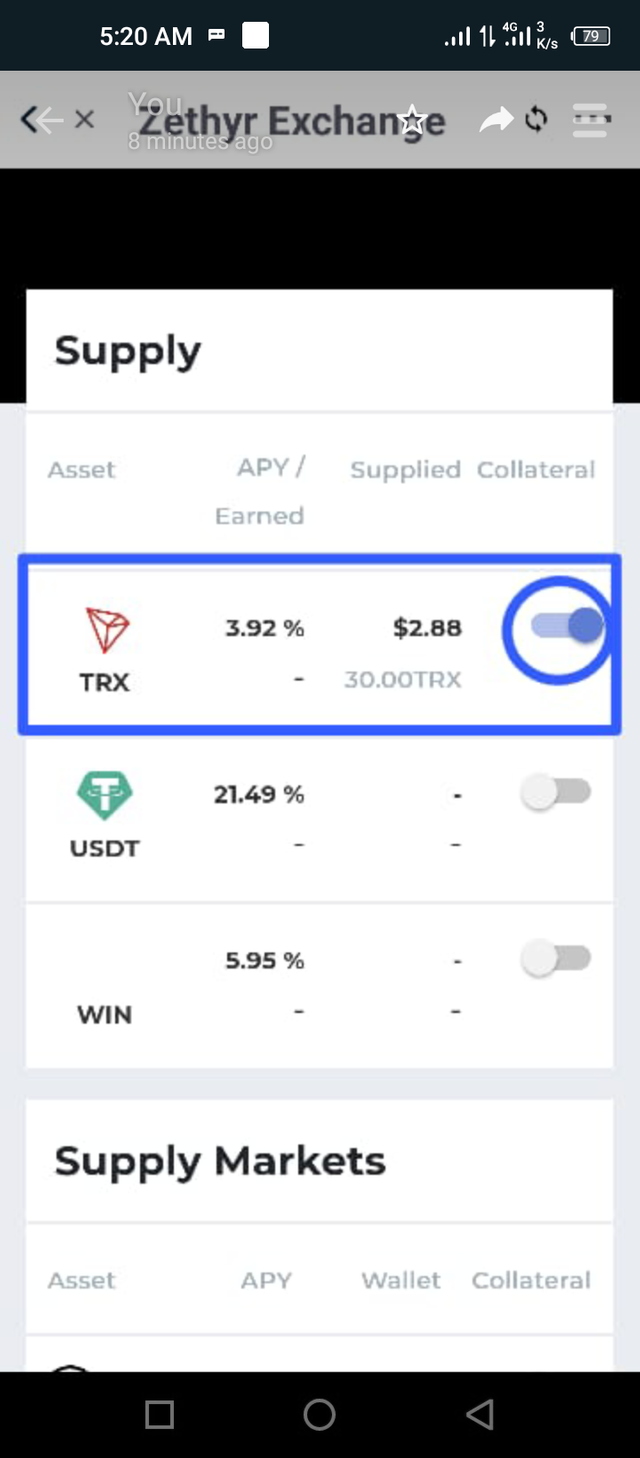 ---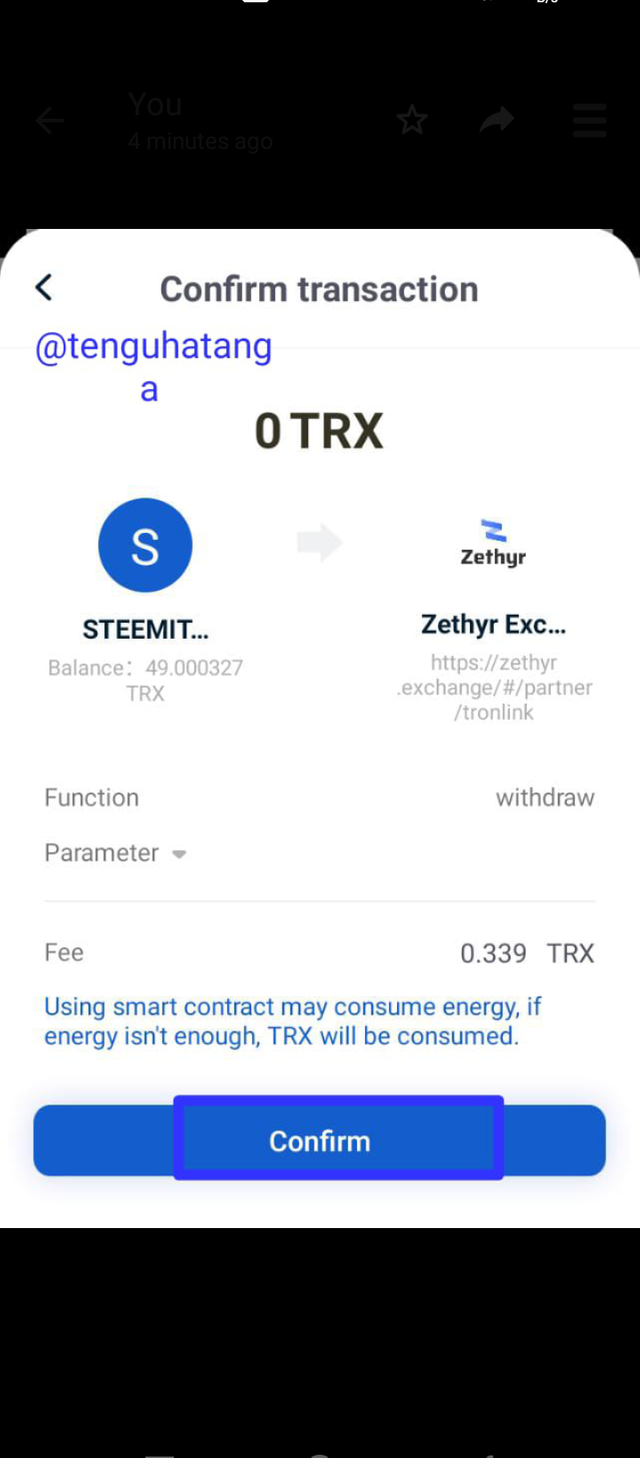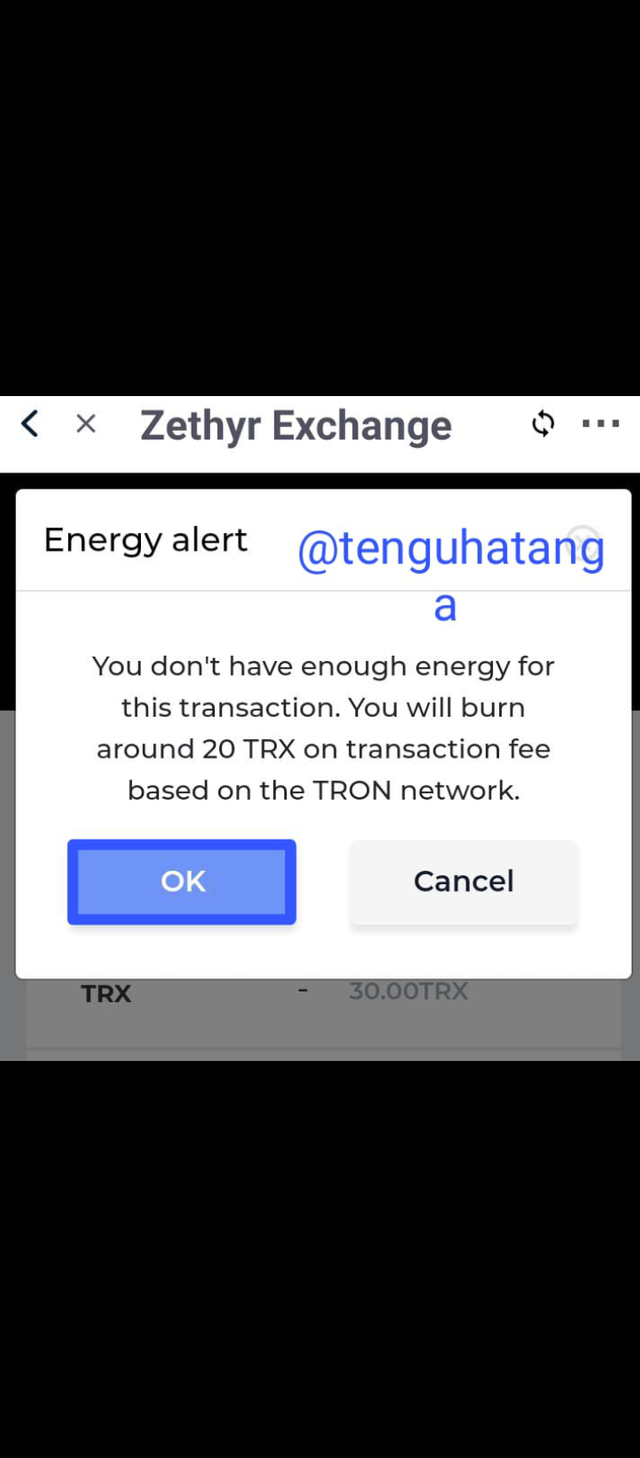 ---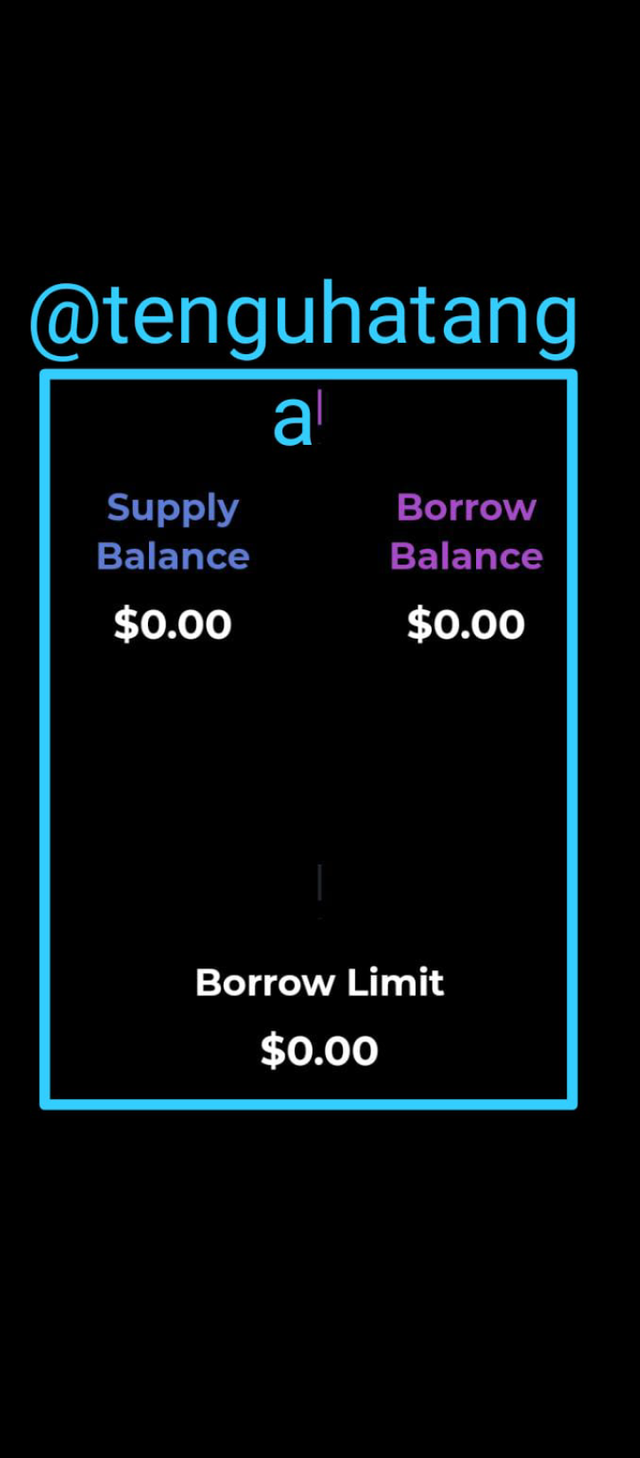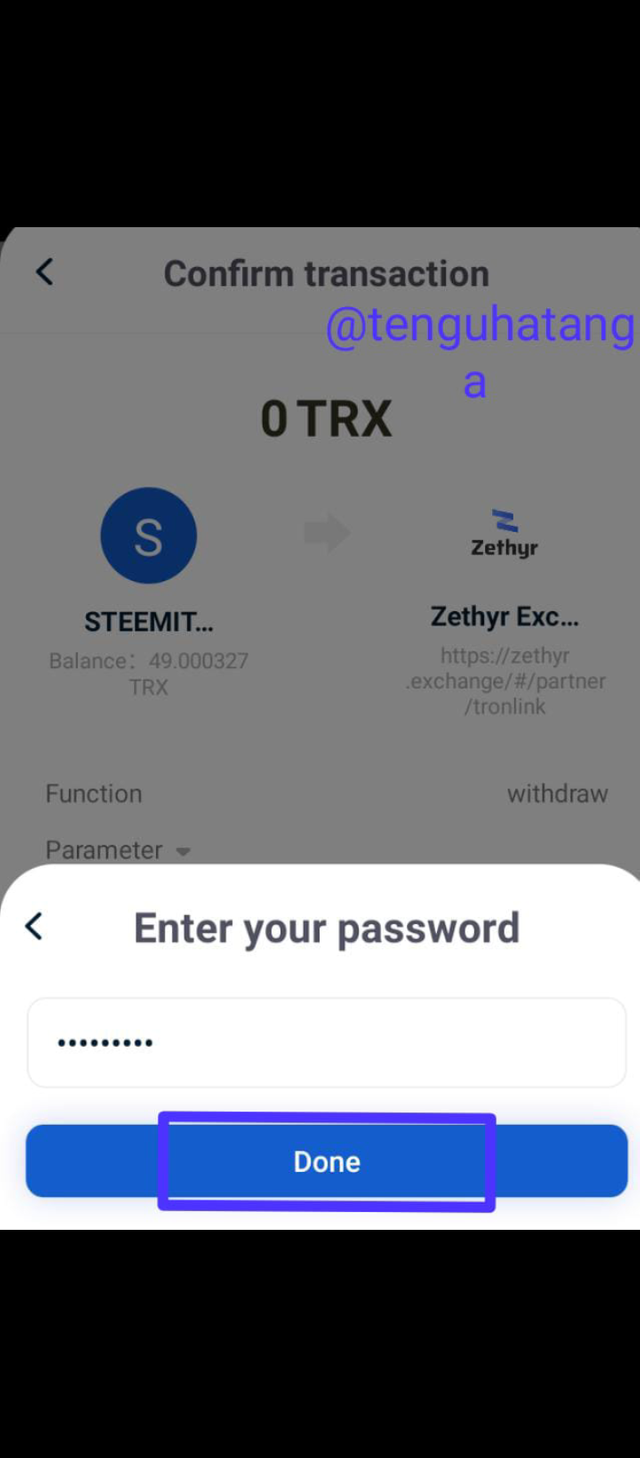 Here is the transaction hash: dd17c9e8010c7788ecb97d68e888c85e245df46d89ee911003625096f434c831.
---
What do you think of Zethyr Finance? Is it great or not? State your reasons.
---
Zethyr Finance is great for the amazing features it has. Nevertheless, the charges are too much. The TRX burnt for transaction is quite much. Even if one is going to do a minor transaction, one would burn more TRX f9r it.
Sincerely, I was mad at the platform while performing the practicals of supply, borrow and repay because i paid more TRX for burning than transactions fee or the transactions themselves.
Using the features on Zethyr Finance are far too expensive considering the number TRX that are burn to generate bandwidth energy. I used up my TRX and had to borrow to be able to complete this transaction.
Let me break this down for you to understand.
The way the Zethyr Finance works, a user spends so much on gas fees for even the simplest transaction. For an individual to make a supply, borrow, collateral, disable collateral, TRX is burn to provide energy to: (1) Enable supply of an asset foe the first time (2) Enable the borrowing of an asset for the first time, (3) Complete a supply function, (4) Complete a borrow function, (5) Collateralize a supplied asset (6) Disable Collateralized asset, (7) Pay borrowed assets, (8) Withdraw supplied asset.
The use of Zethyr exchange is too expensive as 20 TRX is burnt on every enablement of withdraw or supply of a new asset.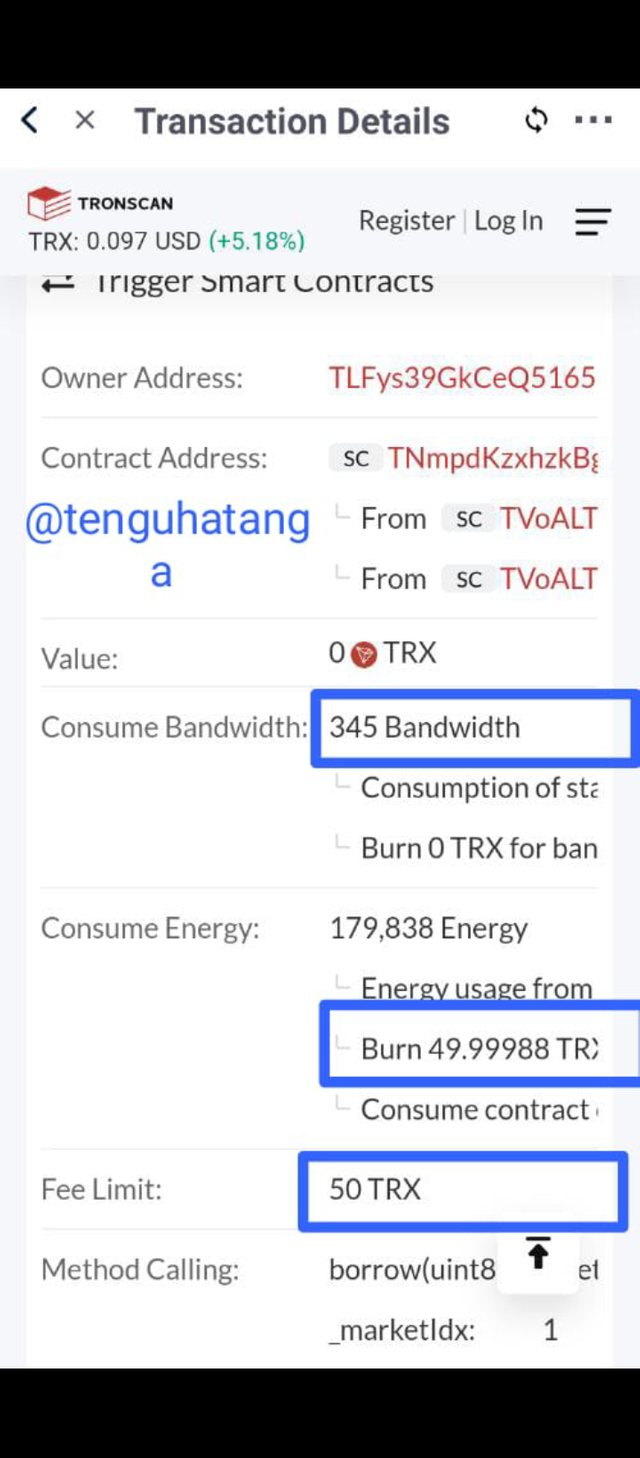 Transaction Hash: eaeafe55c9671250c1f64419439c3e36679997c530805d8a4c322a30c1ba6b6d
As I continued the task, the consumption fee was increased to 50 TRX. And can you imagine that that was a transaction that wasn't successful? It wasn't successful. Check with the transaction hash, you wouldn't find it (I am talking about the above screenshot). This made me exhausted so many TRX that at a point I thought I was doing the wrong thing.
CONCLUSION
---
It has really been an experience being a part of this homework. I have learnt so much but there was so much to use. A lot of TRX, and my time. Since I have been writing homeworks, I have not seen a work that stressed me so mentally and the results I got were poor.
I couldn't successfully carry out the borrow function and pay because Zethyr failed. It failed severally and because I didn't know what went wrong I tried several times but all to no avail. As at when I tried the last borrow function, I had just sent in 100TRX so I had a total of 103 but I did the borrow function only for it to fail again and 50TRX was taken for energy consumption and bandwidth.
I did give this task everything but I didn't get the best results.
---
Cc:
@fredquantum
@sapwood
---