BITCOIN TRAJECTORY-CRYPTO ACADEMY S4W5- HOME-WORK POST FOR @IMAGEN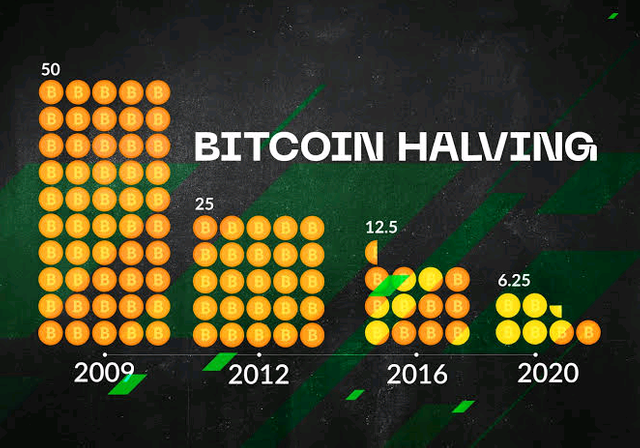 source
INTRODUCTION
Ever since the inception of cryptocurrency things has really changed globerly compared to the standard been operated in the previous long run, so many people have doubted the efficacy of cryptocurrencies some things it's been used illegally for paying of taxes, thereby causing lots security breaches, but today cryptocurrencies are revolutionalizing, it can be traded anywhere at anytime at your comfort zone.
One splendid characteristics of cryptocurrencies are that they are decentralized in nature meaning they can't be controlled by government or any other agencies all round, the only proactive measures that government can take is placing a ban on the exchanges which so many countries have done today example of such country is Nigeria.
All round cryptocurrency have created lots of jobs for various people in various countries round the globe, we have over 5,000 cryptocurrencies in existence today many are new and some have been in the system for quiet a long time, like Bitcoin (BTC).
I will hint more on Bitcoin as the home work progresses, but bear in mind that whenever people hear about cryptocurrencies, the first thing I hat comes to mind is Bitcoin, reason been that it is the most popular cryptocurrency today on planet Earth, that brings us to today lectures.
HOW MANY TIMES HAS BITCOIN BEEN "HALVED"? WHEN IS THE NEXT EXPECTED? WHAT IS THE CURRENT AMOUNT THAT BITCOIN MINERS RECEIVE? MENTION AT LEAST 2 CRYPTOCURRENCIES THAT ARE OR HAVE HALVED.
Before we talk about how many times Bitcoin have been hacked it's important we have an overview on what Bitcoin halving is, Bitcoin halving can be defined as a process that involves the pace of new Bitcoin officially been introduced thus bisected in half this occurs in every 210,000 block officially been mined.
I'm glad to explain to you that Bitcoin halving happens in every four years, the motive of this is to be compactedly mine 21 million BTC.
HOW MANY TIMES HAS BITCOIN BEEN "HALVED"?
First Bitcoin halving took center stage in the month of November 28 in the year 2012, one thing to understand here is that whenever Bitcoin is been mined.
miners rewards are usually smashed like in 2012 the reward for mining one block was 50 BTC, but after halving miners was then receiving 25 BTC, for every block been mined. On 2012 when the first halving took place Bitcoin price was $12, one year after it rises to $1,000, the price boomed.
Bitcoin second halving took center stage in 2016, the month of July 9, at that time Bitcoin was on downtrend $670 for one coin, courtesy the halving event miners reward was pretty cut down again at then it was 12.5 BTC for one block that will be mined.
In the month of May 20th 2020, new BTC was officially created at about 6.25, new Bitcoin came on board and each of the new block was officially mined, so from the look of things Bitcoin has officially been halved three (3) times ever since it's first halving took center stage in 2012.
Miners don't find it exciting whenever bitcoins are been halved it really dress down their miners reward, in general there are always a drop in revenue.
WHEN IS THE NEXT EXPECTED? WHAT IS THE CURRENT AMOUNT THAT BITCOIN MINERS RECEIVE?
The next expected year for Bitcoin halving to take center stage is in 2024, although the say currently now is pretty unknown for sure miners reward will surely experience a set back to 3.125 BTC.
To be able to add a valid block BTC miners are condemned to solve many problems that involves massive mathematical calculations, and this requires the use of power supplies and computers the computer hardware been used are the ASICs, which means the Application specific integrated Circuits, this hardware can be very expensive at around $10,000.
If you as a miner is able to add a valid block to a blockchain you are going to definitely received 6.25 worth of BTC as miners reward, this reward is definitely bisected every four years, or you can say every 210,000 valid blocks been added into the blockchain.
let's not forget in the month of August 2021, BTC traded around $48, in summary climaxing to 6.25 BTC, in general the worth was massive around $300,000.
MENTION AT LEAST 2 CRYPTOCURRENCIES THAT ARE OR HAVE HALVED
Nice questions courtesy this question I go with Litecoin, Litecoin halving can be defined as an official events that happens every four years at this phase Litecoin reward gotton from mining a single block to a block-chain is been halved, whenever Litecoin halving is been done it assist in the preservation of it's buying power.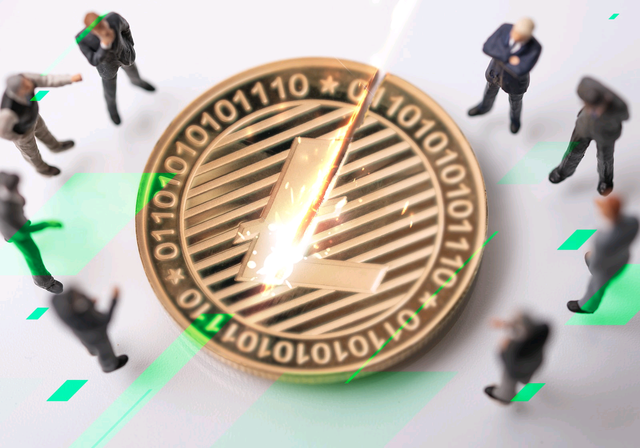 source
Next Litecoin halving will be taking center stage in the year 2023, at that time it's reward will be minimal thus decreasing from 12.5-6.25 LTC. In Litecoin in every 840,000 valid blocks are mined then the block rewards are officially halved.
Dogecoin; dogecoin block reward was officially halved on 28th of April 2014, there was a massive reduction courtesy it's payout it was reduced from 250,000 coin to 125,000 coin for one valid block. After the halving massive numbers of block became very active .
WHAT ARE CONSENSUS MECHANISMS? HOW DO PROOF-OF-WORK AND PROOF-OF-STAKE DIFFER?
Consensus mechanism which can also be called concensus allogrithm is a system that allows various networks of computers to work effectively and along the process stay secured, this mechanism have contributed alot in the development of various database nodes, and other servers.
Consensus mechanism prevent fraudlent attacks, in general consensus mechanism are designed to solve various security problems in various ways, consensus mechanism mainly works in the blockchain technology in conjunction with Cryptocurrencies.
In Bitcoin blockchain the consensus mechanism is practically called proof of work (PoW), this requires lots of computer power in order to solve various mathematical problems with the sole motive of keeping the nodes very secured.
Proof of stake (PoW), are very much seen and used by various top cryptocurrencies in the world today, many top cryptocurrency adopt it because it uses less energetic power, compared to Proof of stake (PoS), PoW maintains the ledger and nodes making sure that informations there are very much safe.
HOW DO PROOF-OF-WORK AND PROOF-OF-STAKING DIFFER?
PROOF-OF-WORK
PROOF-OF-STAKE
Proof of work needs multiple members of a particular network to expanciate and solve various mathematical problems since it's decentralized in order not to allow hackers gain access to the blockchain
in proof of stake it depends on the amount of coins a miner posesses before he can be qualified to validate blocks in the blockchain.
Proof of work is usually seen in an expanciated manner courtesy cryptocurrency mining, it can be used to mine and validate transactions
proof of stake is simply the opposite of proof of work, which adds various valid block to blockchain that's basically used to validate and confirm transactions on a blockchain.
Proof of work gives cryptocurrencies the opportunity to process in peers and still remain secured without any form of assistance
risky is proof of stake is minimal compared to proof of work, it gives Advantage to the miners are hackers can't suceed even if they try compromising the blockchain.
Proof of work needs humongous amount of energy it can sky rocket as more miners are officially introduced
the most popular cryptocurrency in the universe makes use of proof of work, not proof of stake.
ENTER THE BITCOIN EXPLORER AND INDICATE THE HASH CORRESPONDING TO THE LAST TRANSACTION. SHOW SCREENSHOTS.
Exploring this I visited blockchain.com/explorer in here you will find the latest Transactions and the latest valid blocks too that has recently been added into the Bitcoin blockchain read more to get more insight.
When I logged into the homepage first I clicked on explorer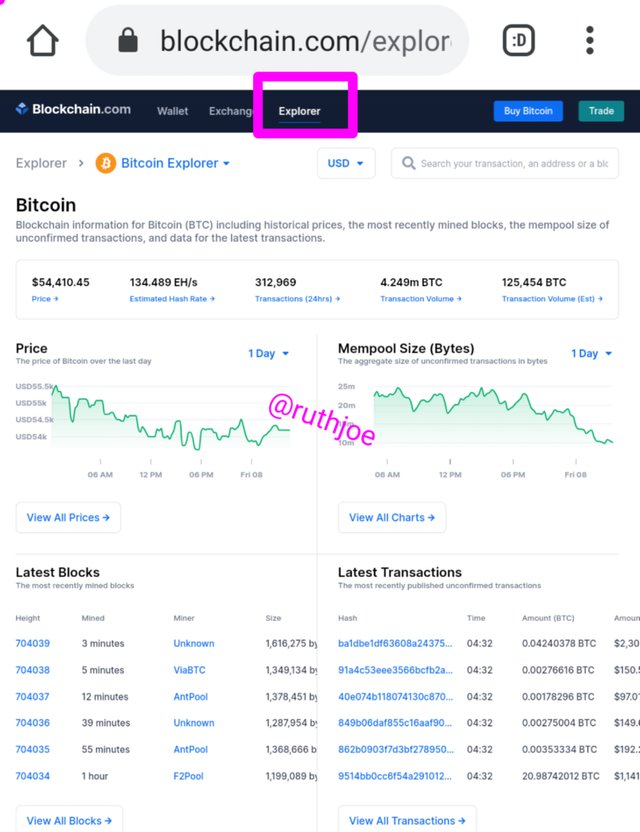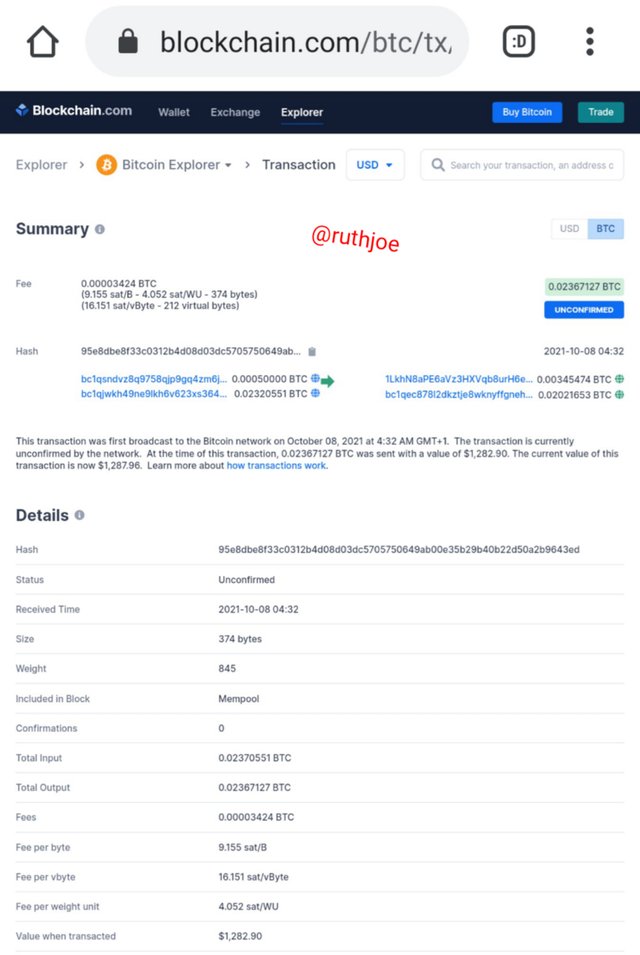 I screwed down and clicked on latest transactions, and the hash was Indicated. the Transactions are still yet to be confirmed.

The time which I accessed the blockchain explorer is seen vividly, and if you read through you will see the details of the transactions.

The transaction summary is clearly seen, one important thing to note is that you can copy the Transaction hash, and paste it in the search axis of the Bitcoin blockchain explorer and every details will show.

In here I will show the transactions imput and output, screw down and read more.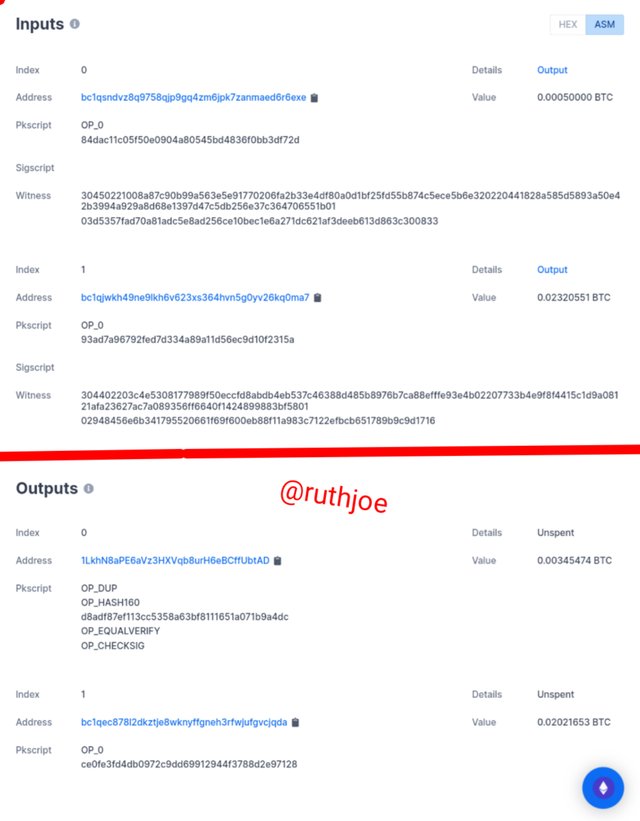 Hash
95e8dbe8f33c0312b4d08d03dc5705750649ab00e35b29b40b22d50a2b9643ed
WHAT IS MEANT BY ALTCOIN SEASON? ARE WE CURRENTLY IN ALTCOIN SEASON? WHEN WAS THE LAST ALTCOIN SEASON? MENTION AND SHOW 2 CHARTS OF ALTCOINS FOLLOWED BY THEIR GROWTH IN THE MOST RECENT SEASON. GIVE REASONS FOR YOUR ANSWER.
ALTCOIN season can be defined as a period where crypto alternative coin over-shadows crypto currency Bitcoin, when we talk about alternative coins we are talking about anyother coin that isn't Bitcoin.
In the universe today Bitcoin is the most powerful cryptocurrency today it controls everyother altcoins that is why whenever it rises other coins too rise, and whenever it falls other altcoins experiences a downtrend in a long run.
If there is a specific period in a long run where altcoins produces more profit than Bitcoin itself then we called that season an altcoin season, at this period we say it's Bitcoin dominance is reducing in ratios.
ARE WE CURRENTLY IN ALTCOIN SEASON? WHEN WAS THE LAST ALTCOIN SEASON?
At the time of writting this post Bitcoin is sky rocketing and it's price is currently at $53, 832.37, so we are not in altcoin season because no other altcoins excluding Bitcoin has more value that BTC itself.
The last altcoin season happened in the month of December 2020, where Bitcoin price dropped to 69.1%, another altcoins season happened again this year we won't forget in a hurry April 2021, where Bitcoin dropped to 49%.
At this specific period so many other altcoins like binance coin, Etherium, BNB, etc all provided massive profits for various investors, Dogecoin climaxed to 6000%, the altcoin reason took little while at that time no one knew where the market will eventually reverse.
MENTION AND SHOW 2 CHARTS OF ALTCOINS FOLLOWED BY THEIR GROWTH IN THE MOST RECENT SEASON. GIVE REASONS FOR YOUR ANSWER.
I will present top 50 altcoins performance over last year, also I will present top 50 performance over the previous 90 days, now how do we get to know and altcoin year?. ALTCOIN year is when 75%, of altcoins in top 50, perform much better than Bitcoin.
Looking at the chart available here you will see that in top 50 performance over last year 31 various altcoins performed more better than Bitcoin.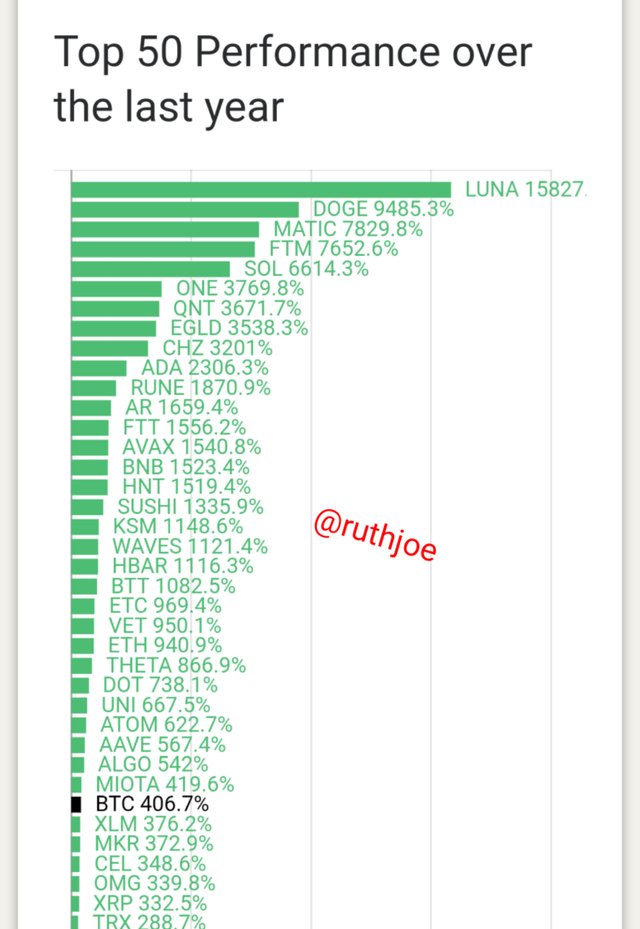 source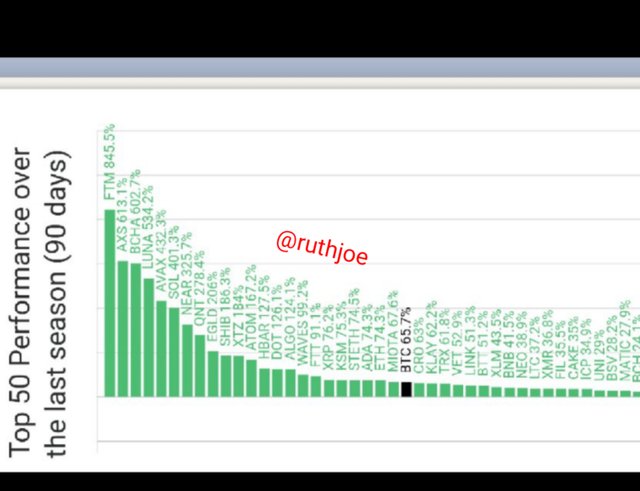 source
For the performance in the last 90 days, here we are talking about around previous 3 months, courtesy this I will say if 75% of altcoins in top 50 performs well enough than Bitcoin then it's altcoins season, let's see the chart in the previous (90) days and see how many altcoins performed more than BTC.
Looking at the chart above 23, different altcoins performance more than Bitcoin, so I will say in the previous 90 days was altcoins season.
MAKE A PURCHASE FROM YOUR VERIFIED ACCOUNT OF THE EXCHANGE OF YOUR CHOICE OF AT LEAST 15 USD IN A CURRENCY THAT IS NOT IN THE TOP 25 OF COINMARKET (SBD, TRON ​​OR STEEM ARE NOT ALLOWED).
Courtesy this I will be using my binance account to execute buying of a currency that isn't listed in the top 25 by coin-marketcap, and the cryptocurrency goes by name Neo, I bought $15 worth of Neo, initially I'm having $17 worth of USDT coins, so I quickly bought Neo, using my USDT stable coin. USDT/NEO.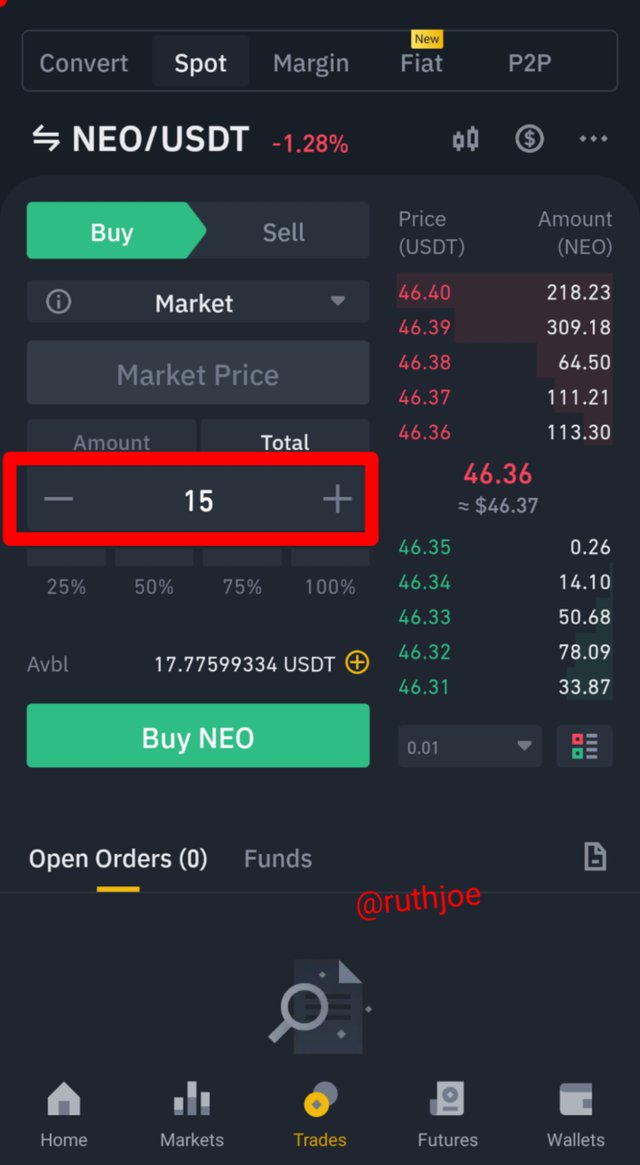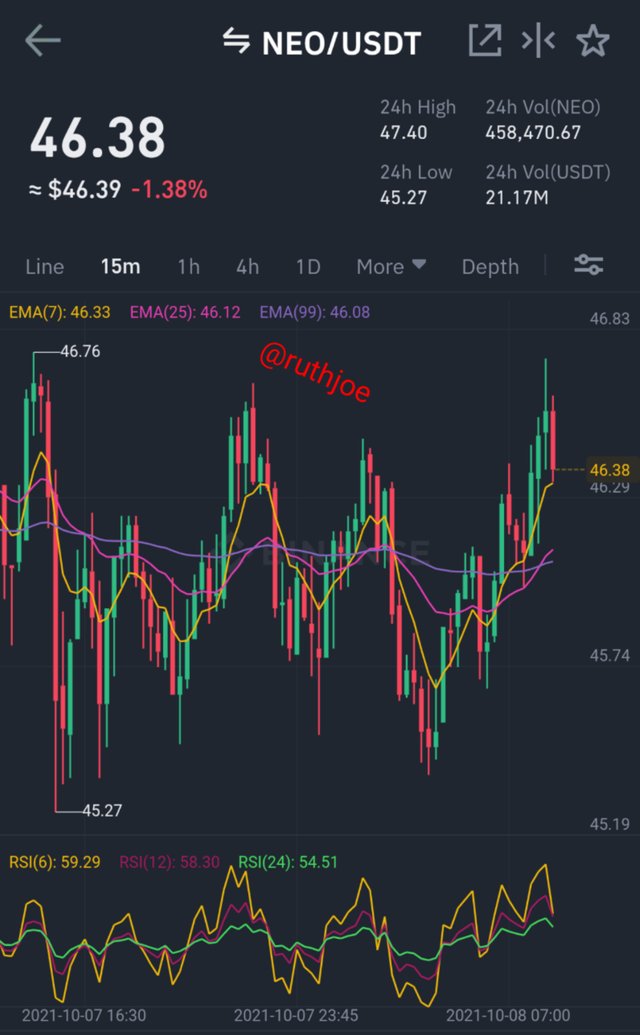 Above is the chart if USDT/NEO, oficiall bought by me from the chart above it's expected that the price of NEO will go up since it has been forming all time high looking at the previous formations.
WHY DID YOU CHOOSE THIS COIN? WHAT IS THE GOAL OR PURPOSE BEHIND THIS PROJECT?
The neo cryptocurrency have great prospect if you watch critically it is ranked in the top #50 by coin-marketcap, Neo as a cryptocurrency is built on Neo platform and the goal behind this project is to support it's own crypto thereby giving way to the development of new digital assets and smart contracts along the long run.
WHO ARE ITS FOUNDERS / DEVELOPERS? INDICATE THE CURRENCY'S ATH AND ITS CURRENT PRICE. REASON FOR YOUR ANSWERS. SHOW SCREENSHOTS.
Neo was officially founded by a Chinese person in AntShares Da Hongfei and Erick Zhan in the year 2014. This cryptocurrency is pretty six years old, it was further restructured to become Neo in the year 2017.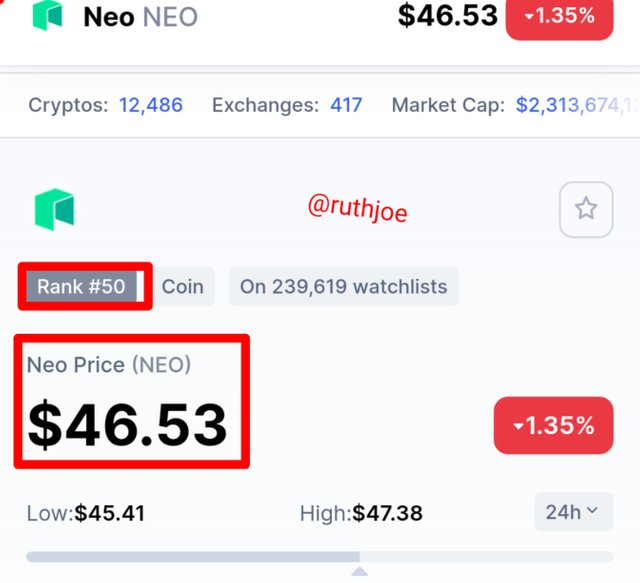 Neo price stands at $46.53, at the time of writting this post current low-high at this time stands at $45-41-47-24. It's market cap ranging at $3.23B, volume in 24 hours stands at $281.75M, it's all time high by this I'm talking about January 15th, 2018, it stood at $198.38-76.88.
CONCLUSION
From my homework task I was able to pinpoint that Bitcoin halving has to do with the pace of Bitcoin experiencing a kind of bisection this occurs in every 210,000 blocks been mined, Bitcoin halving usually takes center stage every four years this sense behind this is to mine 21 BTC. I also highlighted that Bitcoin was halved three times, the first one took center stage in 2012, 2016, and lastly 2020, the next one is expected to happen in 2024.

I also stated that consensus mechanism is a system that allows various networks of computers to work Effectively courtesy the development of database and nodes and still remain secured, consensus mechanism helps in solving many security problems, consensus mechanism is constituted in a blockchain and works with Cryptocurrencies. Bitcoin makes use of consensus mechanism which is practically then refered to as proof of work (PoS).

Thank you very much professor @Imagen I really appreciate, you really Explained very well and I have learnt alot, thank you once again.