[REPOST] ENJ/USDT Sell | S6t4 - Homework post for pelon53.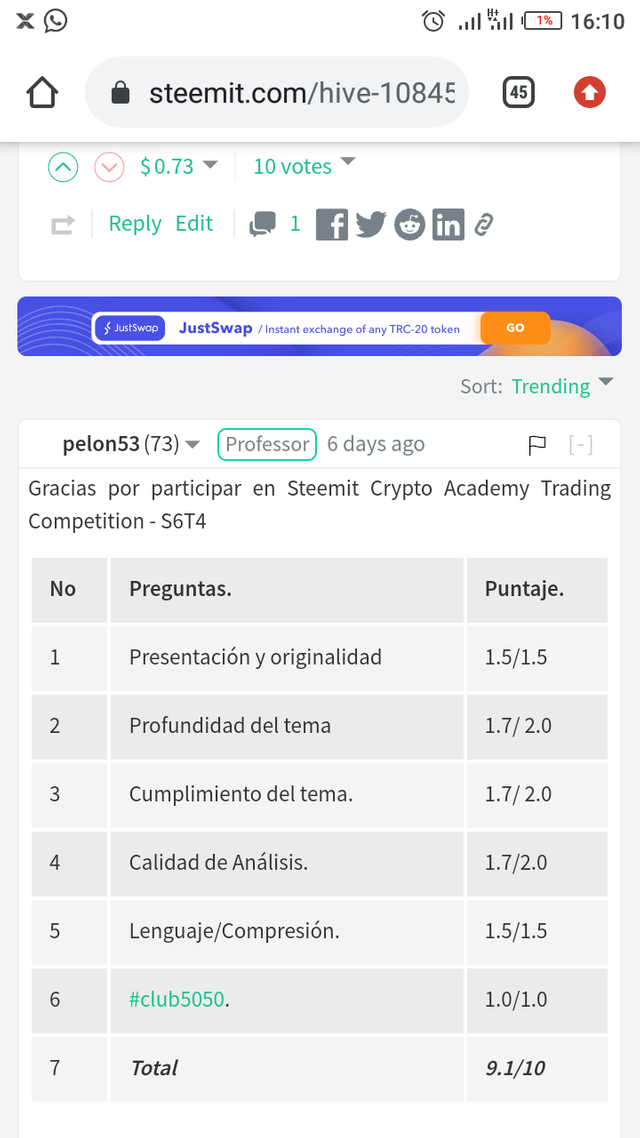 ---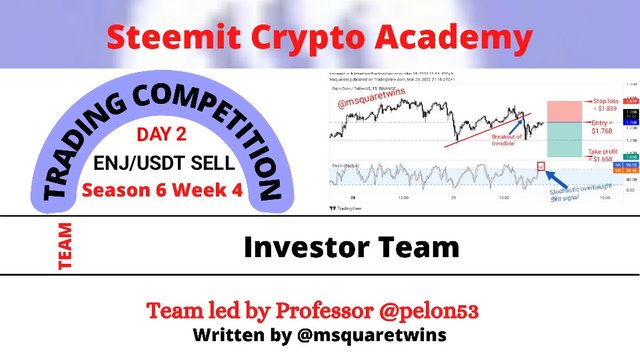 Image created on Canva App
---

Introduction

Hello crypto Lovers!
It is a great day again at the crypto academy. Today is the second day of 4th week of trading contest for season 6. The trading contest has been wonderful. My name is Kehinde Micheal and my username is @msquaretwins here on this great platform. Like I said in day 1 for this week, the team I am submitting my homework post for is Investors team* which is led by professor @pelon53. In this second day, I will be talking about an interesting project called ENJ. Happy reading!
---

Historical Background of ENJ Project

ENJ which has a full name Enjin is a Singapored-based cryptocurrency. The enjin network was launched in 2009. It is a popular community that support gaming and App development. The platform allows people to build App, forums, website for games. The enjin project was created on the ethereum blockchain.
It was founded by Maxim Blagov and Witek Radomski. The innovative idea of creating the enjin project was proposed by Radomski following his interest in Bitcoin. Ultimately, he convinced the company to take enjin as the payment platform. Then after his understanding of Ethereum smart contract he decided to create his own platform which will be integrated to ethereum blockchain.
The Enjin company moved to blockchain platform officially in 2017. Then they did presale through Initial Coin Offering (ICO), from which they were able to raised about 19 million dollars. Built on Entereum blockchain, the platform allows the tokenization of game items on Ethereum blockchain.
---

What is ENJ Token

The ENJ token is a native token of ENJ blockchain. The token is used to back the value of blockchain asset. ENJ coin is an ERC-20 Token which is used for backing up digital assets on enjin platform. An this means that trading can be done on the platform with real value of the world.
The token is used to build community, websites, forum and app for gamers. Some of the present platforms on enjin are games such as 9Lives Arena, world of Warcraft Minecraft, Rust, Guild Wars etc. The enjin coin makes use of different smart contract which allows game developers to mint non fungible token for the running of their gaming platform.
The scarcity of the ENJ token depends on the numbers of token minted on the platform. As developers keep minting token, more ENJ token are been removed and this makes ENJ to scarce.
The ENJ token is use for the creation of new token which can represent virtual currency, and items. Another benefit of the token is that it can be taken to any game platform while retaining it value.
The total supply of the token is 1,000,000,000 ENJ. The more ENJ token will be locked as the enjin platform keep growing, and the circulating number of ENJ will reduce overtime. The current Market capitalization of ENJ is $1,534,659,256 as indicated by a red box in the screenshot below, and the current circulating supply is 873,199,705.57 ENJ. The trading volume is $214,281,018.

source
---

Exchanges where ENJ can be Traded

The ENJ can be traded on many exchanges. Some of the exchanges where it can be traded are;
Binance
Gate.io
Bithumb
Kraken
Huobi Globak
Phemex
OKX
Bancor netwok
Bittrex
Crypto.com exchange
upbit
Bittrue
BTCEX
AAX
---

Technical Analysis of ENJ/USDT

The chart of ENJ/USDT on a daily timeframe is uploaded below. As we can see in the screenshot uploaded below, this asset has been on a bearish trend for some time recording a series of lower highs and lower lows. Then we see the last high created with a very neat order block. Then, price reversed back and approach this order block. This place is my area of interest in market. There is a great probability that price reverses back to continue its downward movement from this place.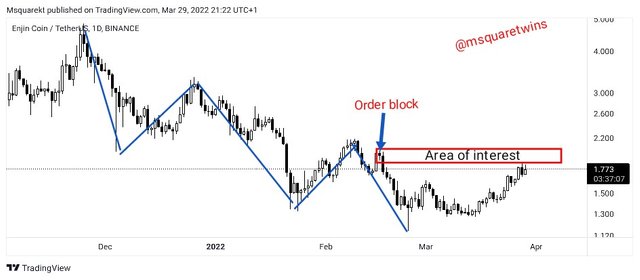 tradingview.com
---
Then I changed the chart to 4 hour timeframe as seen in the screenshot below, and interestingly, at the area of interest, we see an engulfing candle as indicated in the screenshot below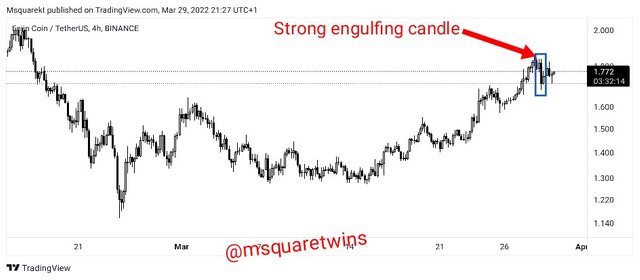 tradingview.com
---
Then I switched the chart to a 1 hour timeframe as we have it uploaded below. On this timeframe, we see that price was initially making a series of higher highs and higher lows. Then at a point, price could not create a high higher than the previous high and then there was a break of structure to the downside as indicated in the screenshot.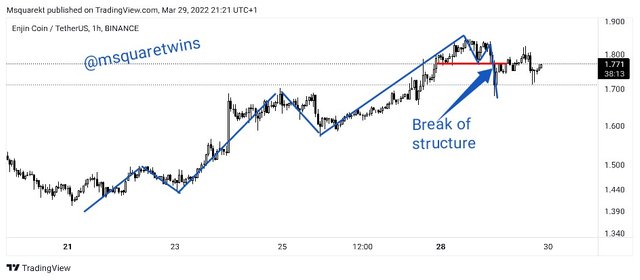 tradingview.com
---
On 30 minutes timeframe, we have a very clear break of structure. Then after a break of structure, price retested the zone.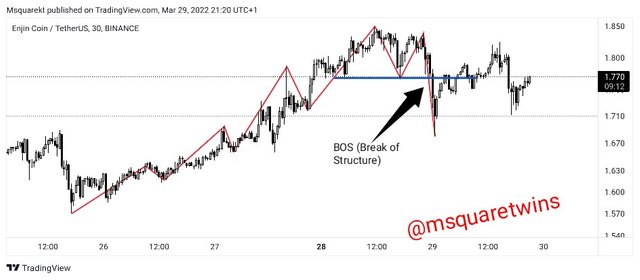 tradingview.com
---
Then on 15 minutes timeframe, we see a break of immediate trendline to the downside and this also confirm the sell signal from the previous timeframe. More so, after the break, price retest the zone and interestingly, the stochastic lines also crossed each other at the overbought region which also confirm the sell signal. With this, I opened a sell order with,
- Entry = $1.768
- Stop loss = $1.839
- Take profit = $1.658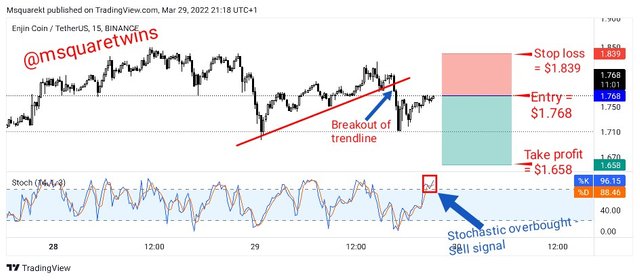 tradingview.com
---
Then I took the real sell order on Binance future trading platform. I set take profit order and stop loss order at a current market price and I hit the sell button as shown in the screenshot below.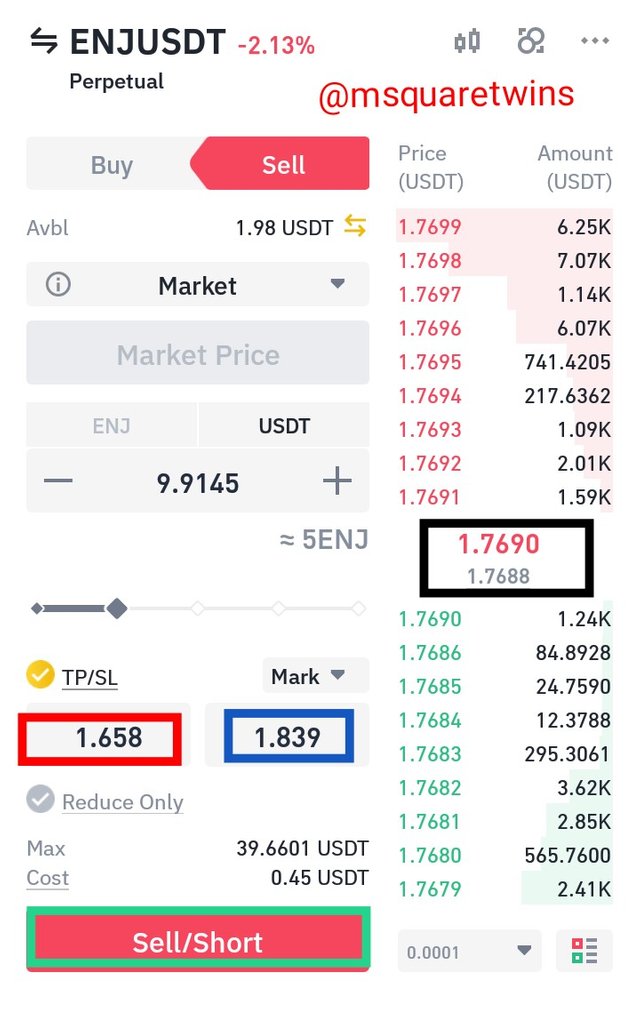 Screenshot from Binance Platform
---
The I confirm the sell order by clicking the "confirm button" as seen in the picture uploaded below.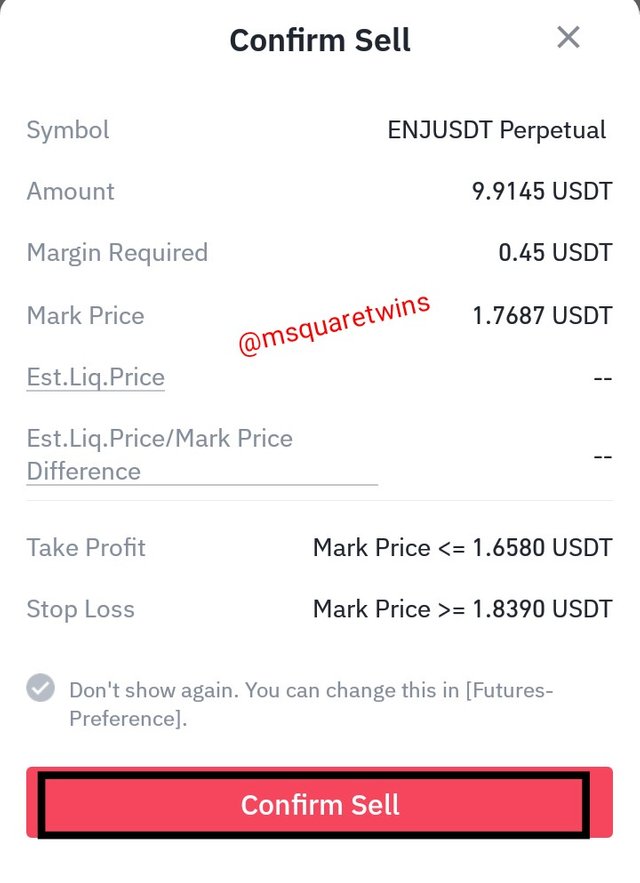 Screenshot from Binance Platform
---
The picture uploaded below shows the running order of ENJ/USDT on Binance platform.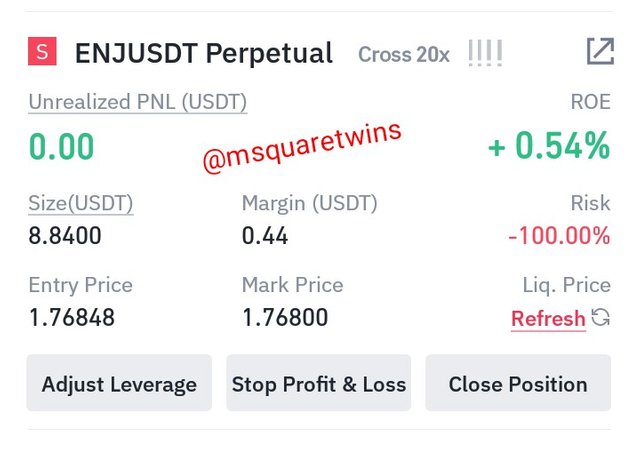 Screenshot from Binance Platform
---

Why are you bullish on this token today?

I am bearish on this token, for today. Following my analysis, I believe ENJ token will experience a bearish move from the daily order block identified earlier. And I am of the opinion that price will make a new low.
---

What is your plan? Do you want to keep it for a long time? Or when to sell it

Well, for now, my plan is to take a sell order from the area of interest which I mentioned above and to keep selling it until it reach a significant low point. Now, when price gets to a support level and there is a nice reaction to an upside direction I may consider buying the asset.
---

Do you recommend that everyone buy it? The reasons for recommending or not recommending it.

Well, I will recommend long term traders to buy the token and keep it. This is because the price of ENJ token will keep increase as more and more value is locked to the game digital asset. This will cause scarcity of the token and hence increase in price. Now if traders buy it at a very cheap price now, it will be of benefit later. However, short term traders may not consider buying the asset now based on the area price is.
---

Conclusion

Enjin project is a great project in the crypto space which allows the tokenization of games on Ethereum blockchain. It also allows game developers to mint non fungible token on the enjin platform. In this post, I have discussed the historical background of the enjin coin, it founders and the use cases of the token. I also listed some exchanges where the token can be traded.
Also I performed the technical analysis of the token with multiple time frame analysis of the token. The real sell order was also taken on Binance platform. And finally I said my opinion on whether to sell or to buy the token. Special thanks to professor @pelon53 and the entire member of Investors Team.
Cc : @pelon53