Steemit Crypto Academy Contest Season9 Week2 [SUMMARY] - "All About The Tron Ecosystem"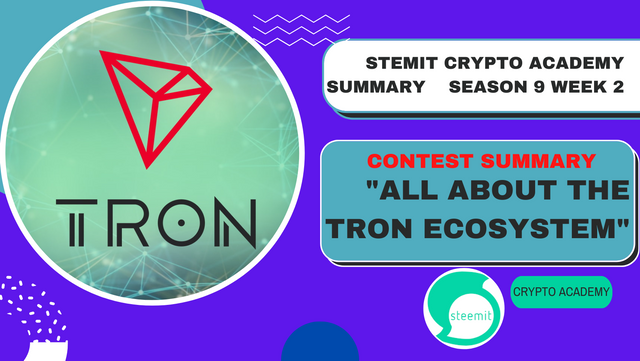 image edited on Canva

Introduction
Greetings to everyone. We hope everyone enjoyed participating in the Week2 season9 of our contest which was base on the Tron Ecosystem. we will be giving our summary of how things went during the contest window and in this summary, we will be discussing about the valid, invalid entries, plagiarism cases, general performance of participants and top3 winners of the contest
For last week, the contest was centered on
"All About The Tron Ecosystem"
. In this theme, users where ask to answer the following questions
Explain what you understand by TronLink and Tronscan and their uses

Name and explain some of the different dApps that you explore using the TronLink wallet

How do you verify a transaction status using Tronscan. E.g, it should include the timestamp, bandwidth & energy. Screenshots also needed

Explain the process of initiating a transaction using TronLink wallet. Screenshots and practical examples needed
We are delighted to receive wanderful entries to this contest theme as most users demonstrated and showed us their knowledge on it. So far, we have registered a good number of entries during this week and we are glad that most of the entries were great because most of the users brought fourth great articles In regards to this subject area by attending to all the questions correctly. Without further ado, let's dive directly to the general stats and top3 winners.

General Statistics
For the just-concluded week-2 contest, we received a total of 25 entries within the contest's validity period. We recorded 2 invalid entries to this contest. 1 article was found to be plagiarized and GPT-2 Generated during the contest window. We will continue working hard to completely eradicate plagiarism in the Crypto Academy. Henceforth, we hope to continue seeing pure and genuine content creators at this academy and steemit out larg. Let's take a look at the table below.


| Total Entries | Invalid Entries | Plagiarized Content |
| --- | --- | --- |
| 25 | 02 | 01 |
Performance Distribution
Just like I earlier Said, most entries to this contest were top notch and 6 entries got a score of 9 and above, 10 entries scored between 8 to 8.9, 2 entries got the score between 7 to 7.9, then 3 entries got average score of 5 to 6.9. We notice just entry failed in the contest and was having a score of 3/10 which is below average
From the metric above, We would like to encourage users who didn't score too high or who scored below average to improve on their entries and presentation subsequently.

Week3 Top 3 Users
We have come out with our selection of the top 3 users in the last week's contest on understanding the Steem Blockchain. The selection process is not only considered base on scores alone but it's considered base on both scores and general engagement with other participants in the contest.
There are some articles that scored high but didn't engaged with other entries and as such, they were left out of the selection. It should be noted that this is an engagement challenge and we hope users can engage to the best of their ability.
Many many congratulations to all the winners of this contest

We hereby appreciate all of you who took part in this contest, your efforts were great and we encourage all those who didn't perform well to try their best subsequently. We also urge y'all to take engagement very serious in other to have a chance of winning. A new contest is running already and we look forward to your participation.

Have a blessed week y'all