Steemit Crypto Academy - Summary and Feedback by @chilaw
Hello great friends in the Steemit community, it is my pleasure to participate in this feedback summary which I feel is a great way to develop and grow this noble platform for the purpose to garner more decentralization. I may say I have followed and participated in most lessons delivered in the various seasons as found in the SteemitCryptoAcademy (SCA) and the most current is Season 5 which just ended. All these seasons came with relatively more updated rules of engagement which were all targeted to make participation better.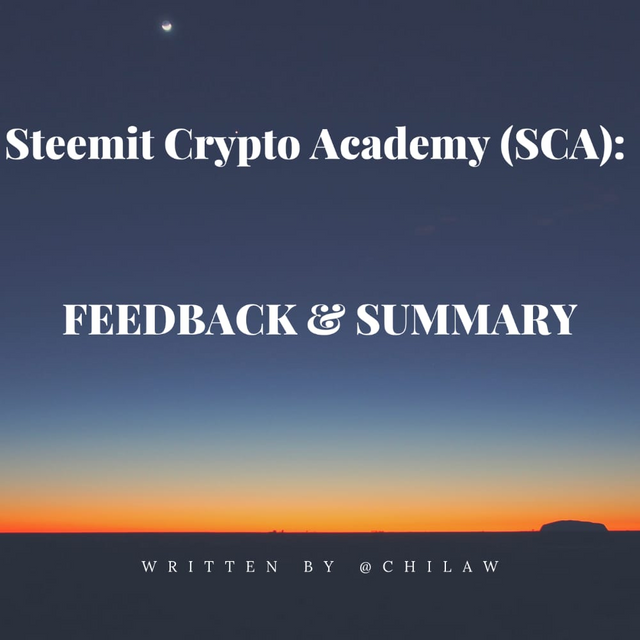 ---
What Worked Well so Far
---
Before I mention all other things that worked in the SCA, I have to first mention the change in a scenario that occurred as soon as it was introduced. Before the emergence of the SCA, the quality of posts observed in the community was majorly seen as "My Dairy reports" or "My Town in Ten Pics" which doesn't really represent the kind of post that should dominate the community. Hence, the emergence of the SCA change the scenario and brought quality, purposeful, and knowledge to the platform. Thanks for this singular and ongoing concept that has brought direction in the community.
All through my participation in the different seasons where there were no level barriers on how much a participant can engage the different lessons presented by the professors without having to consider reputation status to where reputation and steem power were both necessary, student engagement during the pre reputation/Steem Power requirement came with the freedom of participation. Students found it a lot easier to choose across the now-level barriers on what to engage with. Rewards were also distributed in equal proportion despite reputation or steem power capacity.
Students were well rewarded vis-a-vis the current season rewards which are relatively lower and as well affected by the effective low value of steem relative to voting power. The zeal envisaged from the quality of lessons from professors was also on the high which may be given to the quality of rewards therein at their post. I think professors were also well rewarded as observed from the season-1 start-up than what we have at present. Without doubts, this would affect the zeal and quality of input given to lessons delivered.
Though this brought some form of gagging, it was also able to streamline participants based on capacity levels as well as remove account spamming which was becoming rampant then. More interestingly, user participation was a lot more coordinated vis-a-vis what was observed during the season-1 era.
---
What did not Work Well
---
There should be a better start-up process for the beginners level. I think the high Steem Power requirement needed before their commencement as well as the monthly 150SP requirement is a disadvantage to this set of participants (Beginners) who barely have the needed resources. The Reputation and initial 150SP requirement may be enough for the standards to regulate the Beginners level but having another monthly Power-up may be limiting and discouraging as most of these people may not meet up.
Also in this category is the reward distribution given to our prestigious and well-honored professors. Rewards are given to this set of individuals who give us lessons on crypto-based courses that have dropped vis-a-vis what it used to be when the SCA was borne.
Abuse in the fight against plagiarism or what we may see as overzealousness from the professors who want to be outstanding in the course of the SCA. Minor issues from participants which may be observed as omission, wrong use of licensed images are flagged and blacklisted from the SCA. I think, the issue of plagiarism should be well defined that is relative to the weight of involvement therein. In all of this, Plagiarism should be frowned at but lightweight issues should not be blacklisted.
There is an observed inconsistency of rules pertaining to the application of Club5050 and Power-down cases. What is applied to user A may not be firmly applicable to User B. This has to be streamlined to avoid bias in the application of processes in the community.
---
How you would improve the Academy? What changes would you make for future seasons of the Academy?
---
Relaxing some of the rules in the community would go a long way to encourage new entry participation from the Beginners Level. This would come in the form of reducing the amount of Steem Power requirement for Beginners Level participation from 150Sp to 100Sp for its monthly Steem Power up to Cashout ratio considering the Low resources available to this category of participants who work very hard to gain 150SP status.
Reduce or stop professor participation in lessons presented by other professors so as to stop favoritism while verifying their contribution to the lesson. We don't need to wait until it becomes obvious and hence making the integrity of the platform less of its value. If their participation won't be stopped, there should be an oversight on what happens in this regard. But a scenario where professors are well rewarded from lessons presented and as well from Summary of lessons reviewed should compensate for their further participation.
More resources should be deployed to curate participation therein as there are more cases of REPOST done in the community which most times also come with a reduced reward given to the account. As we anticipate more resources deployed to manage the active participation observed, there should also be an expansion on the number of courses to be delivered. Each level should come with a minimum of 3 courses delivered weekly with additions in the number of professors in use as well as resources available to handle this expansion.
There Should be a "Probation Route" for blacklisted users with infinitesimal cases of plagiarism in which they must show the consistency of abstinence in issues bothering on plagiarism before they can be reintegrated back to the community.
---
What did you think of the marking scheme for Academy posts? And the rewards available?
---
The grading system as observed today is very well considering the full implementation by the professors. Since the application of the Beginners, Intermediaries, and Advance levels, participants have greatly improved in their course performance and hence brought stability and above-average scores.
My worry is that the curation is done while using the marking scheme is inconsistent due to the Voting Power of the curation account. This is either affected by the prevailing value of steem in view or the Voting manna at point of use. In cases where the value of steem is observed on the low side, rewards distributed are below expectation and effort put in to achieve the stated score.
---
You can also tell us what you enjoyed most, and what you learned from the Academy.
---
I would say this academy was created in line with the concept of my expectation. Right from its creation, I have enjoyed waiting for the unknown lessons to be dropped by the professors. And this kept me expectant of what the week would look like when I kept watching every Monday Morning when Steemitblog would release this long and awaited post.
This Academy has really kept me on my toes in learning when it comes to cryptocurrency-related knowledge. I came with a myopic view but would say I am a lot better at dealing with crypto-related activities. I can say I have learned so many trading techniques, application of technical indicators in chart analysis and so may in-depth analysis presented by the professors.
I can confidently navigate through Exchanges now which I thought would be difficult in handling and simple trading and investment activities executed with minimal risk and profits anticipated.
---
Has the Academy inspired you to continue learning more about crypto subjects? If so, how and where have you extended your crypto learning?
---
I have continued to make practical application of some of the learnings gotten from the Academy in the available exchanges and cryptocurrency sites available for my use. I found out that some of the coins that were presented are sometimes not available in some exchanges, this makes researches a little in-depth where exchange platforms are sorted out for, downloaded and coins purchased for investment.
Some of the platforms that have been helpful given to the learnings in the Academy include;
Binance Exchange / Academy
The Conmarketcap.com platform
Youtube/ Google Search
---
Has the Academy inspired you to start trading in crypto currencies? If so, which ones?
---
Definitely YES. The experience garnered so far in the cryptocurrency space was through the Academy. I can say it was indeed launched because of my sake. A big thank you to the organizers of the SCA community.
Some of the platforms I have successfully traded include the Binance Exchange, Kukoin, Huobi Exchange as well as TRON. Activities like Spot trading, Staking, Voting, and other crypto-related activities have been executed via the knowledge gained from the SCA. Coins traded included Steem, TRON, BTC, ETH, MOVR, SHIB, BNB, USDT, BUSD, etc.
---
Thank you to all who find time to go through my post.
Written: @chilaw
---