Steemit Crypto Academy Season 3 Week 3: Multiple Transfers/Batch Send at one click [@sapwood]
This is the Assignment for Crypto Academy Season 3 Week 3: Multiple Transfer/Batch send at one click provided by @sapwood. The lecture of full of knowledge and I enjoyed doing the assignment as each and every point was already explained by the professor.
(1) What do multiple transactions in a single click mean? How does it save transaction fees? What are the other benefits?
The multiple transaction feature allows us to send make transactions to many addresses at the same. Here we just need to add the addresses in the required format like on Multisend it was .csv file and on steamy there is boxes in which in you need to provide the value. Let's suppose there is a person who organized the Giveaway for 100 people then in this situation Organizer needs to waste a lot of time and energy to make transactions to each people one by one.
Multiple transactions on one click is very cost effect suppose if we have 100 giveaway winners and on each transaction, the cost is 0.005 ETH so if we are going to make transactions one by one then it will take 0.5 ETH as a fee where if we are using Mutlisend feature then it will be done in the cost of 1 transaction.
Benefits:-
It is very convenient for a person to make transactions to many addresses on one go.
It saves the huge transaction fee
It saves our time and energy.
(2) How do you connect your Etherum Wallet(Metamask) to Multisend or Multisender(dApps) & perform multiple transactions(ETH/ERC20) in one click? Using Steemyy how do you perform multiple transactions(STEEM or SBD) in one click? Explain the detailed steps in both the apps(One from Etherum & the other from Steem Blockchain)?(Screenshot needed, real transactions in Multisender or Multisend may not require, however, a real transaction in Steem Blockchain using Steemyy a must for this Task). Further, using Steemyy demonstrate how to send the different amounts to different users with different memo and how to send repetitive/recurring amount at the pre-defined interval?
Now, I am going to explain to you how you can connect MultiSender with the MetaMask and perform the transaction to multiple addresses.
Step:1
Go to the
https://multisender.app/
and click on Connect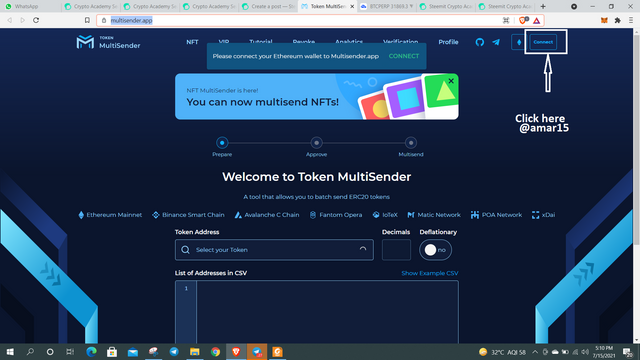 Step:2
After clicking on the Connect option you will get a popup to choose a plugin like Metamask or WalletConnect. In this case, I am using Metamask.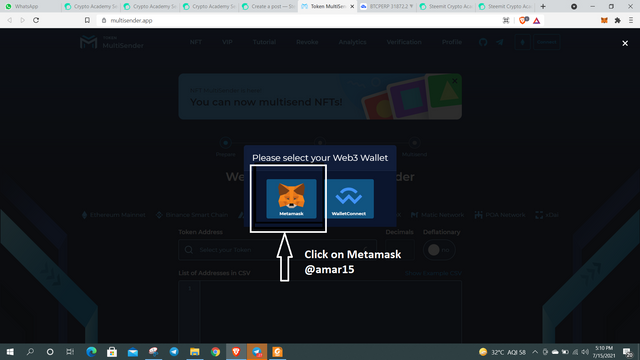 Step:3
Enter the password to connect the Metamask with the Dapp.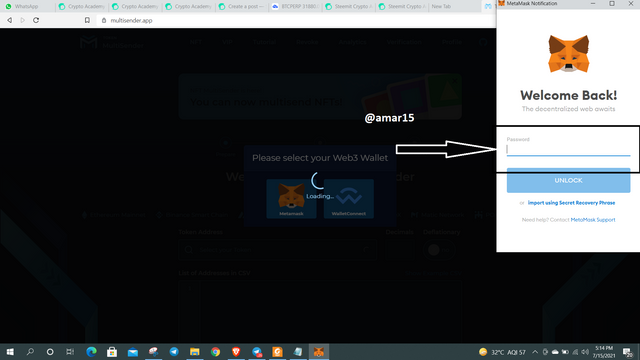 Step:4
Now the wallet is connected you can make the transaction now. First, you need to select the Asset that you want to send after that we have two ways to enter the address-
we can enter the address manually by separating the address and amount with a comma. eg- 0x002F388DDe19416bda0f9aCeac26386b3f9Fe6B6, 0.1

We can also upload CSV (Comma Separated value) this is nothing but it contains the address and the amount details of many users.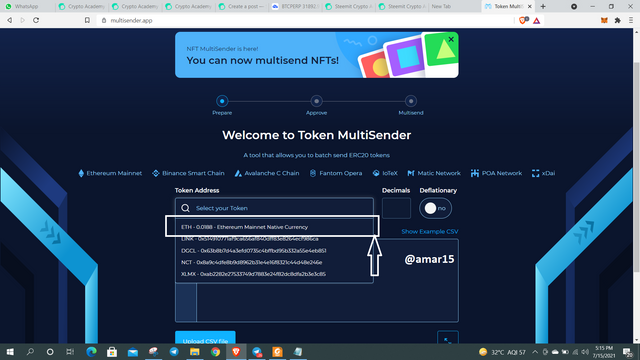 Here is an example of how we can enter the Address and Amount manually in the Box.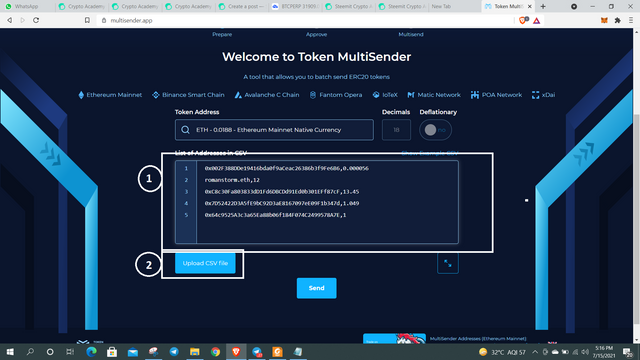 Step:5
Once you enter the address and amount now you can click on Send option to proceed with the transaction after that it will ask for approval and you can approve it from metamask. Here I can't approve the transaction because I do not have enough ETH in my wallet.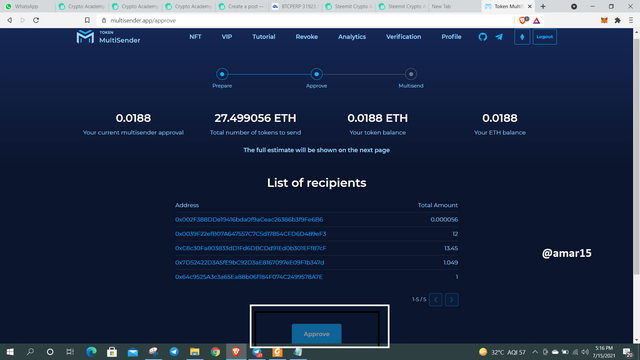 ---
---
Now, I am going to explain to you how you can perform multiple transactions using Steamy which is an amazing Dapp build on the top of Steem blockchain to facilitate Organizers to distribute the rewards in one go.
Step:1
Go to
https://steemyy.com/
and click on Tools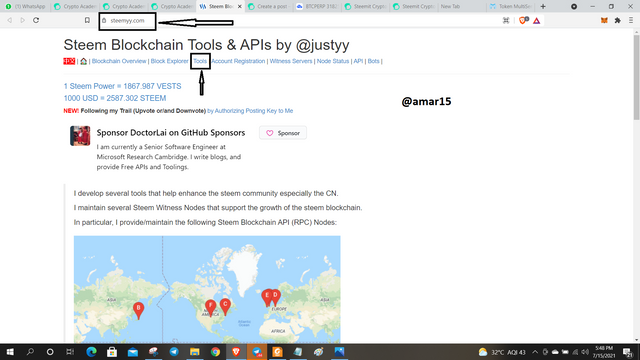 Step:2
Ones you reach on the tools page, please click on
Steem Wallet Tool - Send SBD or STEEM to Multiple Accounts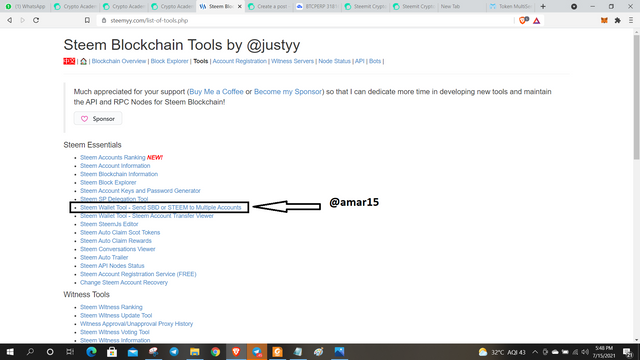 Step:3
You need several details on this page like- Sender Id (Steem username), Private Active Key of the Sender, Amount, Token (STEEM/SBD), Interval (How many times you want to make this transaction), Memo, Recipient username, etc.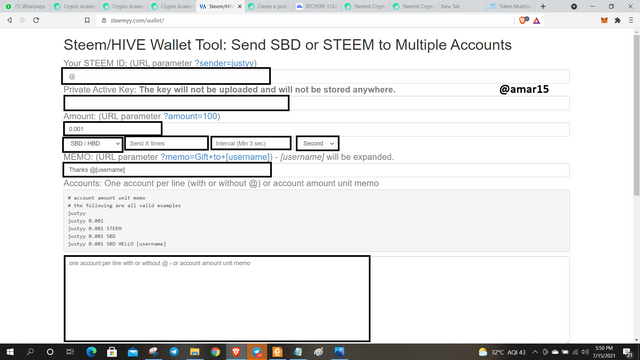 Step:4
Let's fill the data
Transfer the Same amount to different Users
Sender Id (Steem username): @amar15
Private Active Key of the Sender: *********************************
Amount: 0.001
Token (STEEM/SBD): STEEM
Send X times: 1
Interval: 3
Memo: Congratulations! You won the Giveaway
Recipient username in the Box:
sapwood
sumit71428
drqamu
mystry360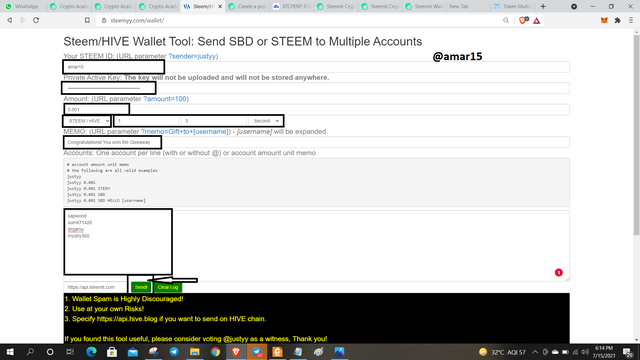 We can enter one username in each line after that we are ready to proceed with the transaction.
Click on Send option.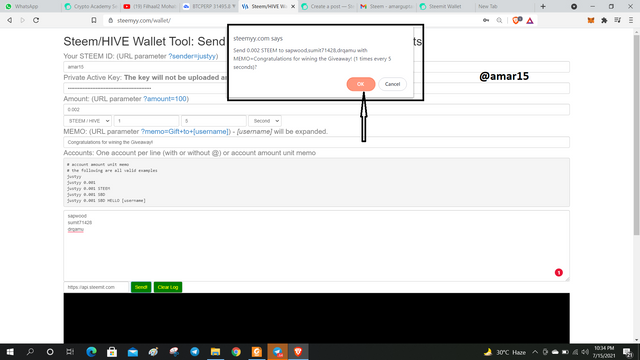 Transfer the Different amount to different Users
Here we need to make some changes like the Asset and Amount we need to enter in the box. This is the format that we can use-
USERNAME AMOUNT ASSET(STEEM/SBD) MEMO
Eg-
Recipient username in the Box:
sapwood 0.001 STEEM Memo-1
sumit71428 0.002 STEEM Memo-2
kouba01 0.003 STEEM Test-3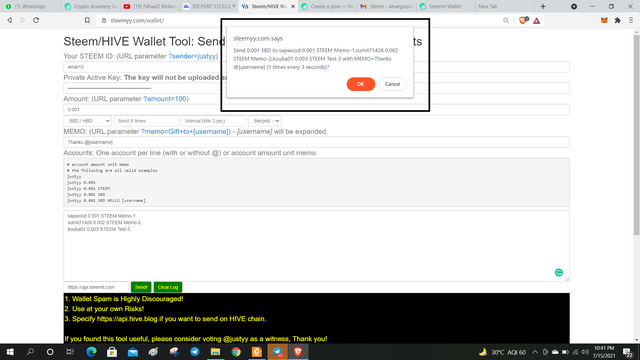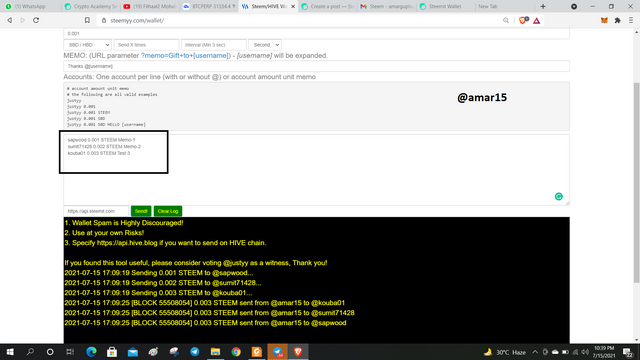 Rest all the data can remains the same and now we can proceed with the transaction.
3. What if we enter wrong data- Multisend or Steamy
Here in this picture you can see I forget to insert the "Comma" that separate the ETH address and Amount. Now it is giving an error of "Invalid Record Length: expect 1, got 2 on line 2
Line 1: Given address "0xC8c30Fa803833dD1Fd6DBCDd91Ed0b301EFf87cF 13.45" is not a valid Ethereum address."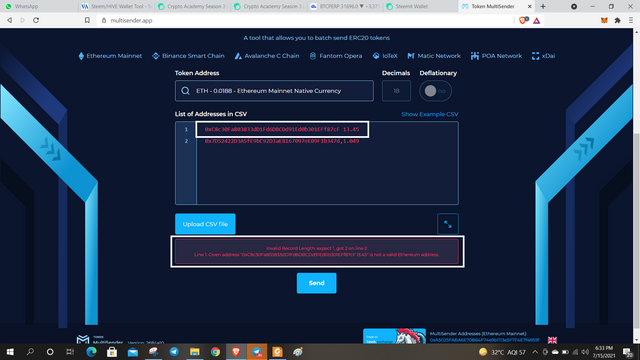 This time I am entering the wrong or incomplete address and let's see what error we got. It says not a valid address which is correct.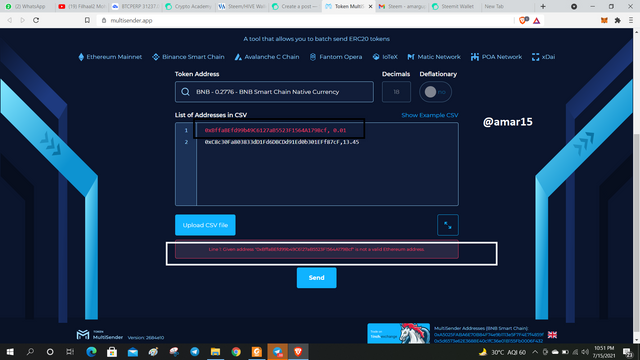 Let's insert the wrong data in Steamy. I have placed a Hyphen between the Asset and Memo which is invalid.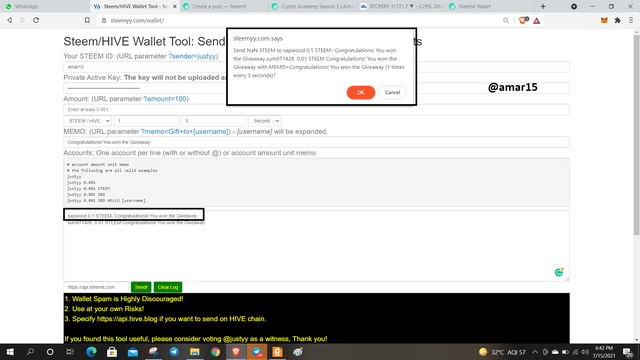 Here I have entered insufficient data and no Private Key.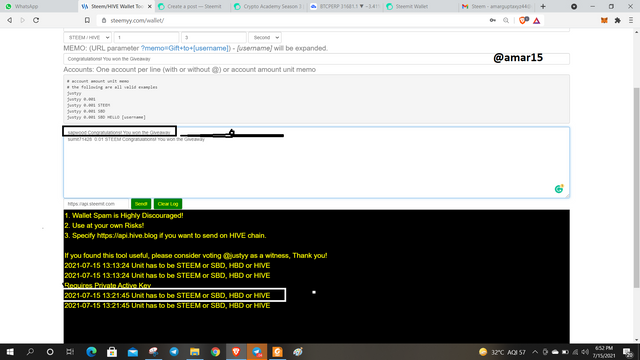 Last Note
This is really a great learning experience for me and I love such initiative. It makes learning fun and enjoyable. I would like to thanks to
@sapwood
for bringing this task which is full of so much information.
If you have any query then feel free to discuss with me in comment.
---
Don't get Stressed, Stay Blessed.
---