When is Blooming of the Cherry Blossoms/桜の開花はいつ? - Learning English & Japanese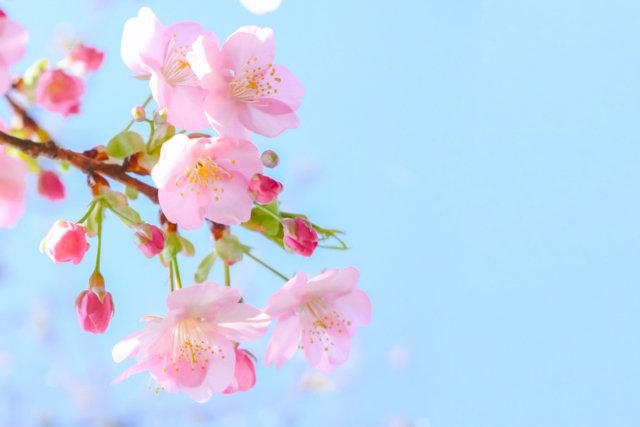 Today's topic of learning English and Japanese is the cherry blossoms. 今日のトピックは、桜です。
今年の桜の開花時期は、全国的に例年よりやや早い傾向になるようです。東京では、すでに開花しているところもあります。東北、北海道では4月から5月にかけて開花する予想となっています。西日本では、3月末頃開花する予想です。九州で開花時期が遅れている理由の一つは、暖冬によるだそうです。冬の厳しい寒さによって、つぼみの成長が促進され開花することが知られています。桜の開花に、冬の寒さも関係しているとは面白いですね。
The season when the cherry blossoms bloom this year will tend to be a little bit earlier than usual season throughout the country. In Tokyo, there are some places that the cherry blossoms are already blooming. In Tohoku and Hokkaido, it's predicted that they will blossom from April to May. In western Japan, it will blossom in the end of March. In Kyushu, it's late compared to usual season and one of the reason seems warm winter. It's reported that the severity of the winter promotes growth of the buds and blossoming of the cherry blossoms. It's interesting that blooming of cherry blossoms relates to the severity of the winter, isn't it?
語彙(goi) / Vocabulary
全国的に(zenkokuteki ni):throughout the country
暖冬(dantou):warm winter
冬の厳しい寒さ(huyu no kibi sii samu sa):the severity of the winter



ひらがな(hiragana)
ことし の さくら の かいか じき は 、 ぜんこくてき に れいねん より やや はや い けいこう に なる よう です 。 とうきょう で は 、 すでに かいか し て いる ところ も あり ます 。 とうほく 、 ほっかいどう で は 4 がつ から 5 がつ に かけ て かいか する よそう と なっ て い ます 。 にしにっぽん で は 、 3 がつ まつ ごろ かいか する よそう です 。 きゅうしゅう で かいか じき が おそ れ て いる りゆう の ひと つ は 、 だんとう に よる だ そう です 。 ふゆ の きび しい さむ さ に よっ て 、 つぼみ の せいちょう が そくしん さ れ かいか する こと が し ら れ て い ます 。 さくら の かいか に 、 ふゆ の さむ さ も かんけい し て いる と は おもしろ い です ね 。
ローマ字(romaji) / Roman character
kotosi no sakura no kaika ziki ha 、 zenkokuteki ni reinen yori yaya haya i keikou ni naru you desu 。 toukyou de ha 、 sudeni kaika si te iru tokoro mo ari masu 。 touhoku 、 hokkaidou de ha 4 gatu kara 5 gatu ni kake te kaika suru yosou to naxtu te i masu 。 nisinippon de ha 、 3 gatu matu goro kaika suru yosou desu 。 kyuusyuu de kaika ziki ga oso re te iru riyuu no hito tu ha 、 dantou ni yoru da sou desu 。 huyu no kibi sii samu sa ni yoxtu te 、 tubomi no seityou ga sokusin sa re kaika suru koto ga si ra re te i masu 。 sakura no kaika ni 、 huyu no samu sa mo kankei si te iru to ha omosiro i desu ne 。
日本語、英語で、文章がおかしいところはビシバシと指摘してくださいね。一緒に、楽しく英語や日本語を学んでいきましょう。
Please let me know, if you find any mistakes in my sentences in Japanese or English. Let's study English and Japanese with lots of fun together.