My watercolor "Jerusalem"我的水彩畫:耶路撒冷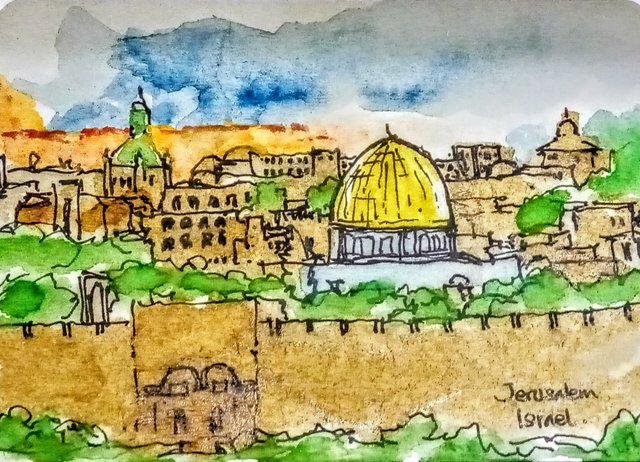 I visited Jerusalem many times. It is a beautiful city. For the culture there is very different from those I am more familiar with. It is the Middle East! The in-between Western and the East. There are a lot of historical monuments, But I do have some reservation where they are truly historic, or recently made just to stand as a reminder to the history of the events in the long-gone past.
The old city wall is definitely historic. Built in the 16th century, almost 500 years old till now.
我多次去到耶路撒冷。这是一个美丽的城市。就文化而言,与我所熟悉的截然不同。这是中东!置身于西方和东方之间。有着很多历史古迹,但是我确实有所保留,一些是真正的历史遗迹,有些看来像者是为了提醒人们过去的悠久历史,是近代的作品。
老城墙肯定是历史悠久的。建于16世纪,至今已有近500年的历史。
面对着城墙,很有感触的,"念天地之悠悠,独怆然而涕下。"