#Club5050 || Powering Up 50% of My Earning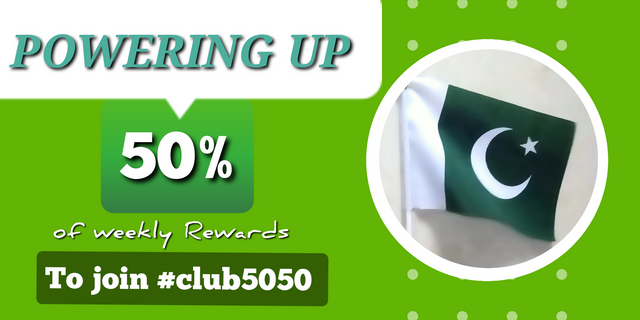 Assallam o Alaikum !
This is your brother Rashid001. Today I am here again with a power-up post in which I am going to powerup half of my weekly earnings in my Steem Power and I am a bit happy that with this power up I have gone a little further than 8000 SP. Last week I also powered up my half of my income. You can see my previous power up details in the link below.
یہ آپ کا بھائی راشد 001 ہے۔ آج میں یہاں ایک بار پھرپاور اپ پوسٹ کے ساتھ ہوں جس میں میں اپنی اسٹیم پاور میں اپنی ہفتہ وار کمائی کا آدھا حصہ بڑھانے جا رہا ہوں اور میں خوش ہوں کہ اس طاقت سے میں نے 8000 سپی سے تھوڑا اور آگے بڑھا ہوں۔ پچھلے ہفتے میں نے اپنی کل آمدنی کا نصف بھی پورا کیا۔ آپ میری گذشتہ پاور آپ کی تفصیلات [اس ذیل میں دیے گئے لنک میں دیکھ سکتے ہیں
The main reason behind My Power Today is to join a new initiative #club5050 initiated by steemcurator01 and my first priority is to make every effort to power up half of my earnings every week. It depends on my income and if it increases I can do 100%.
.
مائی پاور ٹوڈے کے پیچھے بنیادی وجہ steemcurator01 کی طرف سے شروع کی گئی ایک نئی پہل #کلب 5050 میں شمولیت کا اظہار ہے اور میری اولین ترجیح ہر ہفتے اپنی کمائی کا نصف حصہ مسلسل بڑھا نے کی ہر ممکن کوشش کرنا ہے . یہ منحصر ہے میری آمدنی پر اور اگر یہ بڑھے گی تو میں %100 بھی کرسکتا ہوں
I had previous 37 Steem of Delegation reward and 11 SBD of my this week's earnings which I converted to Steem from the Steemit Currency Market at the current rate, I got 160 steem. After which I was able to collect a total of 197 steem, so half of it became about 98.5 steem. But since I currently have 213 stems in my wallet, I am powering 107 steem, which is about 60% of my total income of last week.
میرے پاس پچھلے 37 اسٹیم آف ڈیلیگیشن انعام اور اپنی اس ہفتے کی کمائی کا 11.9 SBD تھا جسے میں نے اسٹیمٹ کرنسی مارکیٹ سے موجودہ ریٹ پر سٹیم میں تبدیل کیا ، مجھے160 سٹیم ملا۔ جس کے بعد میں مجموعی طور پر 197 سٹیم اکٹھا
کرنے میں کامیاب ہوا تو اس کا نصف حصہ 98.5 سٹیم بن گیا۔
لیکن چونکہ اس وقت میرے والٹ میں 213 اسٹیم ہیں تو میں 107 ایٹم پاوراپ کررہا ہوں جو کہ کل آمدنی کا تقریباً 60 فیصد ہے

You can see the details of PowerUp from the screenshot given below
Before Power Up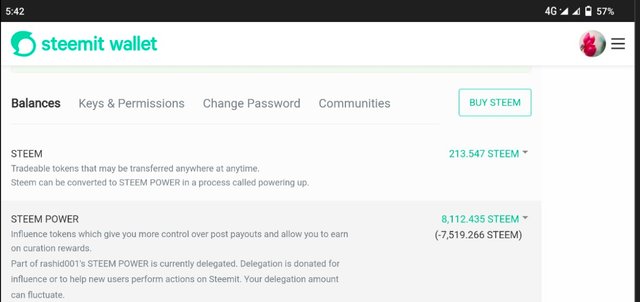 Power Up Amount

After Power Up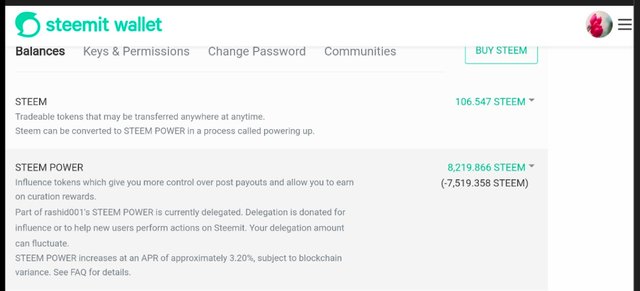 As you can see, before power up my Effective Steem Power was 8112 . And now that it's 8219, I'll try to do as much power up as I can to become a double 🐬🐬 ( 10000 SP ) by the end of this year.
جیسا کہ آپ دیکھ سکتے ہیں ، پاور اپ کرنے سے پہلے میری موثر سٹیم پاور 8112 تھی۔ اور اب جب یہ 8219 ہے ، میں اس سال کے آخر تک ڈبل 🐬🐬 (10000 SP) بننے کے لیے زیادہ سے زیادہ طاقت بنانے کی کوشش کروں گا۔
Benefits Of Power Up
We do powerups to strengthen the power of our account and to encourage users and to use our power to curate good content. And there are proofs of our love for sustainability of the steem ecosystem.

when we curate a post, we can earn good curation rewards for it.

We can delegate our power to increase the power of a favorite community.
Through this post, I would like to suggest all my friends to power up as much as possible. Because only when your account is powerful you will be able to support better to other users. And will become a good curator.
پاور اپ کے فوائد۔
ہم اپنے اکاؤنٹ کی طاقت کو مضبوط بنانے اور صارفین کی حوصلہ افزائی کرنے اور اچھے مواد کو درست کرنے کے لیے اپنی طاقت استعمال کرنے کے لیے پاور اپ کرتے ہیں۔ اور سٹیم ایکو سسٹم کی پائیداری کے لیے ہماری محبت کے ثبوت موجود ہیں۔
جب ہم کسی پوسٹ کو کیوریٹ کرتے ہیں تو ہم اس کے لیے اچھے کیورشن انعامات حاصل کر سکتے ہیں۔
ہم اپنی مدد ایک کمیونٹی کی طاقت کو بڑھانے کے لیے دے سکتے ہیں ۔
And finally, Thanks🌹 to The Steemit Team and the @steemitblog for making it possible for me to do all this.
Thanks and Stay Blessed
Yours @rashid001