𝕋ℍ𝔼 𝔻𝕀𝔸ℝ𝕐𝔾𝔸𝕄𝔼 𝔾𝔸𝕄𝔼 23 𝕊𝔼ℙ𝕋 2020: 𝔽𝕖𝕖𝕝 𝔾𝕠𝕠𝕕 𝕒𝕟𝕕 𝕊𝕡𝕣𝕖𝕒𝕕 𝔾𝕠𝕠𝕕𝕍𝕚𝕓𝕖𝕤
Keep hanging there and we'll all finish TheDiaryGame with flying colors.
Despite the arguments I've had with @anroja for deliberately ignoring our posts of Team Philippines, we will all stand up high and keep our hopes in Steemit because we have committed ourselves to do this activity. There have been a lot of challenges keeping up but despite that fact, we are still here and we will always be.
I have tried to contemplate and admit that we also have shortcomings. I may not agree with the admin's principles but of-course we NEED to show goodvibes and spread positive energy from ourselves & everybody else.
Morning of the 23 Sept 2020: I got out from work and went home to Laguna. My mom has prepared Aroz Valenciana for breakfast which is actually a dinner for me even though it is early in the morning because I work on a night shift.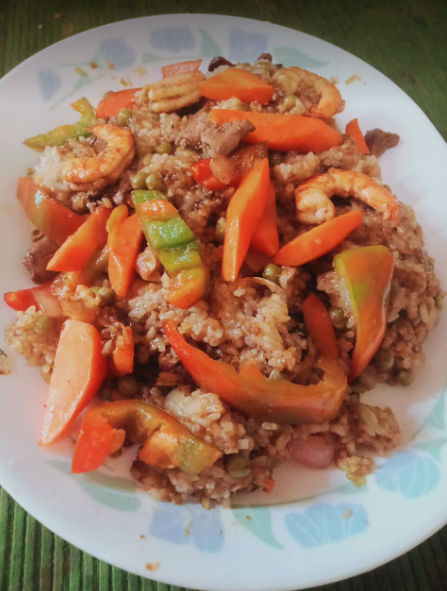 Aroz Valenciana
This dish is usually ever present in all occasions and fiestas here in the Philippines. Made up of glutenous rice with shrimp, green and red bell-peppers, carrots and chicken internal organs.
I went to sleep and had a 6-hour deep sleep because I got really tired from work because I started to take-in calls again, finally. For everybody's info, I work as a call center agent being a customer service representative in America's largest Telecommunications company - AT&T.
When I woke up late in the afternoon, I decided to go to my friend's condominium unit in Pasay to talk about the job offer that he was asking me to take in his own company. I brought some clothes and stuff with me because I have decided to just stay in my apartment in Makati City, 10 mins away on a grab ride going to my work unlike in Laguna it would take me two hours travel time.
We watched a movie, chat a little and finally decided to take a photo on his bed as a selfie.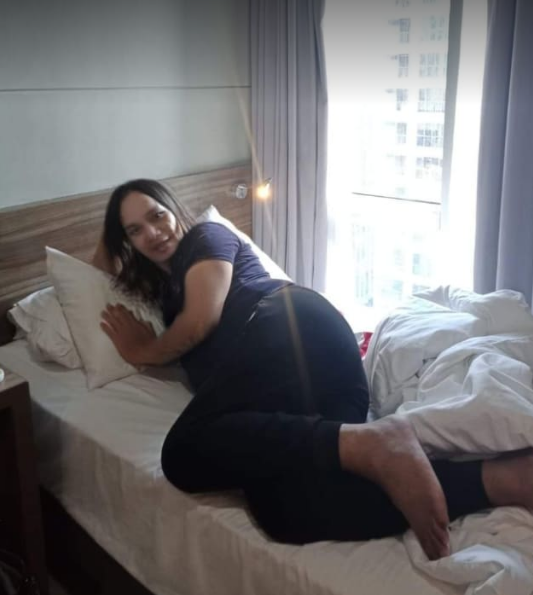 Me on his bed overlooking another condo-tower beside their building
Apologies coz I looked like a hag here probably from all the stress that is going on lately in my life. But yes, always keeping my hopes high because things are going to be better for me soon.
I told my friend that I am going to think about his offer and will let him know my decision. A salary package double my basic salary is quite tempting. I must really think about it before I decide. It will really take time. Despite the fact that my current job is the toughest account in the history of Business Process Outsourcing, I am totally happy with all the challenges I encounter on a day-to-day basis.
He made a snack for me. Truly the lifestyle of the rich and corporate leaders is something to look forward to.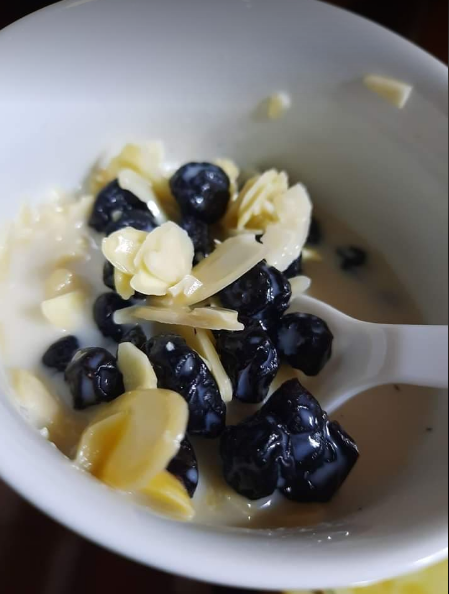 Blueberry with almonds and milk
After quite some time of talking, I fell asleep as my best buddy just went to his desk and just worked from there. He also cooked something for dinner for us to eat and before I go to my work. He prepared this: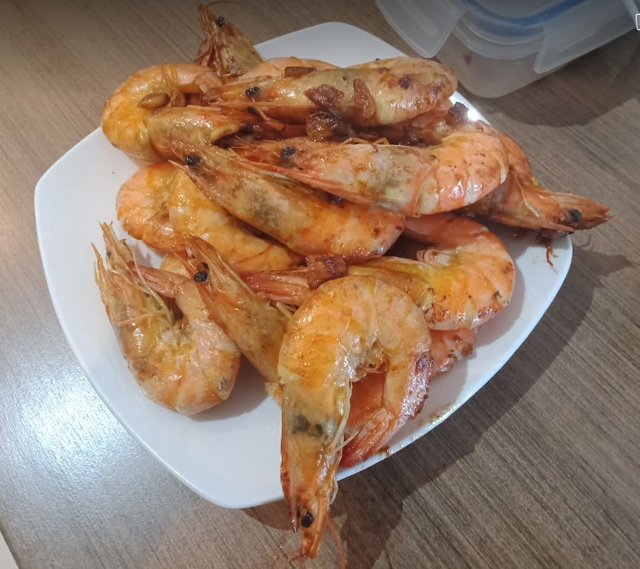 Buttered and garlic shrimp
So sweet of him to do this to his best buddy. Hahaha I guess that's what's friends are for. Then I went home around 8ppm to my place in Makati City and took a shower. Finally prepared myself to go to work. I had a chat with @cryptokannon and asked what's going on and why is it that my team are being ignored by @steemcurator08 and the admins of the Steem SEA. well, whatever it is that you have with us @anroja, we can't blame you. We will just go ahead and finish what we have started here. With or without your support.
Thank you for reaching this far with my not-so-interesting Diarly Log for my 23rd of Sept post and it is written today 24th of Sept 2020. With 671 words and 100% Power-Up Rewards.
---
Acknowledgement:
Thanks to @kneelyrac, @pingcess, @loloy2020 and @sauravpanthi99 another recruit of mine joining the challenge and accepting this as a commitment to the team and the program. Congratulations to @elitogold for being chosen to join another team in Japan.
Here is our Community Announcement for the TheDiaryGame Challenge:
Team Philippines
Thank you @steemcurator01 for acknowledging the team-philippines. We have called you:
"The One"
I would no longer tag curators here coz they are not really dropping by any of my posts. Anyway, I have served my commitment to the Steemit platform making it great again.