Updated WTA ranking: Svitolina 5th and what places are Russian and Ukrainian tennis players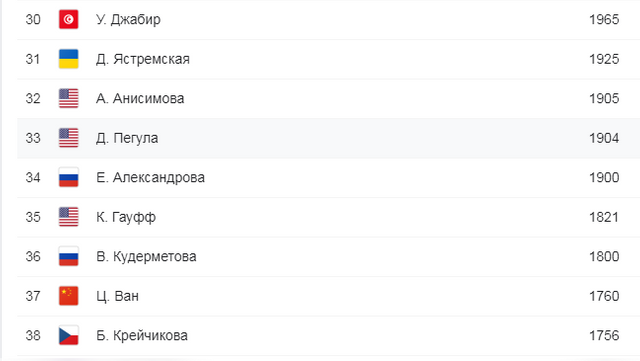 After the WTA1000 tournament in Dubai, there have been some changes in the ranking. The top ten remained unchanged.
A. Barty - 9186 points.
N. Osaka - 7835 points.
S. Halep - 7255 points.
S. Kenin - 5760 points.
E. Svitolina (Ukraine) - 5370 points.
K. Plishkova - 5205 points.
S. Williams - 4915 points.
A. Sobolenko - 4815 points.
B. Anreescu - 4735 points.
P. Kvitova - 4571 points.
Garbinier Mugurusa, after winning the WTA1000 tournament in Dubai, rose to 13th place. She was in 16th place. Now the Spaniard has 4235 points.
Where are Ukrainian tennis players located?
Dayana Yastremsyakaya from Odessa lost one place. It has moved up from 30th to 31st place. She now has 1925 points. Dayana remains the second racket of Ukraine.
Marta Kostyuk lost 2 positions. She was on the 81st line. Martha is currently ranked 83rd with 971 points.
Katerina Kozlova dropped from 112th to 115th place. Katarina Zavatskaya rose in the ranking from 128th to 125th place. Lesya Tsurenko was able to win back one position. She moved up from 142 to 141.
Where are the Russian tennis players?
The first racket of Russia Ekaterina Aleksandrova lost one position. She dropped from 33rd to 34th place, with 1900 points.
Veronika Kudermetova scored 1800 points. She dropped from 34th to 36th place. Svetlana Kuznetsova has 1735 points. She improved her position by 2 positions. From 41st, she rose to 39th place. Anastasia Pavlyuchenkova has 1630 points. She dropped from 43rd to 45th place. Daria Kasatkina has 1295 points. She dropped from 58th to 61st place. Anna Blinkova lost one position. With 1114 points, she moved from 70th to 71st. Anastasia Potapova has significantly improved her position. She scored 1061 points. This allowed her to rise from 88th to 74th place. Varvara Gracheva retained her position. With 858 points, she is ranked 94th.
Now Russian tennis players have a chance to improve their position. To do this, they need to perform well at the WTA500 home tournament in St. Petersburg.
Champion race
Elina Svitolina is in 17th place.
In 1st place is Naomi Osaka. Garbinje Mugurusa moved up to second place. She improved her position by three positions. Jennifer Brady is in third place. In 4th place - Eliza Mertens. In 5th place - Serena Williams. On the 6th place - Karolina Mukhova. On the 7th place - Arina Sobolenko. On the 8th line - Ashley Barty.
But the season is just beginning. Major tennis events are ahead. Let's hope that our athletes will be able to rise both in the championship race and in the WTA ranking. Now we are following the events on the courts of St. Petersburg. I will post a review of the first circle later.
---

---
Buying and selling STEEM at a favorable rate
---