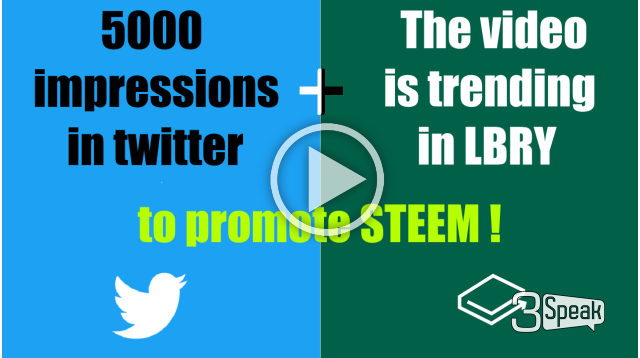 ---
Today is a steem celebration day for me, because I hit the maximum attention to promote steem !
I've got more than 5000 impressions in twitter the video is trending in LBRY to promote STEEM !
---

So, the video I promoted is about me interviewing @cryptofinally !
Here is the link to the video : Interviewing CryptoFinally - One of my best interviews ! . Please watch the video in LBRY if you didn't to make it even more trending for a while !
The good thing about LBRY is that you can support the video with LBRY that you have and get that back at any time. Please if you're in LBRY support the video for a while ! You have nothing to lose ! I used all my LBRY to support it and it's trending now ! But I would like to see it in the top !
Also to help me even more retweet the tweet : My most active tweet It's already with 47 likes and 11 retweets just after about 14 hours from posting it !
5000 impressions is also the number of potential people seeing the tweet and start learning about steem and I think that's huge in such short time !
I checked also my analytics in twitter and I see that I hit 88.4K impressions during the month what make the numer of potential people joining steem even higher !

Imagine if every single steemian will do that. For sure it will have better impact. Please join our movement to promote steem in twitter. We are forming there a solid community together ! You maybe even notise by @theycallmedan or @oracle-d or even @ocd and you may get really good upvotes from the community !
Let people in all around the world know the power of steem !
---
Steem may moon at any time ! We will get there ! You will see !
Enjoy watching my video !
---

You can follow me in all these social media and let me know in the comments, how can I find you to follow :
---
Facebook group , Twitter, Quora, Reddit, Youtube, Instagram, TikTok , Medium, lbry
I'm promoting steem in all of them. Let's connect there and promote it together !
I'm also the founder of @dcooperation , the community where we collaborate. You're welcome to join us in our discrod server.
Here is the community in beta.steemit, you can subscribe and post in it : https://beta.steemit.com/trending/hive-177976 . We are giving autoupvotes for that !
Check here what else I do to promote steem : The efforts I do to promote steem !
---
▶️ 3Speak