183. Today in 1920s Turkey: 3 January 1924 (Bad Weather Attributed to God's Wrath)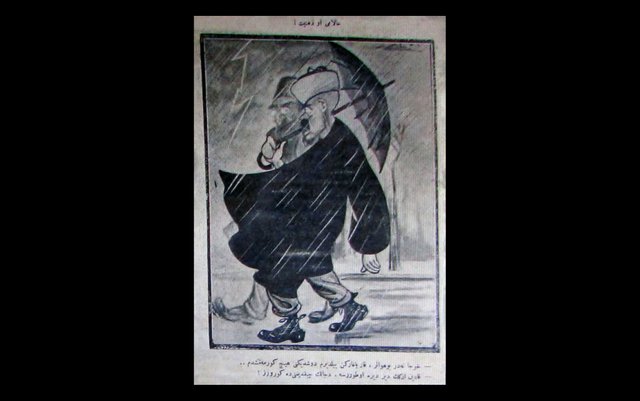 (Cartoon by Ratip Tahir, Zümrüdü Anka, 3 January 1924, no. 103, page 4.)
English:
Still that mentality!
— Hodja what is the deal with this weather, I've never seen lightning strike while it's snowing…
— We will even see the arrival of the false prophet if women and men sit knee-to-knee!
Türkçe:
Hala mı o zihniyet!
— Hoca nedir bu havalar, kar yağarken yıldırım düştüğünü hiç görmemiştim…
— Kadın erkek diz dize oturursa, deccalin çıktığını da görürüz!
Comments
In late December of 1923, the practice of segregating female passengers from males using a curtain (perde) on public transportation was suddenly abandoned in the grand, cosmopolitan city of Istanbul. This change mainly affected the trolleys on land and the ferryboats traversing the city's waterways. Newspapers like Akşam and Vakit reported on the change in late December and early January. At the same time, satirical journals such as Karagöz and Zümrüdü Anka featured cartoons and articles alike on both the necessity (and absurdity) of the matter, which was considered controversial among religious conservatives worried about protecting the honor and moral fabric of the city.
The present cartoon from Zümrüdü Anka illustrates one of the many examples of fear mongering that took place in the aftermath of the reform. It shows a man commenting on the unusual winter weather in Istanbul (not that different from the warm weather being experienced in Istanbul presently, in 2021). His companion, a hoca/hodja or Muslim preacher, offers his explanation for the phenomenon. Emphasizing his non-scientific approach, the cartoonist applies an oft-used explanation that connects strange natural phenomenon (i.e. snow and thunder) to God's will in a way that is compelling but ultimately, irrational: that bad weather is a sign of God's bad mood and that God's bad mood is a sign that humans on earth, somehow, messed up. Thus, the preacher finds the reason for the present bad weather in the recent removal of curtains from public transit, which allowed men and women to "sit knee-to-knee" and therefore anger their Creator enough to set into motion the End of Times (kıyamet) and Judgement Day, which will begin with the appearance of the false prophet (deccal).
Anyone expecting to see the hastening of the divine schedule of enacting Judgement Day in 1920s Turkey over co-ed transportation will have to keep waiting for humankind to misbehave badly enough to garner the attention of an omnipotent Creator eager to destroy his masterpiece at the drop of a hat… or curtain.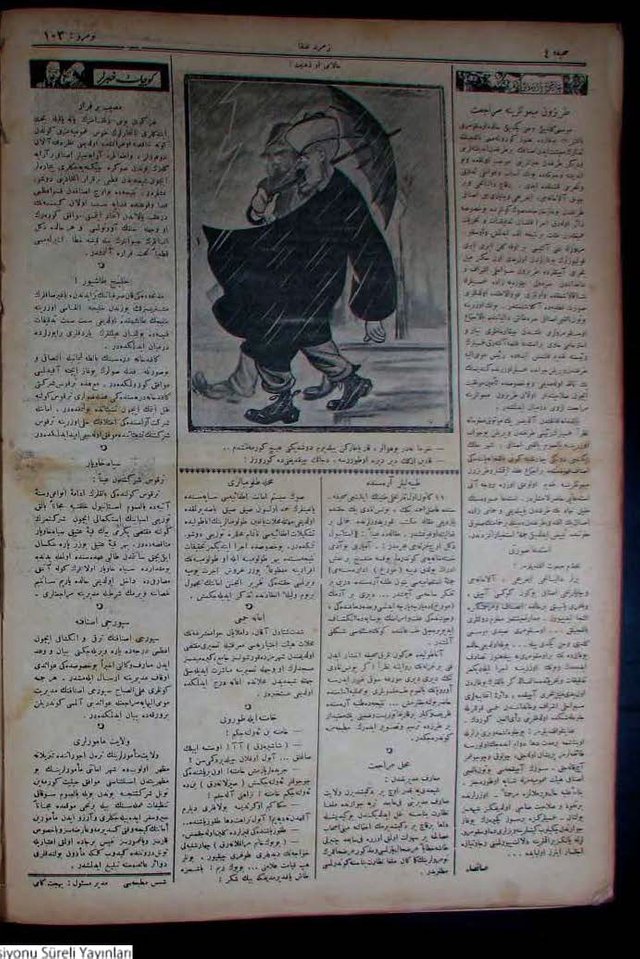 (Entire page, Zümrüdü Anka, 3 January 1924, no. 103, page 4. Hakkı Tarık Us Collection, Beyazıt Library, Istanbul.)