Seemacht Österreich. Es ist heute schwer vorstellbar, dass Österreich noch vor rund einem Jahrhundert Zugang zum Meer hatte und über eine schlagkräftige Flotte verfügte. In der abwechslungsreichen Geschichte der Habsburger Monarchie gab es mehrere Versuche, eine Kriegsmarine zu etablieren. Erste Ansätze reichen mit dem Aufbau der kaiserlichen Donauflottille bis in das 16. Jahrhundert zurück. Die österreichische Kriegsmarine wurde Ende des 18. Jahrhunderts gegründet. Zu Beginn des I. Weltkrieges zählte die k.u.k. Kriegsmarine zu den zehn größten Kriegsflotten der Welt.
Austria as a naval powerIt is hard to imagine today that Austria had still access to the sea about a century ago and had a powerful fleet. In the varied history of the Hapsburg Monarchy there were several attempts to establish a navy. The first attempts date back to the 16th century with the establishment of the imperial Donauflottille. The Austrian Navy was founded at the end of the 18th century. At the beginning of the First World War, the Austro-Hungarian Navy was one of the ten largest naval forces in the world.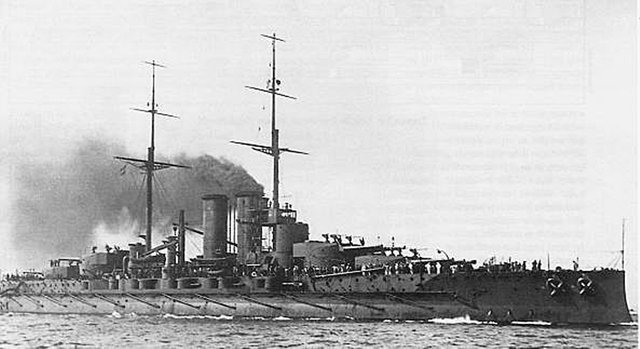 Quelle / source
SMS Viribus UnitisDie SMS Viribus Unitis war ein Großkampfschiff der österreichisch-ungarischen Kriegsmarine, das im Mittelmeer stationiert war. Der Name Viribus Unitis ist dem Wahlspruch des Kaisers Franz Joseph I. entlehnt und bedeutet "mit vereinten Kräften". Das Präfix SMS steht für "Seiner Majestät Schiff".
SMS Viribus Unitis The SMS Viribus Unitis was a large warship of the Austro-Hungarian navy stationed in the Mediterranean Sea. The name Viribus Unitis is derived from the motto of Emperor Franz Joseph I and means "with united forces". The prefix SMS stands for "His Majesty Ship".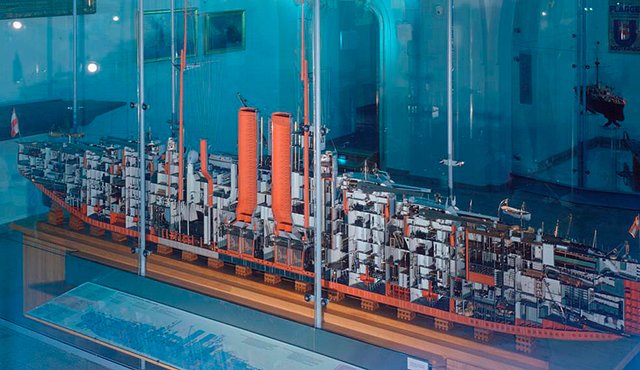 Quelle / source
Im Herresgeschichtlichen Museum (HGM) in Wien ist ein originalgetreues Schnittmodell des Flaggschiffes im Maßstab 1:25 mit einer Gesamtlänge von sechs Metern ausgestellt.
In the Museum of Military History (HGM) in Vienna a original cutaway model of the flagshipon a scale of 1:25 with a total length of six metres is on display.
HGM Wien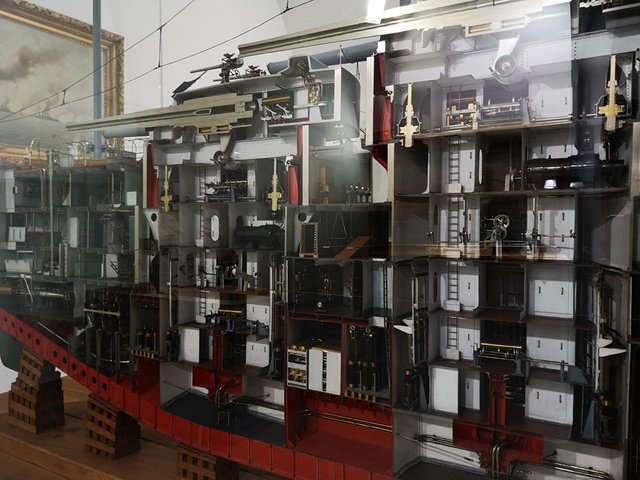 HGM Wien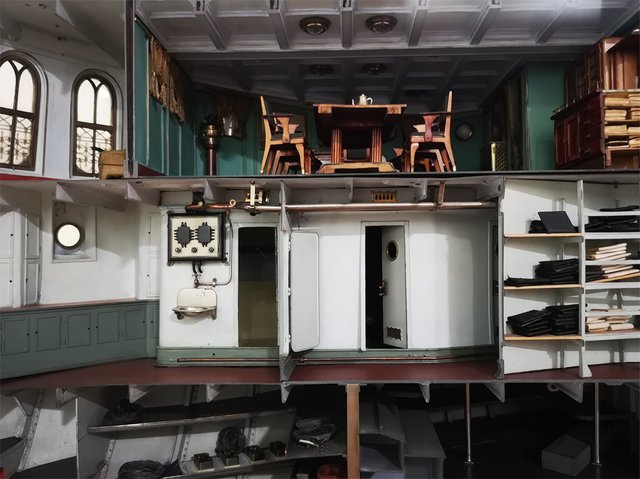 HGM Wien
Die Pläne stammen vom Schiffbau-General-Ingenieur Siegfried Popper. In rund 25-monatiger Bauzeit wurde die SMS Viribus Unitis in der Werft Stabilimento Tecnico Triestino hergestellt. Die Länge betrug 160 Meter, die größte Breite 27 Meter. Die höchste Geschwindigkeit ist mit 20 Seemeilen pro Stunde angegeben, was rund 37 km/h entspricht. Ausgelegt war das Schiff für rund 1050 Mann.
The plans were drawn up by shipbuilding general engineer Siegfried Popper. The SMS Viribus Unitis was built in the Stabilimento Tecnico Triestino shipyard in a construction period of around 25 months. The length was 160 meters, the largest width 27 meters. The highest speed is given 20 nautical miles per hour, which corresponds to around 37 km/h. The ship was designed for around 1050 men.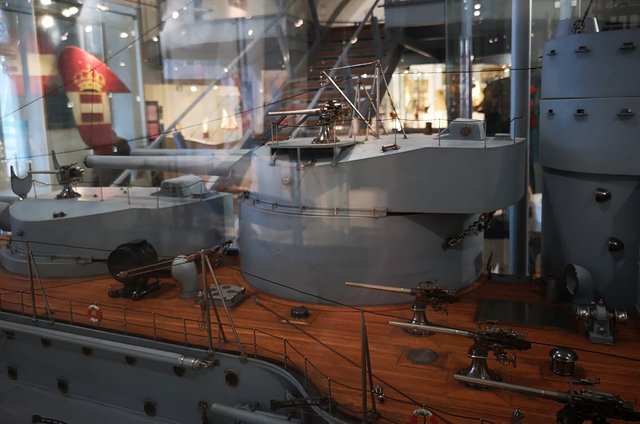 HGM Wien
Das gepanzerte Großschlachtschiff war mit diversen Schiffskanonen, Abwehrkanonen und Torpedorohren bestückt. Bei der Schiffstaufe in Triest im Juni 1911 war auch der Thronfolger Erzherzog Franz Ferdinand anwesend. Drei Jahre später überführte die SMS Viribus Unitis seinen Leichnam von Metkovic nach Triest. Der Thronfolger und seine Frau waren in Sarajewo einem Attentat zum Opfer gefallen. Zwei verhängnisvolle Schüsse, die als Auslöser für den I. Weltkrieg gelten.
The armoured battleship was equipped with various ship cannons, defensive cannons and torpedo tubes. The heir to the throne, Archduke Franz Ferdinand, was present at the ship's christening in Trieste in June 1911. Three years later, the SMS Viribus Unitis brought his body from Metkovic to Trieste. Franz Ferdinand and his wife had been assassinated in Sarajevo. Two fatal shots which are considered the trigger for World War I.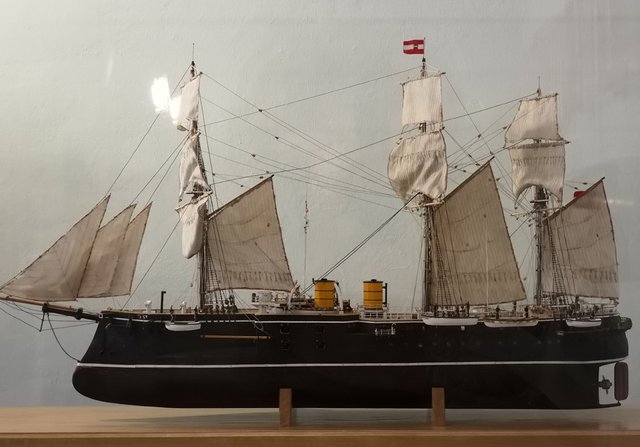 SMS Custoza, 1872-1920 (HGM Wien)
Die Viribus Unitis bildete mit drei anderen Schlachtschiffen (SMS Tegetthoff, SMS Prinz Eugen und SMS Szent István) das Rückgrat des Flottenverbandes im Mittelmeer. Die modernen Kriegsschiffe agierten nach dem strategischen Konzept einer Präsenzflotte. Der Grundgedanke beruht dabei darauf, dass eine Flotte auf die gegnerischen Streitkräfte auch dann einen Einfluss ausübt, wenn sie sich nur im sicheren Hafen befindet. Alleine die Anwesenheit zwingt den Gegner, Kräfte für den Fall eines Einsatzes bereitzuhalten, was ihn in seinem Aktionsspielraum stark einschränkt. Gefechte mit italienischen Schlachtschiffen wurden daher möglichst vermieden.
Together with three other battleships (SMS Tegetthoff, SMS Prinz Eugen and SMS Szent István), the Viribus Unitis formed the backbone of the Mediterranean Fleet Association. The modern warships operated according to the strategic concept of a presence fleet. The basic idea is that a fleet exerts an influence on the enemy forces even if it is only in a safe harbour. The presence alone forces the enemy to have forces available in the event of a mission, which severely limits its scope for action. Battles with Italian battleships were therefore avoided as far as possible.

Relikte aus gehobenem U-Boot "U20" / Relics from "U20" submarine (HGM Wien)
Gegen Ende des 1. Weltkrieges, im Juni 1918, wurde unter Einsatz aller schweren Einheiten ein Angriff auf die Otranto-Sperre, die den Weg von der Adria in das Ionische Meer abschnitt, gestartet. Dabei wurde das Schwesternschiff SMS Szent István von zwei italienischen MAS-Booten torpediert und zum Sinken gebracht. Das Manöver wurde daraufhin abgebrochen und die SMS Viribus Unitis kehrte in den Hafen von Pola (Pula) zurück.
At the end of the First World War, in June 1918, an attack was launched on the Otranto barrier, which cut off the route from the Adriatic to the Ionian Sea. Thereby all the heavy units were used. The sister ship SMS Szent István was torpedoed and sunk by two Italian MAS boats. The manoeuvre was stopped and the SMS Viribus Unitis returned to the port of Pola (Pula).
---
Untergang der SMS Szent István / Capsize of SMS Szent István
---
Im Spätsommer 1918 war die k.u.k. Kriegsflotte schwer angeschlagen. Die Schiffe waren nicht mehr aktionsfähig. Kommandanten und Offiziere hatten ihre Befehlsgewalt verloren und Matrosenräte das Kommando übernommen. Österreich-Ungarn schloss einen Waffenstillstand mit Italien. Die SMS Viribus Unitis wurde mit anderen in Pola stationierten Kriegsschiffen im Auftrag von Kaiser Karl I. an den neu gegründeten südslawischen Nationalrat übergeben.
In the late summer of 1918, the Austro-Hungarian war fleet was badly damaged. The ships were no longer capable of action. Commanders and officers had lost their authority and sailors' councils had taken command. Austria-Hungary concluded an armistice with Italy. The SMS Viribus Unitis, together with other warships stationed in Pola, was handed over to the newly newly formed State of Slovenes, Croats and Serbs by order of Emperor Karl I.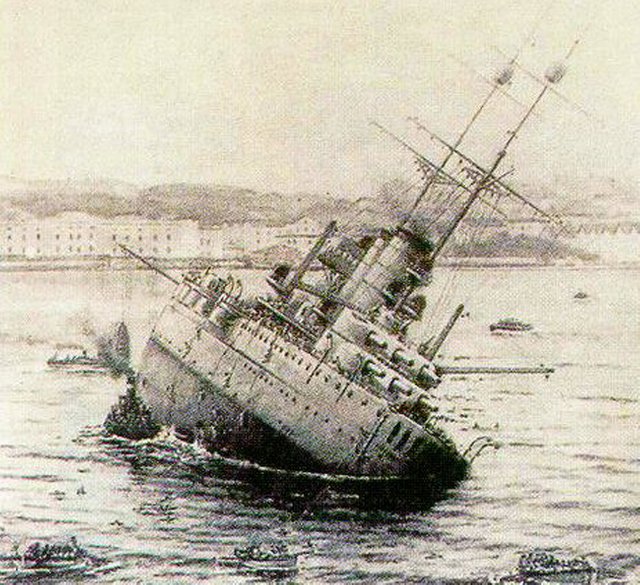 Quelle / source
Obwohl die übergebene Kriegsflotte von ihrem neuen Kommandanten für neutral erklärt wurde, sank die SMS Viribus Unitis in den Morgenstunden des 1. November 1918, wobei 400 Seeleute ihren Tod fanden. Italienische Kampfschwimmer hatten einen Sprengsatz am Rumpf des Schiffes angebracht und gezündet.
Although the transferred war fleet was declared neutral by its new commander, the SMS Viribus Unitis sank in the morning hours of November 1, 1918. 400 sailors died. Italian combat swimmers had attached an explosive device to the hull of the ship and detonated it.