Howdy folks and greetings from the Great Plains of North Texas!
We're in a series about one of the top Texas Ranger lawmen to ever wear the badge, the great Frank Hamer, who was brought out of retirement to take down Bonnie and Clyde.
Recap
In the last post Frank finally landed a job that paid good money doing work that he loved so things were looking up. After he divorced Mollie he was quite depressed and gun-shy when it came to women though.
Plus with his work he was gone for weeks riding all over West Central Texas so he didn't have much time for courtship or romance.
However...when you're not looking for a mate that's generally when you'll find one and he was introduced to a lady that really got his attention and he got hers.
This is the main street of the small town of Snyder, Texas which was the hometown of Gladys's family where her father was co-owner of the bank. No word on whether they had an ice cream parlor for Frank.
source
Today's story
As mentioned yesterday, Gladys was the daughter of a wealthy rancher named Billy Johnson. Frank's brother, Harrison, was staying with the family and he told many stories of Frank's exciting life as a Ranger and lawman so Gladys already knew alot about him.
She liked what she heard and when she saw him she liked him even more.
Gladys's situation: a hot mess
The problem with Gladys was that she was already married with 2 kids. But she was staying with her parents because she'd left her husband.
The deal with her is that her dad spoiled her rotten. I mean she got anything she wanted from the time she was born.
He admitted that he made a big mistake raising her that way. Well, when she was 14 yrs old she wanted to marry a 21 yr old guy named Ed Sims. So of course her dad consented because he always gave her what she wanted.
Can you predict the future from a photo? Believe it or not this was taken on their wedding day. Ed looks like he's bored stiff and Gladys looks like she's about to cry! lol.
Of course, when Frank met her it was 11 year later and I'm sure she looked quite different.
This photo is from the Scurry County Museum in Snyder, Texas.
Some child brides grow up. She didn't.
But she found out that marriage involved actual work and was hard. Then she got pregnant at 16 and found out that was even harder. Now she was supposed to be a wife and mother and she hated it.
She couldn't handle the responsibility and didn't want to. Nothing Ed did could make her happy.
The marriage was doomed
They fought constantly and were both miserable. It was pitiful. Ed started drinking. Gladys started seeing another man. This was in 1913 when these types of things were not that common. Ed intercepted her mail and found letters from her lover.
Ed and her dad Billy confronted her and she admitted that she'd slept with the other guy three different times. She tearfully begged Ed for forgiveness and asked if they could try again. He agreed but it was never the same.
Things got ugly
They kept fighting and accusing each other of cheating and they probably were. She kept moving back to her dad's place, then she'd go and try to work it out. Finally when she confirmed that he was seeing an ex best friend of hers she filed for divorce.
Things got uglier
I think this was about the time that she met Frank. Her daughters were Trix, 9, and Beverly, 7. As with most marriages, the kids were the issue which caused all the anger, resentment, desperation, hatred and fear to come out.
Ed Sims was also from a very wealthy ranching family and he also filed for custody. The divorce caused a bitter feud between the two clans. Threats were already beginning to fly.

In the next post I'll explain why bloody family feuds often started with divorces because of the culture of West Texas.
-jonboy
Texas
PS- Hey check this out guys. They actually made vending machines that sold lit cigarettes in the 1930's! lol. This is an ad showing one of them, this one is in England in 1931. Shame on you Brits! lol.
I don't know if we had these in the States. They cost 1 cent! Look how small they are though. There ya go sir @glenalbrethsen, how'd you like to service those? I'd love to see the insides.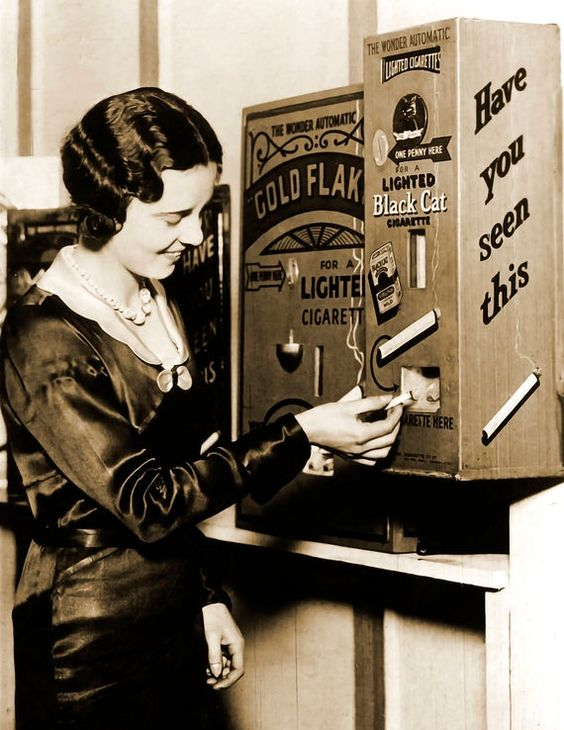 source
Thanks for reading folks, God bless you all!