Another Visit to the Warner Bros. Hollywood Theater, This TIme With The KFWB Towers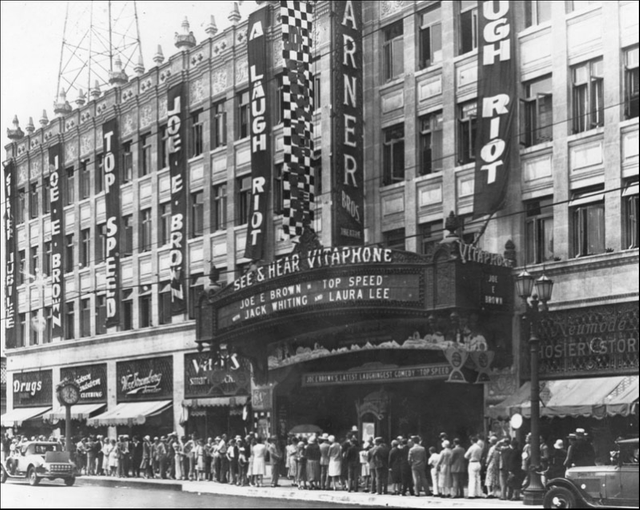 In the 1930s view of the Warner Bros. Theater we see an old friend. If you've been following The Tinseltown Time Machine, you will remember the twin radio transmitting towers in front of WB's old Hollywood Studios on Sunset.
You may also remember that 1930 was the year WB moved over the hill onto First National's Burbank lot. Looking at this photo of the Warner Bros. Hollywood Theater, you can now see what happened to those KFWB transmitting towers after the studio moved. You can just see the base of one towers at the upper left of this photograph.
Notice also the "SEE & HEAR VITAPHONE" sign above the marquee. Vitaphone was developed by First National Studios as the first practical motion picture sound system and was used in the making of The Jazz Singer WB's landmark talking (and singing) motion picture. The sound picture playing when this photograph was made is Top Speed starring Joe E. Brown, Jack Whiting, and Laura Lee.
The old Warner theater still exists today as the Hollywood Pacific Theater, although it is only used for private special events. And, yes, the KFWB transmitting towers are still on the roof. If I had to guess, I'd say those towers will still be standing when the rest of Hollywood has collapsed into a giant rubble pile.
Historic photo © Water & Power Associates
Text and design © Steve Eitzen
Header & HPO Logo © HPO Productions