The language of ivrit ( עברית ) Genesis 34, Post #2
Welcome to my Hebrew reading & language series.
Genesis 34:7-12
One line stands out in the next passage we are reading.
"For such a thing must not be done."
We left off with the rape of Dinah, Jacob's daughter. We pick back up with the story as her brothers get wind of what has happened to her, and they are angry.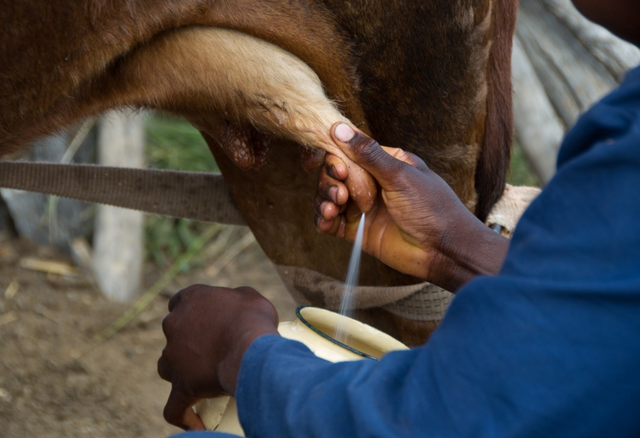 Get milk, then buy the cow. source
The perpetrator happens to be the Prince and his father speaks first, ignoring the fact that his son took the milk without permission and now wants to buy the cow. He comes up with the brilliant idea of hanging out together and allowing all young ones to fall in love and get married. "Go grab a few of our daughters and take them for a test drive." is a loose translation. In my opinion, that would only throw gasoline on the flames of their anger.
Then the Prince himself speaks up, saying he would pay any price to have her as his wife. The Hebrew has the Prince saying, "What you say, I will give. Increase the bride price and gift exceedingly on me and I will give what you say."
I look at Shechem's offer with contempt. He likely has no money of his own and has grown up paying any price for anything he wants because he has never had to earn any of it. Pork roast cannot be served at a Jewish wedding nor burgers brought to a vegan dinner, but it would be fine as long as you bring enough for everyone. Does that makes sense?
We now have an emergency adjustment to the cultural norms coming.
The price will be great and the learning curve steep!
Today's reading
English
The sons of Jacob had come in from the field as soon as they heard of it, and the men were indignant and very angry, because he had done an outrageous thing in Israel by lying with Jacob's daughter, for such a thing must not be done.
But Hamor spoke with them, saying, "The soul of my son Shechem longs for your daughter. Please give her to him to be his wife. Make marriages with us. Give your daughters to us, and take our daughters for yourselves. You shall dwell with us, and the land shall be open to you. Dwell and trade in it, and get property in it." Shechem also said to her father and to her brothers, "Let me find favor in your eyes, and whatever you say to me I will give. Ask me for as great a bride price and gift as you will, and I will give whatever you say to me. Only give me the young woman to be my wife."
---
Hebrew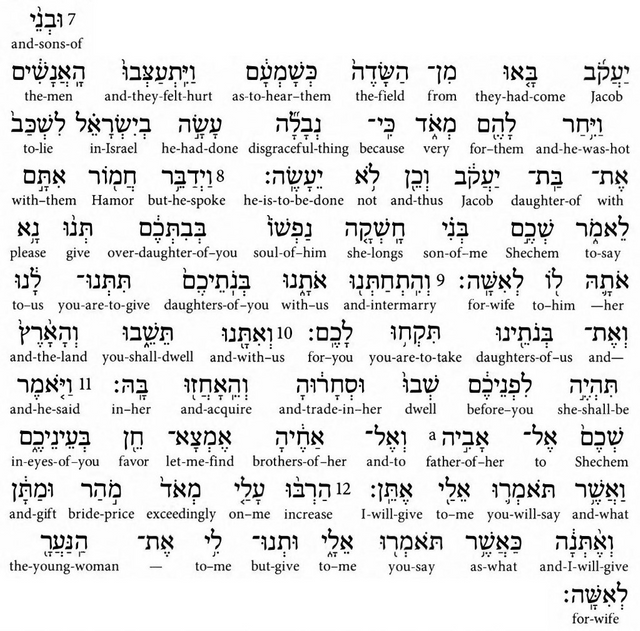 The story continues next week as they name the price...
---
Info on each letter starting at the beginning
If you are just starting, my lessons are all here starting at Alef, adding vowels (the dots and lines) as we go. I explain the meaning of each letter and its numerical value. Just go to my blog and scroll to the bottom or click here
Get your Hebrew Bible now!
Click here to obtain the book we are using. It is a free download or browser usable.
Thanks for reading.
Shabbat Shalom