The language of ivrit ( עברית ) Genesis 33 , Post #4
Welcome to my Hebrew reading & language series.
Genesis 33:16-20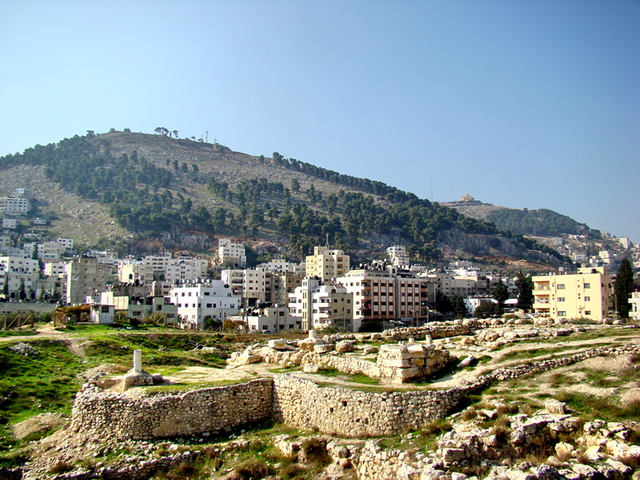 Present day Shechem source
We are finishing another chapter today. Congrats if you are still with me.!
We saw Jacob reunited with his brother last week. He chose to stay behind and move at his own pace after receiving a welcome from Esau. Then he went to Shechem instead of Seir where Esau went.
He seems to be settling down by buying a piece of land just outside Shechem. The place is called Succoth, as defined by today's passage, and it means "booths", referring to the booths he made for his livestock.
In modern times, we have an appointed time called Sukkot, Sucot, or Succoth. The spelling in English makes no real difference. There is only one spelling in Hebrew.

Sukkot is one of many "Moedim" (appointed times) required by God to be kept. Some call them Jewish holidays but they are really appointments with God. Sukkot starts as the sun sets on October 9, exactly a month from today, and will last for seven days. People who follow the instructions of God will build booths outside of their home, and live in their booths for seven days.
Many people still go inside to use their shower, bathrooms, and to get things from the refrigerator during these days, but they spend most of their time in their booths.
Lastly, the reading for today closes with Jacob building an alter on his new land, and he called it El Elohe Israel (God, God of Israel). What a nice way to accept and start using his new name!
Today's reading
English
So Esau returned that day on his way to Seir. But Jacob journeyed to Succoth, and built himself a house and made booths for his livestock. Therefore the name of the place is called Succoth. And Jacob came safely to the city of Shechem, which is in the land of Canaan, on his way from Paddan- aram, and he camped before the city. And from the sons of Hamor, Shechem's father, he bought for a hundred pieces of money the piece of land on which he had pitched his tent. There he erected an altar and called it El-Elohe-Israel.
---
Hebrew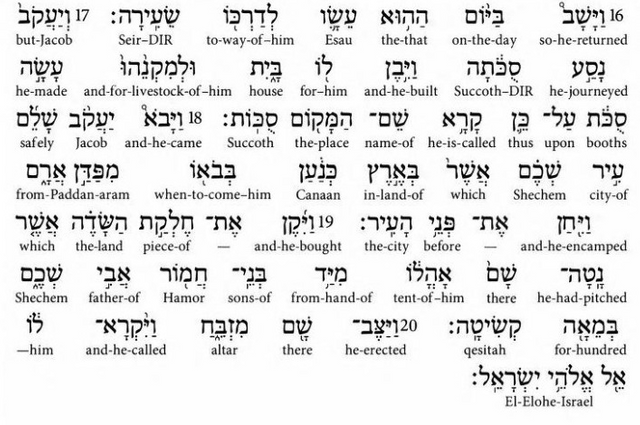 The story continues with a sister's humiliation...
---
Info on each letter starting at the beginning
If you are just starting, my lessons are all here starting at Alef, adding vowels (the dots and lines) as we go. I explain the meaning of each letter and its numerical value. Just go to my blog and scroll to the bottom or click here
Get your Hebrew Bible now!
Click here to obtain the book we are using. It is a free download or browser usable.
Thanks for reading.
Shabbat Shalom