The language of ivrit ( עברית ) Genesis 32, Post #2
Welcome to my Hebrew reading & language series.
Genesis 32:6-9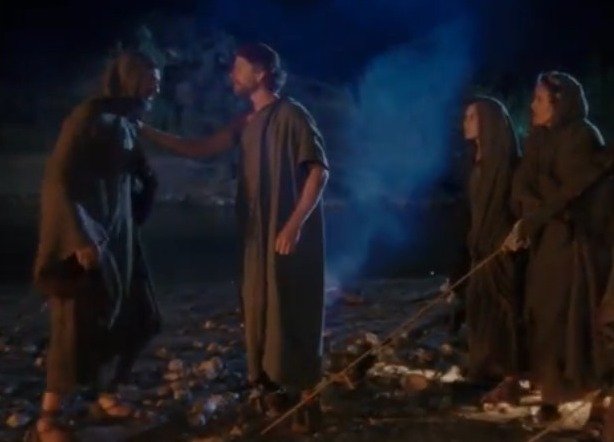 Movie source at 1:14
Last week, Jacob sent a messenger out to find his brother Esau. The messenger was to tell him that the gifts are for him and that Jacob is on his way.
This week the messenger returned saying that Esau is on his way and there are four hundred men with him. The text does not say if the messenger had delivered the message or not. It only says that Jacob was fearful and he divided his family and possessions into two camps so that if Esau attacks one group, the other might possibly escape.
It is very sad that they had had this problem as young men and now, them both being grown men with riches and servants, they meet with arms and possession in a war like stance. But Esau is the least of Jacob's worries because he is about to wrestle with God himself.
As a side note, this is a good point at which to note that Hebrew and English verse numbers do not always match as you read the texts. That happens a lot in the Psalms because one verse is instructional at the beginning of each. But this exact thing is happening at this point in our reading. Next week will start at verse 9 in the English and Verse 10 in the Hebrew. For that reason, there may be some overlapping in the verses in one language or the other.
Today's reading
English
And the messengers returned to Jacob, saying, "We came to your brother Esau, and he is coming to meet you, and there are four hundred men with him." Then Jacob was greatly afraid and distressed. He divided the people who were with him, and the flocks and herds and camels, into two camps, thinking, "If Esau comes to the one camp and attacks it, then the camp that is left will escape."
---
Hebrew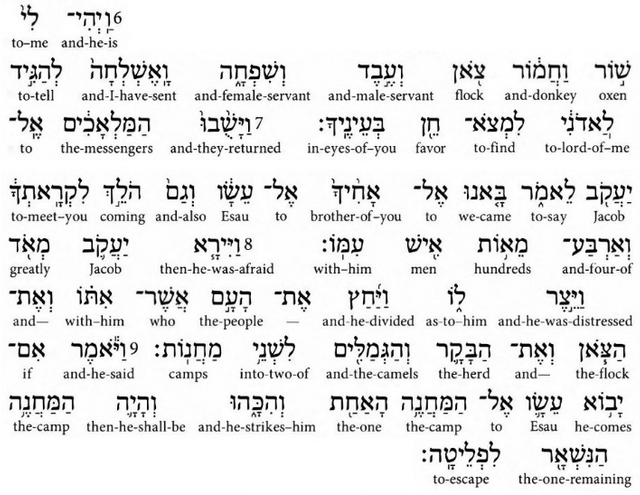 The story continues next week as Jacob prays...
---
Info on each letter starting at the beginning
If you are just starting, my lessons are all here starting at Alef, adding vowels (the dots and lines) as we go. I explain the meaning of each letter and its numerical value. Just go to my blog and scroll to the bottom or click here
Get your Hebrew Bible now!
Click here to obtain the book we are using. It is a free download or browser usable.
Thanks for reading.
Shabbat Shalom