Parts of south and eastern Europe, including Italy, Spain and Croatia, are facing an extreme heatwave which has some areas crossing 40 degree C, prompting authorities in many countries to issue warnings to their citizens to take precautions.
According to the the European forecasters' network :
Authorities in countries including Italy, Switzerland, Hungary, Poland, Romania, Bosnia, Croatia and Serbia are on red alert.
---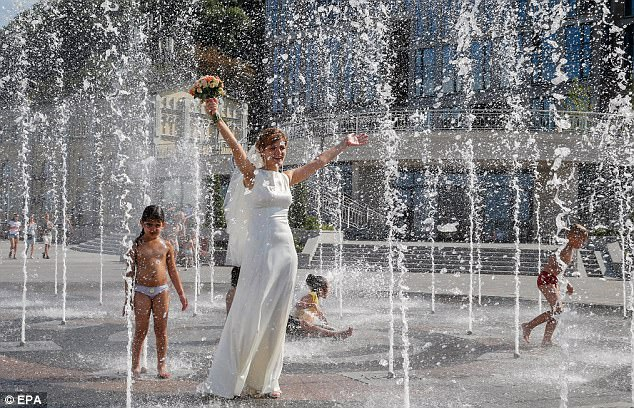 ---
A bride dressed in her wedding dress walks in a fountain in Kiev, Ukraine on Friday as temperatures rose about 104F in several European cities
[Photo Source]
---
At least two people, one from Romania and the other from Poland, are reported to have died of the extreme temperatures while Italy reported that its hospitalization rate was 15% above normal, with hordes of people admitted for sun burn and other heat related conditions.
Even the UK government has taken out an advisory to warn British travelers of the situation as most of these areas are becoming quite the favorite destinations for travelers.
---
Further Reading
---
---
If you like my work, please up-vote and read more at @norbu.
You may also click the down-arrow next to my name (before my reputation score below) to follow me. Or you may just re-steem to share the love! 😊
---