Xenoestrogens #3: Hormones in Plastics
Bisphenol A and phthalates have an effect on our hormonal balance. But how bad is that really from a scientific point of view?
---
This post is an english adaption of my recent german post and part of a series on foreign substances that imitate the effect of the female sex hormone estradiol ("xenoestrogens"). I suggest to start with the basics:
Xenoestrogens #1: Natural Estrogens and Estrogen Receptor Signalling
I've also adressed xenoestrogens in:
Soy estrogens & "soy boys" (3 posts): 1, 2, 3
Xenoestrogens #2: Why are some compounds acting as endocrine disruptors, and where do they occur?
---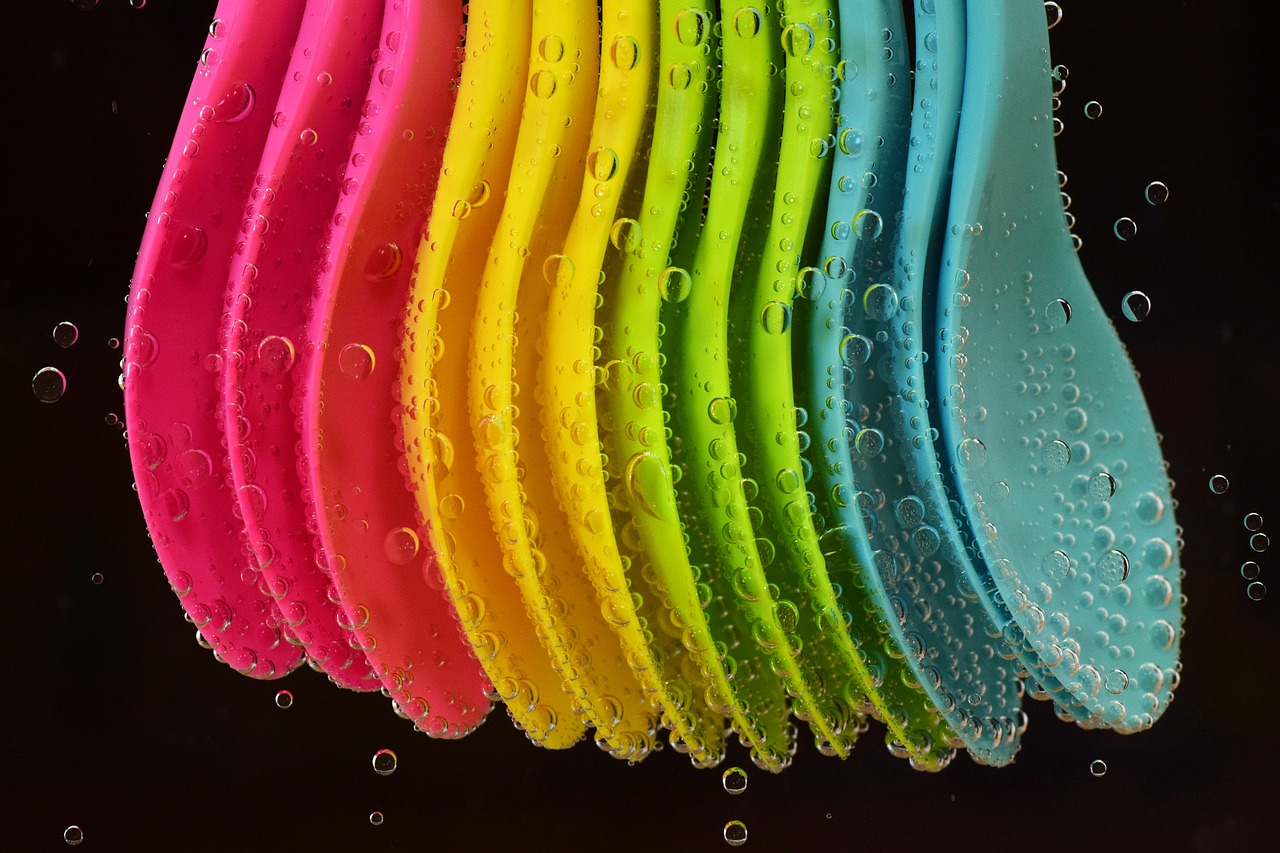 Colored plastic spoons. Suspected of child murder. Image from pixabay (CC0)
Intro
Anyone who writes about xenoestrogens cannot avoid plastics. This is because no other substance of this category has been present in the media like Bisphenol A (BPA). The knowledge that plastic can disrupt the hormonal balance has long since reached the mainstream. Plus: It is a synthetically produced chemical that is not found in nature. No wonder then that the subject has also been discovered by those who, for ecological reasons, are fighting against the plastics industry (in part rightly, I would add) or generally against everything that is not growing.
The discussion about "plastic hormones" can therefore become heated quite quickly if opinions are expressed that deviate from the general perception.
Hot topic, my area of expertise... I'm already here!
So let us look at what science actually has to say about this.
Xenoestrogens in plastics
Perhaps to start with: When chemists talks about "plastics", we mean polymers, i.e. compounds that are produced by a chemical reaction that crosslinks many small molecules to form one huge molecule (hence the names of many plastics begin with "poly").
The first important lesson here is that plastic is not plastic.
There are a variety of different plastics. Some, such as polyethylene (PET), from which most beverage bottles are produced, are inert, which means that there are no other chemicals included and therefore absolutely nothing can migrate into food.
Others are in principle polymers without additives, but problematic raw materials are used for production, of which residues may remain in the polymer, which may migrate into the food under certain conditions. This is where the BPA mentioned above enters the game, which is mainly used in Polycarbonate (PC), Epoxy resin or for thermal paper (the paper on which bills are printed on).
Epoxy resin is sometimes used in coatings of cans (but as long as food is not heated directly in the can, there is virtually no migration).
PC is a hard plastic used, for example, for camping dishes and baby drinking bottles.
And then there are many different plastics to which other substances are added in addition to the actual polymer in order to use the physicochemical properties of the material. Plasticizers, for example, ensure flexibility. These include phthalates, a group of chemicals with a common basic structure (phthalic acid).


The chemical structure of bisphenol A (left) and the basic structure of the phthalates (right). Yes sorry, I know, but I am a chemist by origin, and without the structures such a post feels somehow incomplete.
Unfortunately, both BPA and phthalates have estrogenic and endocrine disruptive effects.
(For those who have not followed my advice to read Part 1 first: Now it's time.)
Toxicology and regulation
Bisphenol A
If BPA actually has an effect on humans in the concentrations that consumers are exposed to is still highly controversial - even among scientists, as can be seen, for example, by the fact that one of the authoring scientists explicitly refused to agree with the EFSA's last report on BPA, which is in general not very usual.ref
There is a jungle of studies on the subject, some of them with very different results, making BPA a showcase for the scientific/scientific-communicative problems I recently explained blogged about in German.
Reminder to Sco: translate that one!
Nevertheless, I will try to solve the BPA puzzle here, even if some of you might have a different opinion when reading the literature.
BPA as an endocrine disruptor
For a long time, the main focus of research was of course on the fact that BPA acts as agonist for the estrogen receptor (ER), and is therefore able to disturb the hormone balance.
The strange thing is that BPA is not really a particularly strong estrogen. Compared to our natural estrogen, E2, the binding strength to the ER is only about 0.008%, i.e. about 100,000 times weaker.ref
It was therefore quite hard to explain why relatively strong hormone-like effects could be observed both in cells and in animal experiments. Today, there is a possible explanation in the fact that BPA also binds to another receptor, the estrogen-like receptor gamma (ERR-γ), with considerably higher affinity.
The problem: the ERR-γ is similar to the ER, but is one of the so-called "orphan receptors". That means we have no idea what this receptor is good for, what it does or by which natural ligand it is activated. We just haven't gotten that far yet. It's frustrating and fascinating at the same time when you reach the limits of human knowledge.
What we do know, however, is that BPA is able to reduce the sperm quality of men. This, however, only in very high concentrations, which (as in this study) are reasonable for exposed factory workers, but de facto cannot be reached in consumers (unless you make errors with handling, see below).
The ERR-γ is particularly highly concentrated in the placenta, which has given BPA the reputation of having a teratogenic (i.e "unborn-damaging") effect, which is also not yet definitively certain and is probably again a question of realistically achievable concentrations.
Cancer
As is customary nowadays, some studies suggested DNA-damaging and carcinogenic effects. At absurdly high concentrations, however.
Neurotoxicity
While it may be doubted that BPA leads to hormonal effects in "normal" consumers, there is a younger chapter, which seems more worrying to me as a toxicologist: Several animal experiments found that BPA can impair the nerve and brain development in young animals, and this also at concentrations, which can be actually reached.ref Again, there is some debate about the accuracy of these studies, but the EFSA is taking it serious.ref
The findings on the impact on neurodevelopment ultimately led to a rethinking in Europe:
Legal Regulations


BPA is now banned in infant products. Image by pixabay, CC0
In large parts of the USA and elsewhere, where the harmfulness of a substance must be proven beyond any doubt in order to take it off the market, BPA is warned against, but its use is legal.
In the EU, on the other hand, EFSA recommended the EU Commission to pass an unexpected and somewhat sensational law in 2011 banning ** the use of BPA in baby bottles**.ref Since then, stricter limit values for foodstuffs have also been in force, which were last reduced again in 2015 and will soon be reevaluated.ref
EFSA contradicts itself to some extent here, since it continues to write that BPA is harmless to consumers, but at the same time reduces the limit values. Some see this as proof of the influence of the plastic lobby. I do not want to comment on this, as one can only speculate there anyway. All I know is that EFSA is highly professional in many areas, which of course proves as little as its somewhat ambivalent attitude.
The argument that BPA in the quantities ingested with food is possibly dangerous for small children but not for adults can be scientifically justified.
---
Phthalates
Besides BPA, there are also the plasticizers...
And they certainly have it in them. Although they are less frequently found in food packaging, they are found in a large number of articles of daily use. For example, the very important plastic PVC would be completely unusable without the addition of phthalates, because it would be brittle.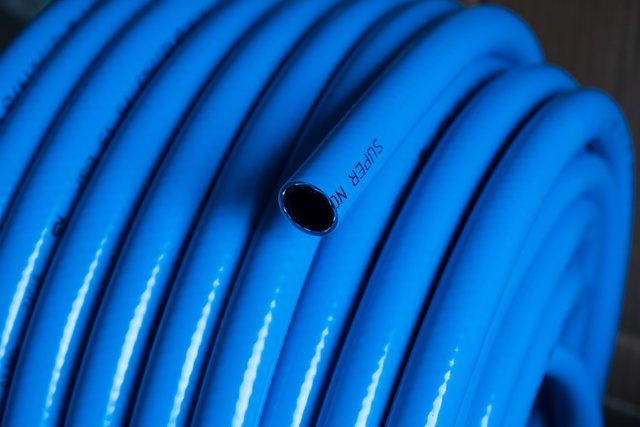 Without phthalates, the garden hose would be a garden pipe. Image from pixabay, CC0
Effects
While BPA can now be assumed to have other toxic mechanisms in the foreground, in phthalates it is clearly the hormonal effect that is the problem. But then also here, there are phthalates and then there are phthalates. Some representatives are highly problematic, others rather not. For the sake of simplicity, however, I will continue to generalize them here.
Must have advantages writing a blog instead of a scientific paper. What I'd be supposed to be doing right now. Fuck. ;-)
In contrast to some other xenoestrogens, phthalates also seem to have an effect on males. Animal studies reported strong negative influences on male fertility,ref, sperm production and quality, ref and on sexual development in young animals (male and female),ref.
There is also a correlation of phthalate exposure with the risk of suffering from diabetes, hypertension and cardiovascular disease, effects that are not necessarily mediated by the estrogen receptor but via other mechanisms of action.ref
Legal situation
The EFSA has regulated phthalates accordingly and, where possible, introduced migration limits for food packaging and consumer goods.ref
However, these apply to individual phthalates (e.g. DEHP), a strategy that can be viewed very critically, since it is quite conceivable that the activity of various of these substances, some of which are very similar, could sum up and then nevertheless cause an adverse effect below the applicable limit values.
Conclusion, personal assessment
Xenoestrogens in plastic are anything but funny.
There are legal limits that are based on the latest scientific knowledge, which is positive. However, the question is whether they are low enough.
In this context, a major problem with BPA is that leakage from plastic can be increased by incorrect handling by the (naive) consumer. Coated cans aren't meant to heat food in!
To me, it seems that BPA is a little bit hyped anyway. Sure, I wouldn't give my kid a PC bottle either. But for adults, it really seems rather harmless.
I am personally much more concerned about phthalates, especially since I do not fully trust the legal limits here due to possible cumulative effects.
Nevertheless... I have a neighbor who has a seizure every time her kid touches a plastic part. That seems like exaggerating the problem a lot from my perspective.
Plastics are very useful materials without which life is hardly imaginable today. Anyway, in my opinion, a reduction of use, where it is not really necessary, would be beneficial for both human health and the environment.
---
Disclaimer:
In my blog, I'm stating my honest opinion as a researcher, not less and not more. Sometimes I make errors. Discuss and disagree with me - if you are bringing the better arguments, I might rethink.