A beautiful clear spring day, lots of sun but also loads of pollen in the air. I had come down with a cold and now am experiencing some hay fever symptoms. Nothing extreme but annoying still.
Quick to make some Sage tea to clear the airways :)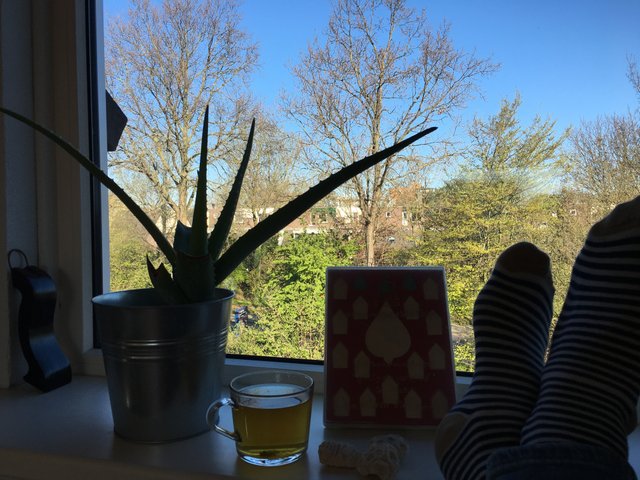 Fresh turmeric is something that's always in my kitchen, great for cooking, smoothies and tea. Drink it most days, if not every day. For those of you interested in trying new things with turmeric I suggest you check out this site it has some great ideas for drinks and smoothies.
I only last year found out about sage being a great herb to help against any respiratory infections. Had a cold at the time, feeling blocked up so gave it a go. It's certainly great to clear my breathing on days like today. If you haven't tried it, if you have a cold or are experiencing any respiratory problems I recommend you try adding some sage tea to your daily drinking routine.
Very easy to make, a simple herbal fusion tea. I usually take some dried sage leaves, an inch piece of fresh turmeric and a spoon of honey. I find the sage tea straight can be a bit strong, the sweetness in the honey takes the edge of it.
Give it a go, let me know what you think.
What's your favourite tea or drink to fight a cold? Let me know in a comment below.
Thanks,
PLNTBSD77