It all started with a Twitter video
A few weeks ago I watched a video on Twitter of a man talking about how he recently discovered that his 5 year old daughter has a rare form of leukemia. The man was Asian and his daughter needs a bone marrow transplant but because of her ethnicity there is a very slim chance of finding a suitable donor. He was urging people to register as donors. I've watched these kind of videos before but they never had this kind of effect on me. I think the fact that I have three young daughters myself and am from an ethnic minority made me feel like I had to do something.
This is the video: https://twitter.com/bbcasiannetwork/status/995725886795153409
Swab test kit
Often you watch these kind of videos, feel emotional and wish you could help but you lead a busy life and then forget about it and move into something else. Researching how you can become a donor just falls off the To Do list. Thankfully my friend who shared the above video included links in her Facebook post. All I had to do was read which category I fit into and click on the link, in my case it was DKMS. On their website it was easy and quick to order a swab test kit.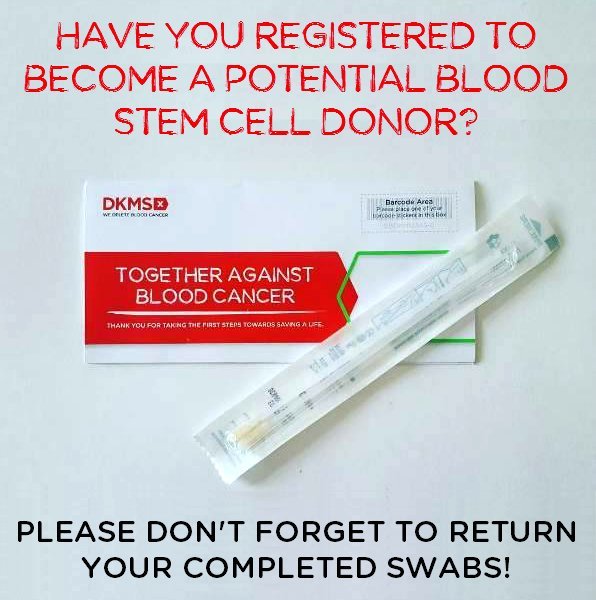 I needed a push
The swab test kit arrived soon after I registered my details and I put it in my paperwork pile and forgot about it for a while. I meant to do the swabs but kept forgetting about it. It was only when I picked my daughter up from school one day and her teacher notified me how he was going to be away for a week to have an operation to donate bone marrow to a little girl. Hearing that was the push I needed to go home and do the swab test. I sent it back the next day and have since received an email from DKMS telling me that my tissue type is being analysed and that I will be entered onto their system as a potential blood donor on the UK Stem Cell Registry.
How to become a potential blood donor
I can't believe I haven't done this before. I didn't realise how simple it would be. It's literally just taking five minutes out of your day to think about helping someone else. I'm sharing the links here with you in case you wish to sign up as a potential donor:
Anthony Nolan - If you are between 16 & 30 years old – register your details and they will send a swab kit to you in the post.
https://webforms.anthonynolan.org/…/what-does-joining-invol… – Tel: 0303 303 0303
NHS - If you are between 17 & 40 years old – requires a simple blood test at any NHS Blood donor centre but you must tell them you wish to join the British Bone Marrow Registry (BBMR) and is a quick way to know if you are a match:
https://www.nhsbt.nhs.uk/british-bone-marro…/how-can-i-help/ – Tel: 0300 123 23 23
DKMS - If you are between 17 & 55 years old – requires a cheek swab test which you can order using the link below.
https://www.dkms.org.uk/en/register-now – Tel: 020 8747 5620
Not enough black/asian donors
The fact is that there are not enough black/asian/mixed ethnic minority donors. My kids are mixed black and asian. If they ever needed a bone marrow transplant, would there even be a suitable donor in the system? MPs are calling the lack of ethnic minority donors in England a "silent crisis". - http://www.bbc.co.uk/news/health-44314885 - There is now talk about educating school kids about organ and blood donation. I think that an excellent idea. The more people talk about it, the more normal it will be to become a donor.
MummyImperfect x