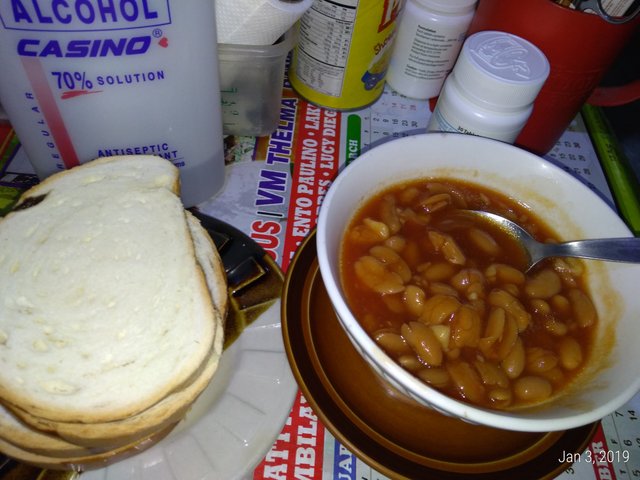 The Thanksgiving viewing lasted for about six and half hours but the church worker came in late so we ended the viewing session at 8:30 in the evening and I am glad that I endured it while sitting and it just means that my backbone health had a bit of improvement which makes me happy anyhow.
But I am sure that I could not last half a day because even now I am still feeling a discomfort with an extended period of sitting around. Maybe with still a little more time my pains will all go away completely if God would extend his mercy upon my wretched soul.
I decided to just eat some cheese sandwich and some pork and beans (with no pork bits) because I just wanted to kill my hunger but it doesn't mean that I have the appetite to eat. Currently I am not enjoying my food because I am already taking my Cinacalcet for my parathyroid.
I might be able to eat tomorrow at y dialysis but I am scheduled again at 7:00 PM because the hospital is quite stingy with repairing the two broken dialysis machines.
I just thank God that I have my parents still to support me driving me to and from and getting my food to eat at dialysis and also helping me around the house if I am wanting to use the toilet or eat my meals. I hope that God would give them more years and strength but I bet they would outlast me because they are fond of eating vegetables.
It is a good day nonetheless because i get to listen to the deeper bible related topics and it just rejuvenates my spirit and strengthening my inner self. Glory be to God.