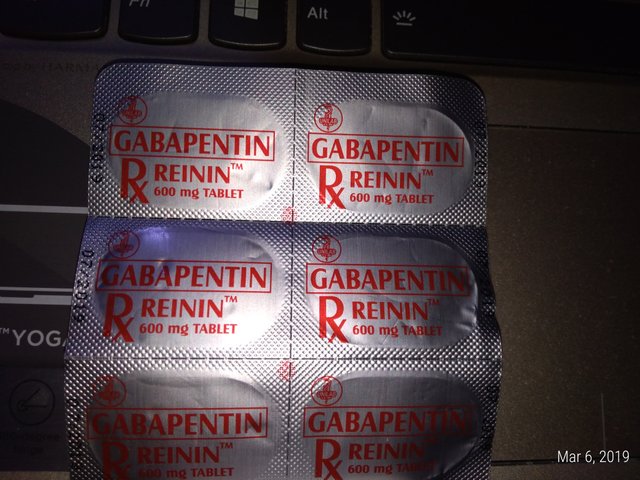 Last night after coming home from my dialysis I asked my father to cut my tablet of Gabapentin into two. I normally take it in lower dosages like breaking one tablet into three and taking a third of it at a time but since my mother who does it for me is at bed in that moment I just have to ask father to just break it in half so I can have it already.
That is okay though because I am just taking Gabapentin twice a week. It has a good effect on my well-being as it eases most of my body pains away, relaxes my mind and body including my guts, and also improves my sleep.
I slept late not because I cannot slee but because I was enjoying a whole night of watching movies and blogging on here. I thought that if I also slept in the early morning I might skip my breakfast so I waited for it before sleeping.
Anyway I discovered the good effects of Gabapentin after researching the cure about my restless legs syndrome (RLS) and I was desperate because it is a very debilitating disease and together with my insomnia that time it is very difficult to sleep with or without insomnia as you are forced to kick your feet because of the mysterious tension it feels.
I Am As Relaxed As A Scenic Beach
With my urgent need to have Gabapentin after learning about it I just produced a prescription for myself asking my father to buy it fir me after giving him some money. My father obliged without asking for what it was because if I would ask my mother she would ask me for what illness it cures because I do not want to explain.
After taking a big whole tablet my Restless Legs Syndrome went off so instantly and I also slept after a few hours after suffering from lack of sleep. So I thought wow this is a very effective drug and it truly works. From that moment I just take it in lower dosages also twice a week because the effects of it lasts long and washes off after dialysis.
I Am Cured From It And I Am RLS No More
Now I have no longer Restless Legs Syndrome and I am glad in it but I mainly use it now for pain management and improving my sleep plus the relaxation effects that it gives me is all truly precious for my well-being.