Many of us spend a lot of time in our kitchens preparing food. We don't only want the food to taste nice, we also want the food to be as healthy and nutritious as possible.

Many of us have gardens with flowers and sometimes we also grow herbs, but we neglect to have a look in our gardens to see which of those flowers and flowering herbs are actually edible. So today, guess what! this is the subject we will looking at, and you will be amazed at how many there are that are actually edible and that you were unaware of.



EDIBLE FLOWERS

You thought flowers were only for decoration. Here is a completely new perspective on the many uses of these beautiful creations of nature. Have some fun and experiment a little! There are at least 50 (if not more) edible flowers that can be used in or on top of cakes, biscuits, muffins or pancakes, to flavour vinegar, infuse oils, drink as a tea, decorate salads, pasta and sandwiches, and to flavour butter and sandwiches.

Please be cautious because not all flowers are edible – some are highly poisonous. Do not use flowers which are growing near busy roads where vehicle exhaust and residues collect on them or those growing in lawns and/or gardens where pesticides and chemical fertilizers may have been used. Test for allergic reactions or digestive problems with a small amount before adding larger amounts to food. Generally, the more fragrant flowers are usually the best tasting and have a stronger flavour, so use them sparingly:
Most herbs and spices taste best before the plant produces flowers. When the flowers appear the leaves become tough and or bitter and can no longer be used for cooking. However this has other advantages. So allow them to flower and use the flowers to make teas, for decoration as well as to add some colour and flavour to your salads. A lot of the flowers also have medicinal advantages and actually sold in Homeopathic Supply Stores as teas as well as being added to medicines and salves.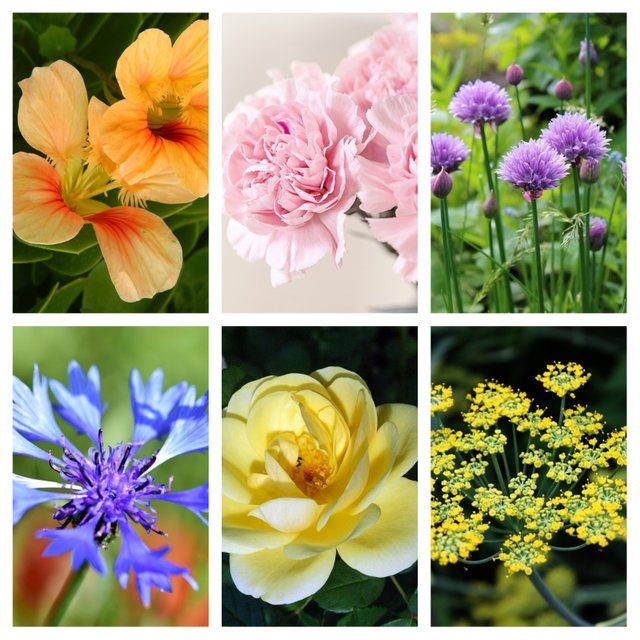 Here is a list of edible flowers I am aware of that can be eaten.

Arugula - (Eruca sativa)
Basil - (Ocimum basilicum)
Borage - (Borago officinalis)
Chamomile - (Matricaria chamomilla syn. M. recutita)
Chives - (Allium schoenoprasum)
Calendula - (Calendula officinalis)
Chicory - (Cichorium intybus)
Carnations - (Dianthus caryophyllus)
Clover - (Trifolium pratense)
Cornflower - (Centaurea cyanus)
Dandelion - (Taxacum Officinalis)
Dill - (Anethum graveolens)
Fennel - (Foeniculum vulgare)






Garlic - (Allium sativum)
Impatiens - (Impatiens walleriana)
Lavender - (Lavendula)
Liquorice mint - (Agastache foeniculum, also known as Anise Hyssop)
Marigolds -(Calendula officinalis)
Mint - (Mentha)
Nasturtium - (Tropaeolum majus)
Pansy - (Viola wittrockiana)
Pea - (Pisum sativum)
Rose - (Rosa)
Rosemary - (Rosmarinus officinalis)
Sunflowers - (Helianthus)
Viola - (Viola cornuta, Viola wittrockiana, and Viola tricolor)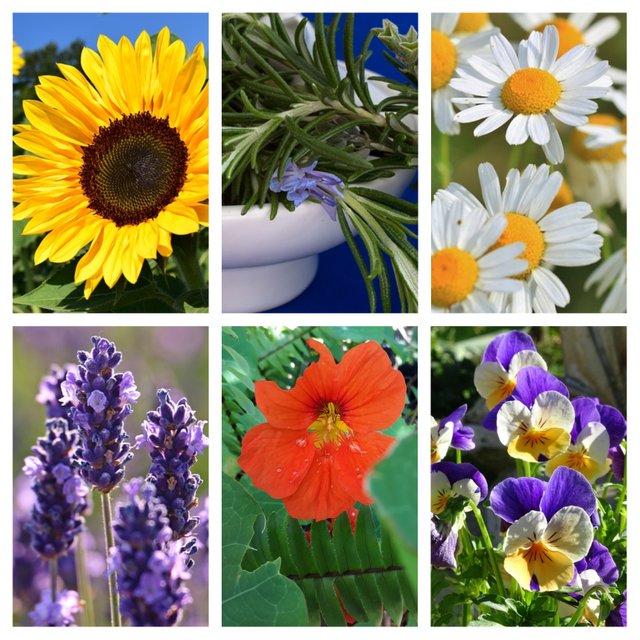 For further information as well as an excellent site for references please visit: https://articles.mercola.com/sites/articles/archive/2016/10/31/edible-flowers.aspx
(Photos of Petunias, Chives, Rose, Marigold and Dandelion by @claudiaz,
other photos courtesy of Pixabay)





Join us @steemitbloggers
Animation By @zord189
---